All Hail the Reigning Queen of Street Style, Giovanna Battaglia Engelbert
The editor and stylist had the best looks from the Spring 2018 season, hands down.
Here's the honest truth: I'm pretty tired of street style. There's something about seeing the same 20 to 30 editors, influencers and dubiously employed attractive people wearing meticulously planned (and mostly borrowed) looks that's so boring to me. Remember when street style used to be fun and individual? When you could pick out which magazine packs of editors belonged to — team Teen Vogue, the Vogue Paris squad — because of how they dressed? Whatever happened to those halcyon days of street style? (We'll tell you! Instagram marketing and paid placements happened.) 
Well, I return from Paris bringing great news. There is a bright light on the horizon, an editor who is breathing life back into the sleeping street style industry. An Italian woman unafraid of pattern or color or sparkle who is not Anna Dello Russo: Giovanna Battaglia Engelbert. The contributing fashion editor of W and senior fashion editor of Vogue Japan has given me hope that there is still inspiration to be found on the mean streets of fashion week. 
She kicked things off in New York with a series of windows at Bergdorf Goodman celebrating her new book (now at the top of my Christmas wishlist), "Gio_Graphy: Fun in the Wild World of Fashion." There was also a series of tees for sale reading things like, "More is GLAMore" and "Fashion Emergency," which Engelbert expertly paired with Céline and Gucci skirts. Wearing your own graphic tees to fashion month? That's a boss move if I've ever seen one.
From there, she served expert day looks in head-to-toe leopard with Diane von Furstenberg and a denim dress by Tanya Taylor. In London, my girl saw now, bought now with Burberry's military-inspired September 2017 collection and a schoolgirl-esque ensemble featuring a jacket by her sister Sara Battaglia over a mixed plaid skirt by Le Kilt. Hitting up her home territory of Milan, there was the blinding sparkle dress by Halpern at amfAR Milano and the Fendi look in her favorite color: red. She finished things up in Paris with sexy knits from Prada and a dreamy, melon-hued look by Dries van Noten paired with puff-ball Aquazzura mules.
And here's the ultimate appeal to Engelbert's style: The woman is unafraid of repeating an item, even a statement piece like Prada's feathered heels or Takesh's heart-shaped sunglasses (which I now desperately need, obviously). To me, the best sign of true style is being able to take the pieces you love and seamlessly work them into your wardrobe — not toss them after one Phil Oh photograph. Finally, there's the element of having unwavering confidence, and clearly someone who wears a T-shirt printed with "Bat Gio as Fuck" to sit in the front rows of fashion shows is feeling herself, which is inspirational on several levels.
Even if her looks are borrowed (something we're unable to confirm), Engelbert finds a way to make them her own. While her style may seem kooky, it's still wearable — it never feels like she's being impractical. This is a woman who truly loves fashion for all of the joy and fun it can bring to your day. 
Join us as we hail the reigning street style queen, and browse some of Engelbert's best street style moments from the Spring 2018 season in the gallery below.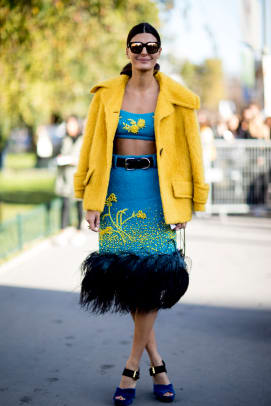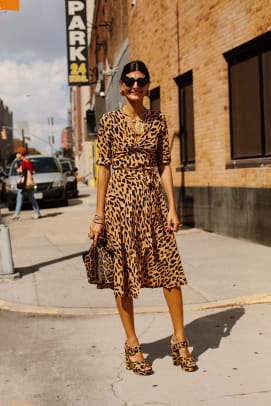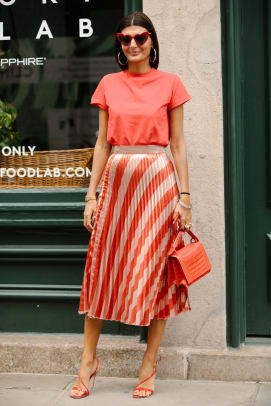 Want the latest fashion industry news first? Sign up for our daily newsletter.