How Mass Retailers Are Cashing in on the Natural Beauty Boom
Green beauty is getting accessible.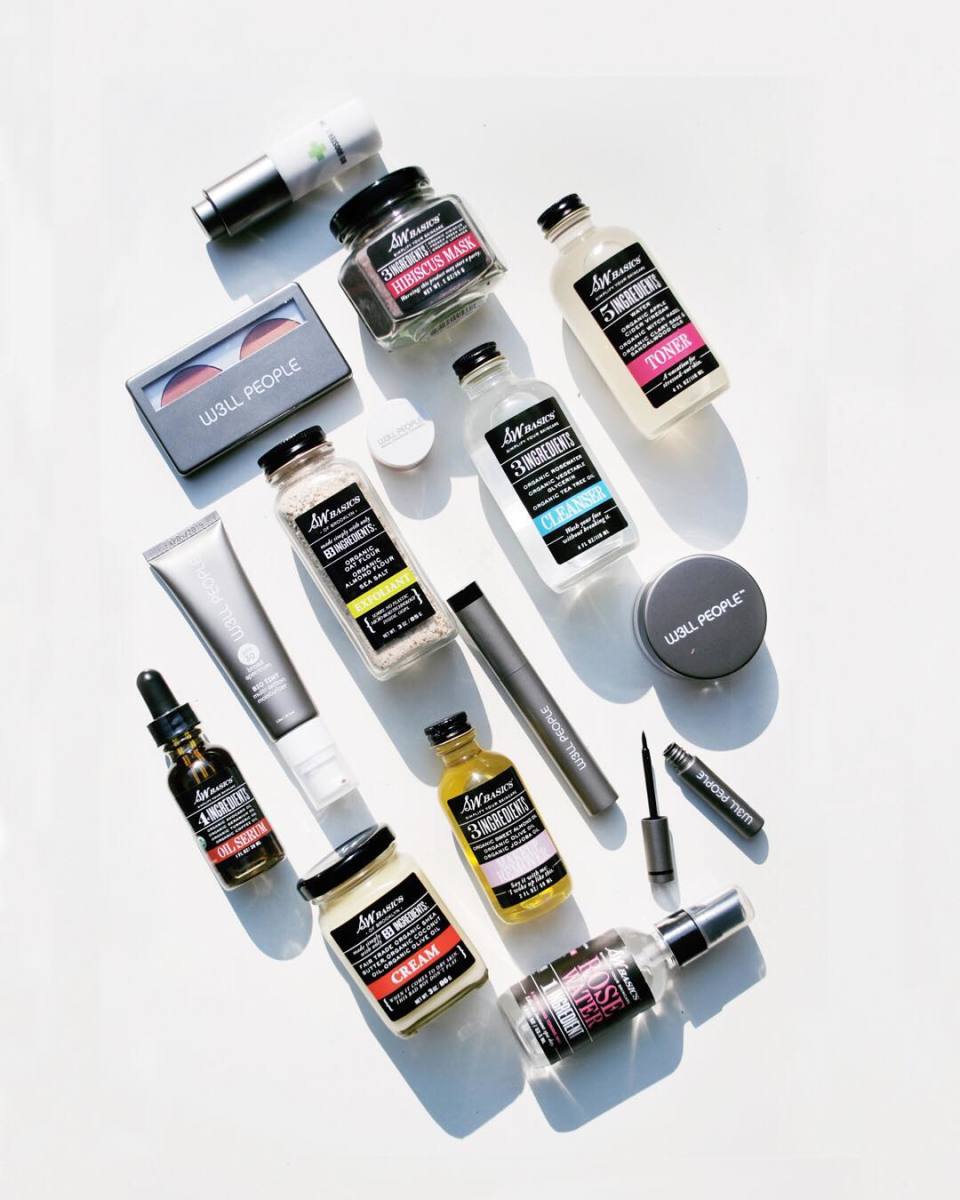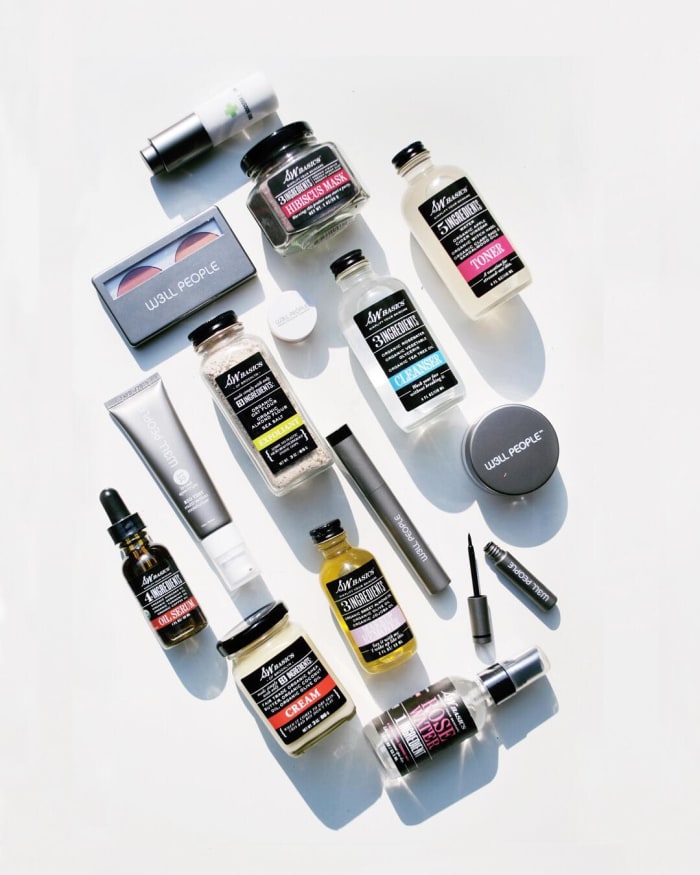 There is a particular subset of not-so-problematic problems that beauty editors talk about amongst themselves: good products in ugly packaging, crappy products in gorgeous packaging, our persistent collective need to get our Botox touched up, the beauty trends that have become so ubiquitous that they aren't trends anymore.
"I'm sorry, your face cream isn't revolutionary because it's all-natural. Welcome to 2017," every beauty editor on the planet mumbled to their computer screen in response to an e-mail pitch at some point this year. A little harsh? Perhaps. (What can we say? We're a very jaded lot.) But it's also true — where once ethically sourced, organic, vegan products were the sole purview of hippie-dippy health food stores and the occasional head shop, the natural movement has swept the beauty world in a major way in the past decade. And not just the upscale sector of it. Mass retailers have also leaned full-force into going green in hopes of making some green.
If you walked into your local drugstore in the mid-2000s in search of natural beauty products, you would no doubt have found the pickings slim. You'd have some Burt's Bees and — if you were really lucky — Dr. Bronner's options, perhaps, and that was most likely it. Now, maintaining a presence with natural products on the shelves isn't just common, it's practically requisite, and it's not because retailers and brands have suddenly become eco-conscious. 
Related Articles
"Natural brands are growing at twice the rate of the category for both makeup and skin care versus the prior year," says Larissa Jensen, a beauty industry analyst at The NPD Group. "In fragrance, natural brands are growing by double digits in a relatively flat fragrance market." According to a 2016 study by the market research group Kline, the natural personal-care market in the U.S. represented $5.4 billion in wholesale that year, a 9 percent growth and could continue to grow by as much as 40 percent in the next five years.
Some brands were earlier to adapt than others. Skin-care brand Yes To, for example, caught the leading edge of the trend, becoming a near instant hit when it launched in 2007 with a line of 95 percent natural products. A year later, Physician's Formula launched its first Organic Wear formula with 100 percent naturally sourced ingredients, while Neutrogena got in on the game with a sulfate-, paraben-, phthalate-, petrolatum- and dye-free Naturals line in 2011. The success of these early entries in the mass market sector spurred on waves of new entries at scaled price points: Honest Beauty, Derma-E, 100% Pure, Beautycounter, Kjaer Weis, Josie Maran, MeowMeowTweet and so on. 
For a long time, the real barrier to getting natural products into the hands of consumers at a mass scale was the dearth of products at major retailers, which seemed largely uninterested in jumping on the green beauty bandwagon. As a self-styled standard-bearer for the movement, Target has been leading the pack in natural beauty offerings for years. Since its 2010 exclusive launch of SheaMoisture's hair-care line the store has focused heavily on differentiating its beauty offerings from other drugstore competitors by integrating lesser known, mid-priced brands into its offerings, focusing especially on those with natural beauty messages. Brands that have become segment staples, like S.W. Basics, W3ll People, Fig + Yarrow, Pacifica and natural deodorant megabrand Schmidt's have all increased their profile, thanks to prominent placement in Target's roster (and marketing muscle behind it).
It's a strategy that is obviously seeing returns, because Target continues to double-down on its loyalty to the natural beauty consumer, most recently via a push for full ingredient transparency — meaning every ingredient on every product the store sells, even fragrances, would be disclosed to consumers — and the elimination of phthalates, propylparaben, butylparaben, formaldehyde, formaldehyde donors and nonylphenol ethoxylates from the beauty, personal care, baby care and household products it carries by 2020. It's a major initiative, and one that positions the store as a go-to for consumers seeking natural products at accessible price points.
That's not to say that the big box store is alone in reaching for a piece of that certified organic pie. While Target has focused on cultivating an impressive stable of existing natural brands, other mass retailers have taken the opportunity to develop their own private lines. This year drugstore chain CVS also announced it would be eliminating parabens, phthalates and most of the prevalent formaldehyde donors from its proprietary brand of nearly 600 beauty and health products by the end of 2019, with all new product launches between now and then being formulated without those ingredients. Similarly, Walgreens has begun launching products through the Walgreens Boots Alliance including the recent addition of The Plant One, Boots' repackaged and reformulated version of its former Botanics line. Meanwhile, in September, Walmart launched Found, its own line of 133 skin and makeup products formulated with botanical ingredients.

It's not just typical beauty retailers that are getting in on the natural game. Whole Foods has steadily expanded its personal care offerings over the past several years, creating a robust beauty section full of brands like Weleda, Dr. Hauscha, Juice Beauty and in-house brand 365.
Some of the change is due to a shift in how people are viewing the place of their beauty routine in their lives. "People are looking to take on a healthier lifestyle in many different facets. It sounds odd to say, but now more than ever, it is on-trend to be health conscious and informed on the front of all things wellness," says Ashley Prange, CEO of Au Naturale Cosmetics, an all-natural line that was recently picked up by Whole Foods. With an increasing amount of study dedicated to how our bodies interact with the ingredients we apply to them — a jury recently awarded a $417 million verdict against Johnson & Johnson for failing to warn about the risks of talcum body powder, and whole slews of ingredients from the aluminum salts found in traditional deodorants to chemical sun protectants have come under fire for potential health risks. 
Perhaps, then, it's no surprise that with the interest in organic foods on the rise (the category grew 8.4 percent in 2016 to account for $43 billion in sales according to the Organic Trade Association), beauty products that echo those ingredients and values are also becoming more prominent. In a recent Mintel survey, 37 percent of consumers shopping in natural grocery and health-food stores agreed that they buy more natural personal-care items now than they did one year ago. "Given the continued and growing importance of the wellness trend across multiple industries, we do not believe this trend will slow in the beauty space," Jensen adds. "In fact, as consumer research indicates, this trend will likely only accelerate in the years to come."
The question plaguing mass beauty brands and serious natural beauty fans now is how much of that "wellness trend" actually reflects wellness, and how much it needs to. 
There have certainly been plenty of critiques about what exactly natural beauty even means in a mass market setting. Entirely organic ingredients? Products that completely eschew synthetics? Items that mostly eschew synthetics? And how much really qualifies as mostly? Should a mineral foundation that uses titanium oxide count as natural because its components occur in nature, or is it unnatural because the titanium oxide has to be refined into existence? How much processing is allowable before a product stops being natural? And how certain can you be of the providence of the ingredients that are in it anyway? 
In the U.S., there's no legal standard required to use the word "natural" on a product's packaging, nor is there any governing body charged with investigating the term's usage; that job mostly falls to consumers self-educating and consumer rights groups advocating for them. For example, drugstore bodycare brand OGX changed its name from Organix in 2013 following a settlement with the Center for Environmental Health which claimed that the name misleadingly implied that the products were organic when in reality most contained less than 70 percent organic ingredients. While there are a number of certifications to assert the providence of a product's ingredients including the USDA Organic seal, France's EcoCert, and the Soil Association in the UK, the requirements to use the terms organic and/or natural vary from country to country and are legally vague at best. 
Some brands like S.W. Basics have thrived on the simplicity of their offerings (each lists the short number of ingredients on the front of their label with most numbering in the single digits) to ensure the purity of their products while others like Tata Harper and Au Naturale have chosen to take production into their own hands by controlling their own labs and ingredient sourcing to keep a tight reign on the quality of product they're putting out even as their customer base widens. 
Yet how much these factors actually matter to the modern beauty brand consumer is debatable. Now that natural beauty products are more readily available than ever, shoppers no longer have to be hardcore devotees to get their hands on them, making dipping a toe in the natural beauty pool easier than ever. That, in turn, creates a far larger user base than old school natural brands could ever have envisioned, but it also leads some to question whether the average natural beauty consumer actively cares about how "clean" their products really are. So long as the natural messaging is consistent, some argue that the average consumer isn't drawn by the desire for the products themselves, merely the perception of healthful, ecologically responsible beauty. 
Anyone who's ever read a Goop article can recognize that supporting a natural beauty brand has developed a kind of cultural cache. Like composting and practicing mindful meditation, using natural beauty products has an aspirational quality to it. If I use this kind of product my body will be better, my life will be better, the world will be better. Or at the very least the people who see it on my vanity will think it is. In a culture where you are your own personal brand, do the brands you use might say something about you personally? 
Whether it's driven by consumers who are deeply invested in cleaner, greener beauty products or if it's just people looking to get in on the trend, the natural beauty segment shows no signs of slowing down. And with billions of dollars in sales on the line and a growing portion of consumers opening up the possibility of better living through natural beauty, it's likely that all this natural beauty fervor — especially in the mass market — is really just beginning.
Please note: Occasionally, we use affiliate links on our site. This in no way affects our editorial decision-making.
Sign up for our daily newsletter and get the latest industry news in your inbox every day.