Honor, a Celebrity-Beloved Clothing Brand, Relaunches as a Dreamy Bridal Line
Designer Giovanna Randall looked to her grandmother's garden and a Netflix series as inspiration for the collection.
In May of 2015, fashion-industry-beloved, cool-girl ready-to-wear label Honor went on hiatus, while founder and designer Giovanna Randall focused on bridal and custom orders. Looks like something clicked with bridal during that quiet time, because Honor is back in the public eye — but with a bridal collection for fall 2018. 
"It's kind of funny. I got married 10 years ago and — before I got married, I was at FIT and I thought I was going to be a bridal designer — and then I got married and I was like, 'I don't want to deal with brides because I was a bride' and it just didn't feel like something I wanted to do at the time," Randall tells me at her new Soho atelier and showroom. "But now, I feel like I have a fresh perspective on it, and I've always really loved eveningwear; I love texture and fabric, and I feel like I have something different to offer."
However, this isn't the first time Randall has designed a commercial bridal collection. For the fall 2015 season, Randall collaborated with Los Angeles-based Stone Fox Bride for a bridal capsule, featuring a range of adorable and versatile separates, for which she still receives requests. Understandably, the inaugural Honor bridal line is stacked with dreamy and incredibly pretty, '60s-mod-meets-English-countryside, mix-and-match pieces. The sheer amount of beautiful and just cool bridal outfit iterations had me lingering in her showroom for an extra 15 minutes to watch how a structured crepe bralette top and palazzo pants combo could be added onto with various pieces, evolving into a soft, floral pigment-printed sleeveless ruffle top and maxi-skirt look, completed with a lovely blue ribbon belt.
The inspiration for Honor's first official bridal collection — proudly produced in New York City (like her former ready-to-wear line) — comes from a place close to Randall's heart. "It was inspired by wildflowers that I used to see growing up on the East Coast," Randall explains. "[My grandmother] had all these Queen Anne's lace and black-eyed Susans and all sorts of beautiful flowers that sort of float in the meadow." The floral motif feels especially sweet, but modern in an adorable fit-and-flare, lace, long-sleeve mini dress with a detachable cape and a ruffled cold-shoulder jumpsuit with billowy trumpet bell bottoms.
For the lace pieces, Randall also looked to a resource close to our hearts and TV binging habits: Netflix and costume design. "I also was watching 'The Crown,' she says, while looking at her mood board. "I saw Queen Elizabeth's veil and I was like, wow it's so beautiful and then her dress was very modest. But the fabric was so cool and modern and so I thought about that when I developed these tulle pieces with the flowers and the veil." 
Back in the ready-to-wear label's heyday, celebrities including Christina Hendricks, Alexa Chung, Diane Kruger and Keira Knightley wore Honor's ultra-femme pieces on the red carpet and local fans (and tourists) could shop Randall's designs at her now-closed Meatpacking District store. "It's not really that different," Randall says, comparing bridal-only design to ready-to-wear. "I don't approach it differently, really. I just get to do more of the things that I love and I feel that [brides are] more appreciative. With the collaboration that I did with Stone Fox, the brides that I worked with for any alterations were just so happy and excited and I loved that." 
"I mean, it's wonderful to meet and dress celebrities and interesting people," she adds. "But I think a bride is — it's very special. It's a very singular moment in their lives, and I like that."
Sadly for Honor fans, the inaugural bridal collection doesn't come with the release of one of Randall's signature short films. The last visually dreamy theatrical outing for Honor's fall 2014 ready-to-wear collection starred Zosia Mamet, late of "Girls," alongside "The Big Sick"'s Zoe Kazan. Although, Randall would probably have a hard time casting for this particular collection. "The first person that comes to mind is Jane Birkin in the '70s, so that wouldn't work," she laughed.
But that doesn't mean film couldn't be in her future. "Yes, if someone lets me make a movie, I will definitely make a movie," she says.
In the meantime, scroll through the slideshow below to see the dresses, jumpsuit and variations of mix-and-match separates that make up Honor's first proper bridal collection.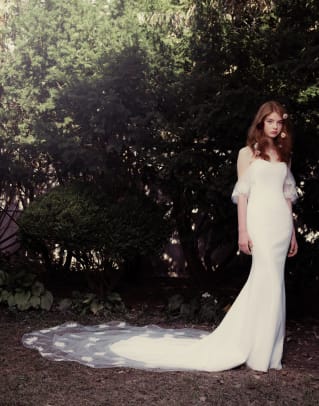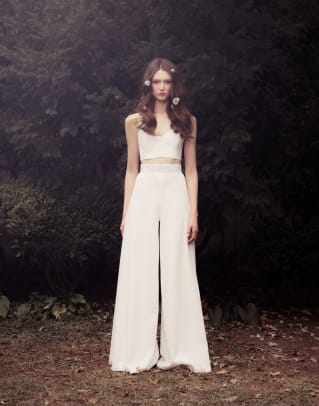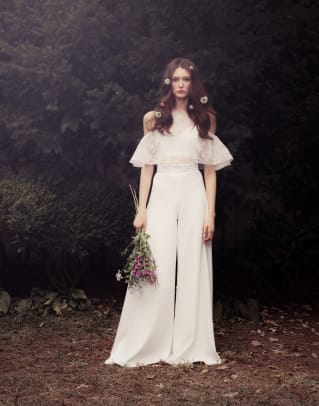 Want more Fashionista? Sign up for our daily newsletter and get us directly in your inbox.