Why Nordstrom's New Store Has No Inventory
We went inside the department store's debut merchandise-free outpost.
When Nordstrom announced that it would be opening a new, inventory-free retail concept in Los Angeles, we were initially confused. What does one do at an inventory-free store? What does it look like? And why would a retailer known for 100,000+ square-foot stores filled to the brim with product feel compelled to open a boutique-size storefront with none? Being a nearby LA resident (and longtime Nordstrom fan), I walked over the Melrose Avenue "store" on opening morning to find out.
First of all, the location is prime: It's at the intersection of Melrose Place and Melrose Ave, on an extremely visible corner in a busy shopping area with neighbors like Marc Jacobs, Balmain, The Row, Isabel Marant, Alexander McQueen, Moon Juice and more. It would be a strong option for a retailer looking for foot traffic, but that's not really what Nordstrom is after here. (You can't just wander in and make an impulse buy at a store that offers nothing to buy.)
Related Articles
The new concept, called Nordstrom Local, is billed as a "service hub," facilitating (you guessed it) services, including: buy online/pickup in store, returns, curbside pickup, alterations and tailoring, Trunk Club services (like getting a suit made) and personal styling, which requires making free appointments. Appointments can be made online, by phone or in-person, and stylists are able to transfer merchandise from stores to Nordstrom local same-day. All of these services are also available in traditional Nordstrom locations, and the Local opening coincided with that of the retailer's new location at the recently refurbished Westfield Century City mall. That location itself is equipped with a number of new and exclusive features, including a Nike boutique, the first West-Coast MAC Makeup Studio, and a Style Bar, where customers can enlist the (free) help of personal stylists to aid in the search of specific occasion outfits, entire wardrobes, gifts, etc. The Century City store will essentially work in tandem with Nordstrom Local, with the latter able to easily pull inventory from the former.
What we got to see on Tuesday is how that works for the customer: When you walk in, you'll find the pickup area lined with shelves holding online orders, as well as the alterations area (where customers are welcome to bring non-Nordstrom items, too). In the middle is a huge desk equipped with iPads, ideal for appointments with personal stylists. Behind that is a beverage bar; a free drink comes with every service appointment The space is equipped with several fitting rooms in a variety of formats: There's one very large "VIP" fitting room that's totally enclosed with a door; four fairly spacious fitting rooms with little lounge areas outside of them that can be closed off with curtains and are ideal for shopping with friends; and a couple of standard-size fitting rooms for if you're just trying something on quickly to get an alteration or ensure it fits.
But even if you don't need a new outfit, there's a reason to drop in: A nail table offers eight different services on site. Nordstrom Local is absolutely an experiment on the part of Nordstrom; the retailer can and will see what its customers respond to and take it from there. 
"I think about customers on their way to an evening event; they might need to get their jacket steamed," says Shea Jensen, SVP of Customer Experience. "I think about customers who might be on their way to their high school reunion but they need some hosiery, so they can buy that online and choose to pick it up here. I think about customers who don't want to shop a massive array of inventory in a store, but love to shop with our people, so they can work with a sales person/personal stylist here — or someone who just wants to walk down the street and get a manicure, so we have that."
Experimentation is, of course, what retailers have to do right  now to survive. And for Nordstrom, that has meant focusing on what it's always done best. Excellent customer service — for everyone — has always been what's differentiated Nordstrom from its competitors; so it makes sense that for its latest entry into in the "department stores trying not to die" saga, Nordstrom has distilled that, eliminating all the extra noise of... product.
"As the retail environment is changing at what seems to be an unprecedented pace, we're hearing from our customers that services matter, so we're looking for ways to bring great services," notes Jenson. "We're open to finding out from customers right here what they want more of or less of but this is definitely our first step."
Shoppers won't likely come running to Nordstrom Local from all corners of LA, but that's not the retailer's goal. Located more or less in between Nordstrom's Century City and The Grove locations, it's simply a smaller, more personal, service-oriented option for busy West Hollywood residents — and a concept that could end up in similar in-between areas, if it works here. "We're testing and learning here in LA, and we're really excited to hear from our customers what they think," says Jenson when asked whether additional locations are in the pipeline.
Nordstrom hopes its customers will develop relationships with its personal stylists, whom they can text and interact with through a new Pinterest-like app called Style Boards. For Nordstrom, those kinds of relationships have always driven sales. Whether that will still be the case in an environment devoid of its own inventory, we'll have to wait and see. See inside Nordstrom Local in the gallery below.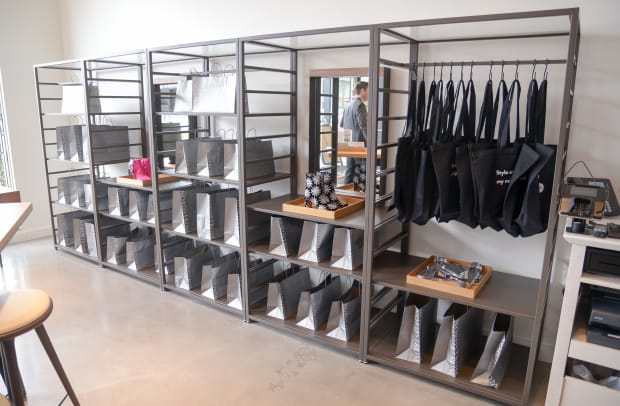 Want the latest fashion industry news first? Sign up for our daily newsletter.