Proenza Schouler Launches A More Casual, Accessible Second Line
Debuting with a campaign featuring Chloë Sevigny, Proenza Schouler White Label is full of t-shirts, denim and sweatshirts.
Proenza Schouler hits the 15-year-old mark this year, and the brand is celebrating in a big way: by launching a second, more casual line called Proenza Schouler White Label. Unlike the dressier, luxury ready-to-wear collection, PSWL will focus on more laid-back essentials like denim, sweatshirts, t-shirts and casual outerwear.
"It has always been a goal of ours to fully develop a well-rounded and balanced collection that mixes the high-end with the everyday in a way that speaks to both many of our personal friends, and to the designer customer we've developed over the years," said designers and founders Jack McCollough and Lazaro Hernandez in a release.
One of those "personal friends" the designers were referring to is none other than Chloë Sevigny, who stars in PSWL's debut imagery shot by Ricky Saiz and styled by Haley Wollens. In the photos, Sevigny wears lace-up denim, camo pants and a dangling branded belt — all of which are easy to imagine becoming street style favorites for Proenza diehards and uninitiated streetwear fiends alike.
"We are excited to finally have an entire range of easy, more casual things to offer alongside the more crafted and fashion-focused pieces that we have explored in the past and will continue to design," the designers asserted. "With PSWL we feel that we can now address both ends of the spectrum in a way that feels totally authentic to us and relevant to the way people dress today."  
PSWL will initially launch with a more limited distribution that will be delivered in two drops — the first on November 6 and the second in January 2018 — in collaboration with "several longtime friends and stockists," according to a release. Wider global distribution is set to begin in the fall of 2018. Prices for PSWL, which will be differentiated from the main Proenza Schouler line by a white cotton label printed with a black logo (as opposed to the traditional blue jacquard logo on black satin), range from $195 to $1195.
"A more casual lifestyle has always been true to who we are as individuals, and true of many women in our lives," McCollough and Hernandez said. 
See all the imagery from PSWL's new campaign below.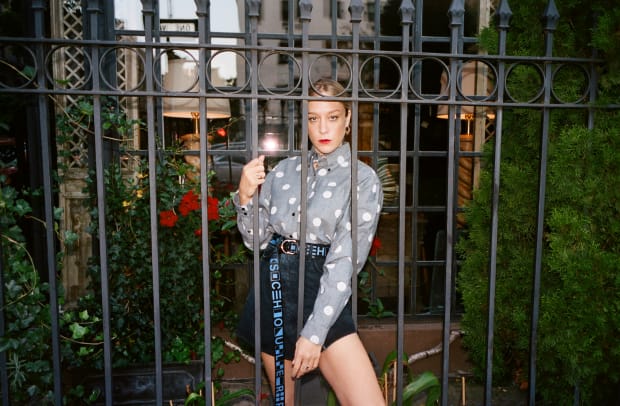 Want the latest fashion industry news first? Sign up for our daily newsletter.