Shiatzy Chen is the Paris-Based Label That Wants You to Know Its Clothes Are Chinese
Next year, the brand will celebrate 40 years.
Two days before the Shiatzy Chen runway show at Paris Fashion Week, designer Wang Chen Tsai-Hsia is sitting in the VIP room in her brand new boutique at 8 Avenue Montaigne in Paris. Neatly nestled next to Prada, the two-story shop, much like her fashion line, displays elements of Chinese design: Everything from the marbled floors to the metal screens takes inspiration from China and an East-meets-West aesthetic. The shop is her second in Paris; the first location opened over a decade ago on Rue Saint Honoré, and there are also flagship shops in Taipei and Shanghai.
The fashion house was founded by Chen in 1978 in Taiwan. Without any formal training in fashion or design, she learned the ins and outs of the industry from working in her uncle's factory. "I didn't know what it would take to be a designer, but I knew I must be proactive, and that in order to stand out, I had to achieve perfection. And in order to achieve perfection I had to be better than the best. That is why before I start working on the new collection each season, my mind must be blank," she explains.
As far as Paris Fashion Week goes, there are few Chinese designers on the official schedule — even fewer that are homegrown in their own countries. That's just one of the many things that makes Shiatzy Chen interesting. Another is the fact that the label has been worn by a slew of Taiwanese celebrities, including ex-president Ma Ying-jeou, and style icons such as Victoria Beckham alike. Chen focuses on both womenswear and menswear, and next year, the brand will celebrate 40 years.
"I'm a simple woman. Black is my favorite color," says Chen through a translator. That's evident by the midnight-hued embroidered lace gowns and brocade jackets scattered around the store, as well as the designer's current outfit: a black long-sleeved dress. "Oriental culture is the key inspiration for me. But for design and cuts, Europe is the best. Only can the combination of the two sides together create the new fashion of China." In terms of blending the two in a literal sense, Shiazty Chen uses the same lace supplier that Dolce & Gabbana does, and works with many of the same prestigious factories that much of the big European houses use.
Despite the fact that Shiatzy Chen has only been showing in Paris since 2009, the company has had a design studio in Paris for nearly 30 years. "Paris is a landmark of luxury," she explains. "That's why I think Paris is the best place to present the collection."
Additionally, since Shiatzy Chen moved its shows to Paris eight years ago, the label has hosted its fashion show inside the Grand Palais (the same venue other major brands like Chanel opt for), but this season they decided to move it to the more contemporary Palais de Tokyo. This change is not without reason — the brand is planning a bit of a revamp for its upcoming 40th anniversary next year, including a lower-priced line that will be available exclusively through e-commerce with everything under the €500 price point. (For comparison, on average Shiatzy Chen's pieces can cost upward of €3,000. A T-shirt at the boutique was priced at €590, while a short embellished blazer cost a little over €1,000.)
"The world has changed a lot since 1978," notes Chen. "Since that year, many young designers have come up with very specific products. Even sporty collections have become members of luxury. It's new to everyone. Every brand wants to be younger and face the consumers," she says, likely referring to some of the same brands that present alongside Shiatzy Chen at Paris Fashion Week.
"It was easier at the beginning," says the designer of launching her brand from the ground up. "Forty years ago, people didn't have many choices for clothes. Now, we're facing a big challenge. We need to change and bring new things to the client and the customer. At the beginning, I was very happy, but I'm enjoying my career."
Part of those changes — making the label feel "younger," in Chen's own words — were definitely seen at her runway show just days later, too. Hemlines were shorter and colors were lighter, while little lace dresses came down the runway with sheer mesh panels placed on shoulders. There were even a few pieces that made references to a more sporty style, such as dresses with hoods and a new take on a Canadian tuxedo.
But at the end of the day, Shiatzy Chen is an Asian brand in Europe, and the most important thing that Chen wants people to know about her work concerns her own culture. According to the designer, even the name "Shiatzy Chen" reflects it. "'Shiatzy' is the same pronunciation of 'XIA Zi, Xia,' which means 'Huaxia,' an ancient name of China, 'Zi' means 'the good looks of woman,'" she explains. The label also keeps its roots planted firmly in Asia by having shows seasonally all over the continent — in Beijing, Shanghai, Hong Kong and Taiwan. These are targeted to both local press and buyers as well as clients, who are often able to buy runway pieces on the spot. "I want everyone to remember that my work comes from China," she says with a smile.
See the entire Shiatzy Chen Spring 2018 collection in the gallery below.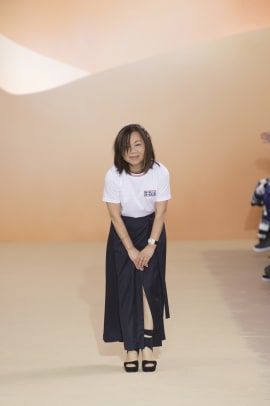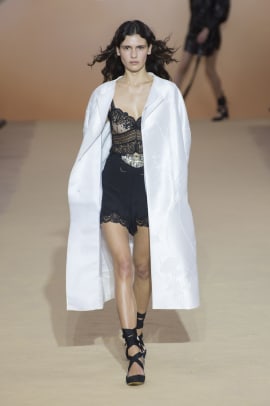 Want more Fashionista? Sign up for our daily newsletter and get us directly in your inbox.