I Desperately Need About 100 Berets, So Here Are a Mere 21 to Shop Now
Rev up your "Like a French Girl" engines, because this hat is on the rise.
When I was at a Fendi appointment in Milan last month, I came across the chicest woman I had ever seen. (I discussed this encounter during Episode 9 of "4 P.M. at Fashionista" — tune in! — but I shall also recount the experience here.) Standing in the corner, she was wearing an ankle-length skirt, camel sweater and, here's the kicker, a velvet beret. I was completely transfixed, and I was not alone. I overheard a pair of women standing not too far from me saying the same, trying to identify who she was. Well, dear reader, it's been a month and I haven't figured it out. Was she even real? My personal living Mirror of Erised? A figment of my imagination conjured up by my lack of sleep and all-gnocchi diet? 
The takeaway here is not simply that Milan Fashion Week made me incredibly insecure about my own wardrobe — a story for another time! — but also that I now desperately, desperately, desperately need about 100 berets. I saw them throughout the New York and Milan shows, and in London and Paris street style shots, too, and now, they're all over my Instagram feed with increasing frequency. I want to hop on the bandwagon before the hat sells out at, say, Forever 21, which means I need to do this thing like, right now. Kaia Gerber is already wearing one, so let me simply say this: The teens are on it.
That's not to say the beret isn't altogether timeless, of course. The soft, flat-crowned cap first began being mass-produced in 19th century France and Spain, the former of which it remains very closely associated; if you want to Look Like a French Girl as literally (and as costume-y) as possible, might I suggest slapping on a beret in conjunction with a striped tee and some cigarette pants? It was nearly 100 years later that the beret became a revolutionary symbol for activist groups like the Black Panther Party and the Brown Berets, as well as of Argentine revolutionary Che Guevara. It's also a staunch element of military regalia, too, and has cultural origins rooted in the likes of Basque Country and Scotland.
In conclusion! The beret is an iconic component of the fashion lexicon, and I recommend that you join me in my quest to wear one at all times this fall, winter, early spring, dead of summer, whatever. The good news is, there's plenty of product from which to choose all across the internet, ranging in price from $12.99 to $550. See 21 of our picks below.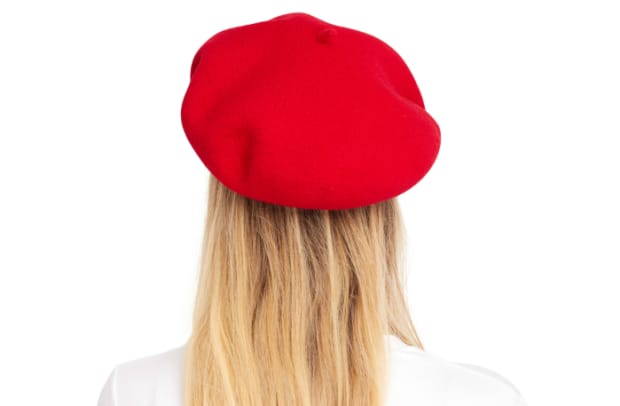 Please note: Occasionally, we use affiliate links on our site. This in no way affects our editorial decision-making.
Never miss the latest fashion industry news. Sign up for the Fashionista daily newsletter.