Stella McCartney Is Under Fire for Using Ankara Prints
The fabric long associated with Africa wasn't sent down the runway on models of African descent, and it's made some people very unhappy.
As one of the biggest designers to make a habit of championing sustainability and animal rights in the industry, Stella McCartney often draws applause for more than just how her clothing looks. But this week, she's receiving feedback that swings the other direction. McCartney's Spring 2018 runway show, presented on Monday in Paris, is under fire for its incorporation of ankara prints.
"Are we going to talk about Stella McCartney using Ankara prints, meanwhile there was only ONE African model on her runway?!" asked writer Amarachi Nwosu on Twitter, while OkayAfrica accused the designer of "fashion colonialism," requesting that Western designers "please stop taking designs that Africans have been wearing for years, calling them your own, and charging people out the ass for them."
The prints in question have long been associated with Africa in the minds of many, and it's easy to see where accusations of cultural appropriation or improper representation might stem from. That said, the history of these prints is actually quite complicated, as they originated with an Indonesian batik technique that was replicated and mass-produced by the Dutch and then brought to West Africa. To this day, they're referred to as "Dutch wax prints" by many, and much of this type of fabric that's used and sold in Africa is still produced in the Netherlands. If McCartney's collection was appropriative, so to is the entire history of ankara prints, all the way back to their Asian roots.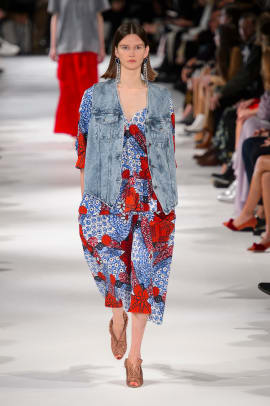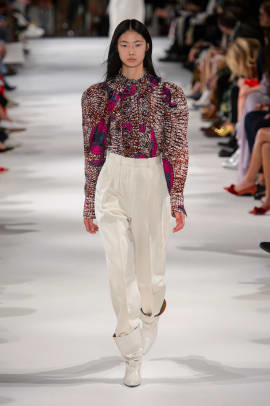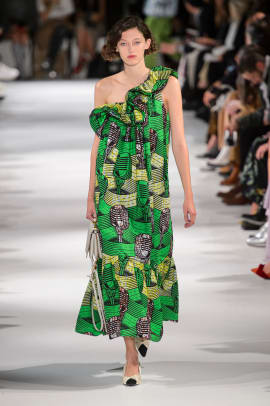 Appropriation accusations aside, some of the ire directed at McCartney seems to stem more from the fact that none of the models she sent down the runway in ankara looks were visibly of African descent (four were white, one was Asian). Her inclusion of models of color like Dilone, Lineisy Montero, Karly Loyce and Hiandra Martinez in the show did little to assuage that frustration for many commenters.
Still, the brand is standing by its design and presentation choices. 
"The prints were about celebrating a unique textile craftsmanship, its culture and highlighting its heritage," Stella McCartney chief marketing officer Stephane Jaspar told Fashionista via email. "We designed the prints in collaboration with Vlisco in the Netherlands, the company that has been creating unique Real Dutch Wax fabrics in Holland since 1846 and helps maintain its heritage."
Want more Fashionista? Sign up for our daily newsletter and get us directly in your inbox.