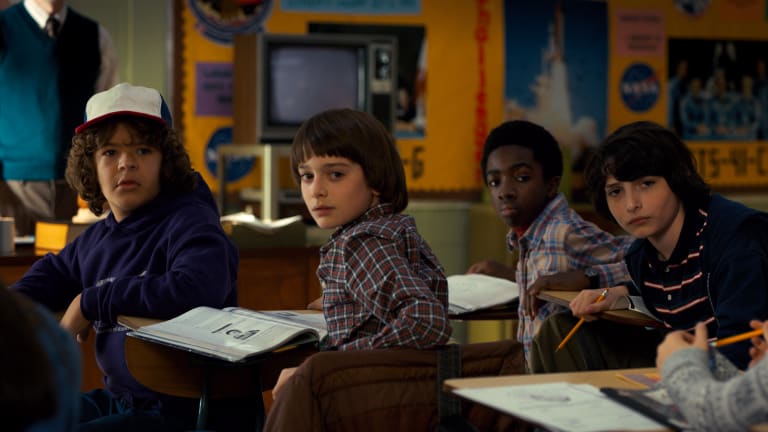 The 'Stranger Things 2' Costume Designer Walks Us Through the Sequel's Wardrobe Clues
Kim Wilcox also drops a hint about Eleven's brand-new outfit.
Warning: Spoilers from "Stranger Things" season one are definitely below.
Well, the countdown to the October 27 premiere of the Netflix sleeper hit and outstandingly binge-able "Stranger Things 2" has reached frenzy level at this point. Not only have the two trailers brought incredible nostalgic joy to fans (Vincent Price "Thriller" voiceover, miniaturized "Ghostbusters" outfits), but also so many questions about developments in Hawkins, Indiana in 1984 — a year after Eleven (Millie Bobbie Brown) destroyed the Monster and Will Byers (Noah Schnapp) returned from the Upside Down. The Duffer brothers, the show's visionary, '80s-obsessed creators, have promised a followup that's more of a blockbuster movie sequel than your average sophomore season of a TV show — and Kim Wilcox, the new costume designer for the "Stranger Things" juggernaut concurs.
"I don't think season two is going be what everybody expects. You've probably heard it's a bit bigger than season one," she tells me cryptically over the phone, as spoilers and plot points are as top secret as Dr. Martin Brenner's experiments for Project MK Ultra. Wilcox, who recently costume designed the Boston Marathon-bombing survivor movie "Stronger"and the also-thrilling TV hit "Mr. Robot," came on board for the sequel, following Malgosia Turzanska and Kimberly Adams-Galligan, who designed Eleven's now-iconic pink smock-front dress.
Speaking of, the first trailer reveals that, on-screen, Eleven is stuck in said dress, layered under a flannel — and at some point remains in the goo-bordered Upside Down — although it's not the exact same dress. "Well, she's grown," says Wilcox, noting that she adjusted the costume for the 13-year-old's growth spurt. But, based on the second trailer, and various imagery released, at some point in the show's non-linear timeline, Eleven makes it out of the Upside Down — with a curly, tousled bob and a fresh ensemble.
The Internet has deduced that she wears her new outfit (below) for a visit to her traumatized maybe-mom, Terry, whom you may remember hasn't spoken since she was part of those psychedelic Project MK Ultra experiments while in college and supposedly miscarried a child. Judging from Eleven's intense expression and an early stage nose-bleed, the teen puts her telekinetic powers to work, while wearing her denim overalls and wool coat, which are a combination of vintage and custom-built pieces. 
"A lot of it is not vintage, but it's aged down to look vintage," says Wilcox. "Sometimes as kids grow — or things happen — you need more than one of something. So we made sure we had quite a few of that particular outfit." Note: Multiples are usually required for action sequences and fight scenes, so take that as you will.
The Dungeons & Dragons crew — the newly returned Will, who might have brought a scary friend back from the Upside Down, voice of reason Lucas (Caleb McLaughlin), de facto group leader Mike (Finn Wolfhard) and fan-favorite Dustin (Gaten Matarazzo) — continue their signature styles established in season one. But subtle changes will evolve as each character matures, like Dustin's delightfully dorky graphic tops, which include a brontosaurus hoodie and a bright yellow periodic table T-shirt (below). 
"He's our little science geek, but he is growing up," says Wilcox, explaining the custom-built ode to chemistry. "So we thought it would be fun to continue that, but maybe get a little bit more into the science in his head." 
Speaking of geeking out, "Stranger Things 2" also coincides with Halloween — off- and on-screen — and, like current day (and the '90s), pop culture costumes are a thing in 1984. So, the script called for an adorably apropros group costume for the boys from "Ghostbusters," which premiered in June of that year. But look very closely, because, reflecting real life in Hawkins, not all the Proton-packed boiler-suits are the same. 
"We thought about whose costume would be more 'together' and whose would be less, and whose mom maybe made it from scratch and whose mom didn't," Wilcox explained, about the difference between, say, Dustin, Mike and Lucas's precise onesies and Will's more relaxed one. (Hey, Joyce has a lot going on, OK?)
Halloween also offers some enjoyable pop culture Easter eggs via the hard partying teens of Hawkins High (and nostalgic fun for the costume design team and eagle-eyed viewers). A pause-button-heavy analysis of the first trailer indicates '83 and '84-referential costumes, including what looks like a Tom Cruise "Risky Business" blazer, black T-shirt and Wayfarers homage from semi-redeemed douchebag Steve (Joe Keery, below) — although his luxuriant mullet is way more John Stamos circa "General Hospital." Plus, I spotted a "Like a Virgin" Madonna and a cigarette smoking Cobra Kai member from "Karate Kid" and maybe a "Lost Boys" character (mullet, leather jacket, no shirt), although the hot-vampire flick came out in '87 and the Duffers are pretty exact on their pop-culture references. (Check it out at the 3:02 mark.)
"We're definitely referencing a lot of the [era's] movies in some of the scenes this coming season," Wilcox says.
Along with looking to films, like Coppola's 1983 coming-of-age classic "The Outsiders" (featuring Diane Lane, Tom Cruise and Rob Lowe, who hasn't aged a day since) for inspiration, Wilcox also researched real-life imagery, like middle- and high-school yearbooks for authentic ways nerds and cool kids would wear mid-'80s fashion. "I had quite a dive back into some of the teen magazines at the time," she says. "I have quite a collection of Tiger Beats and Seventeen magazine." She also looked to vintage glossies, including Jet and Cosmopolitan. "Although Hawkins is not always known for its progressive fashion-forward style," Wilcox hedges.
But, this time around, a couple of California transplants are bringing some fashion-forward coastal elite style to the small flyover town of Hawkins. Camaro-driving bad boy Billy (Dacre Montgomery, above) looks like he's ready to bust some heads (and relationships) in accurately snug '80s double-denim and a more savage coif to rival Steve's. His little step-sister Max (Sadie Sink, below) prefers sporty hoodies and zip-up track jackets, based on popular '80s beach-inspired labels like Ocean Pacific.
"She's a skateboarder and she's from a beach town and she's a bit of a tomboy," Wilcox says of Max's aesthetic. "So she likes to wear a lot of color and the boys don't really know what to do with her." Especially Dustin and Lucas, whose relationship might be tested by the new girl.
A bigger second season Netflix budget offered Wilcox and her team the opportunity to build up a bigger archive of clothing and the opportunity "to trash it or destroy it if we need to for a scene." She shopped around the country and locally in Atlanta, where "Stranger Things" films, at vintage stores in Little Five Points, plus online. The leads' tendency for rapid growth spurts that could take place during the span of just a few weeks as they're filming one scene created extra challenges for Wilcox and her team. So she relied on "heritage brands," like Wrangler, Lee and Levis, who still manufacture the same styles they did back in the early '80s.
"You can be assured that if somebody is growing — and you get surprised — you can order another one and age it down for Friday quickly when you need to," Wilcox laughs.
After the phenomenon of season one, the preteen leads became a regular presence on the red carpets and developed a real aptitude for fashion. Brown quickly became a fashion world darling, covering magazines and booking campaigns, like Calvin Klein and Converse, while McLaughlin works with a stylist. At the Emmy Awards in September, Brown wore a white tulle Calvin Klein by Appointment dress, while the boys effortlessly rattled off who designed their tuxes: Mattarazo in a three-piece Ted Baker and Wolfhard in understated Prada, while McLaughlin and Schnapp — finally joining the crew for promo moments — showed Harry Styles-level promise in a purple brocade Garçon Couture and velvet gold-embroidered Balmain jacket, respectively. 
Unsurprisingly, the kids, who are always so sweet and gracious to one another in interviews, don't have any Hollywood type wardrobe demands while on-the-job in Hawkins.
"They don't bring in their high fashion wants into the room because they know that's not what their characters are about," says Wilcox. "They're very professional. I've worked with a lot of very young actors in my career and these are some of the most talented, most fun, most professional actors I've ever worked with — at any age." 
The full season of "Stranger Things 2" premieres on Netflix on Friday, October 27.
Top photo: Netflix
Never miss the latest fashion industry news. Sign up for the Fashionista daily newsletter.