Thom Browne's Spring 2018 Dreamscape Includes White Lace Unicorns
It was a beautiful, moving collection.
Thom Browne is unquestionably one of America's best fashion talents, so news of his decampment to Paris was a particularly devastating blow to the New York schedule. But his incredibly ornate runways, which can double as theatre, are well-suited to the City of Light.
Case in point? His Spring 2018 collection, held at Hotel de Ville, which was the dreamscape of two girls called Jean Marie and Mary Beth. They arose from their bed and danced, partially en pointe, through the audience, one dressed in a formless suit in white latex, one in a formless suit of white lace. "Part of Your World" from "The Little Mermaid" began to play as the show started.
What followed were oversize, occasionally misshapen looks on models who moved down the runway as though in a trance. Perched on platform oxfords, they took on the air of otherworldly creatures, emphasized by the two girls circling and examining their clothes.
Some looks came from dreams, others — like a gown bedazzled with the shape of a skeleton — came from nightmares, but they were all incredibly special. Skirts and pants were split just above the knee, held together with buttons. Massively oversize jackets were held over shoulders with suspenders. There were technicolor, mismatched plaids and delicate lace and knits.
It was, all things considered, already the perfect Thom Browne fashion show when two men dressed as a white lace unicorn were led down the runway by a woman in all white. Another woman followed, wearing a white sheer bubble featuring a gold halo above her head. She paused at the end of the runway and waved farewell to Jean Marie, Mary Beth and the audience — the end of the dream. It will likely be a long time before anyone fully awakens from this Thom Browne vision.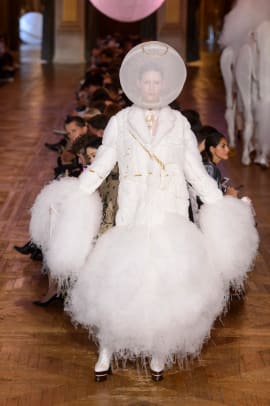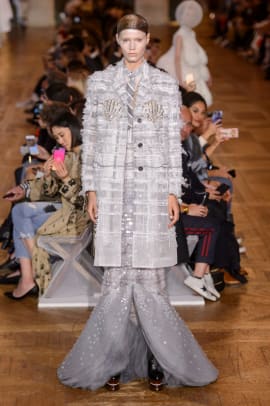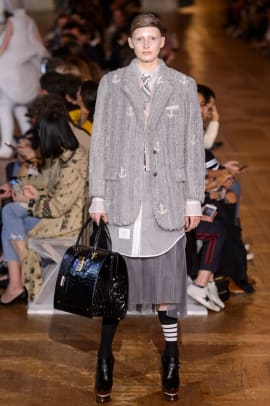 Want the latest fashion industry news first? Sign up for our daily newsletter.