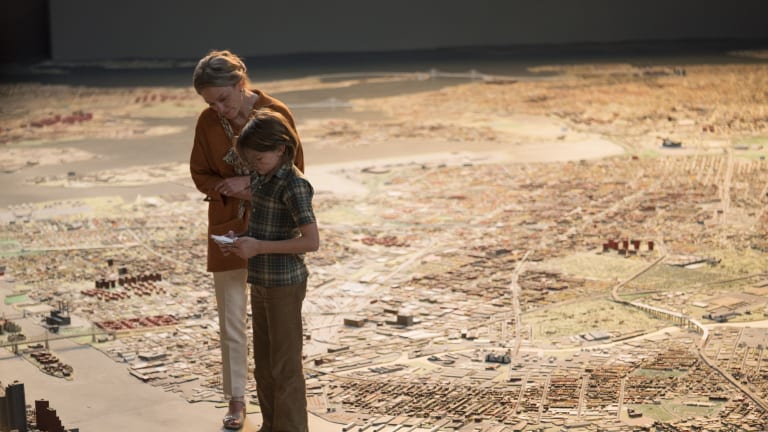 Julianne Moore Wears Costumes From 3 Different Eras in 'Wonderstruck'
Three-time Oscar-winning costume designer Sandy Powell also talks about shopping vintage for Michelle Williams for the film.
"You have to treat it like two completely separate films that you're working on concurrently, so I would have a '20s day and a '70s day," legendary costume designer Sandy Powell told me when asked about working on the new Todd Haynes movie, "Wonderstruck," which opens in theaters on Friday, Oct. 20.
Based on Brian Selznick's YA novel of the same name, the film tells parallel stories of two deaf 12-year-olds set 50 years apart. In black and white 1927, Rose (played by breakout actress Millicent Simmonds, who is deaf in real life) lives in New Jersey and is obsessed with silent movie star Lillian Mayhew (Julianne Moore, in one of two roles in the film), who's appearing on Broadway across the river. Meanwhile, in Gunflint, Minn. in 1977, Ben (Oakes Fegley), whose librarian mother Elaine (Michelle Williams) recently died in a car accident, sets out for New York City to find his father. There, he'll cross paths with a different character, also played by Moore.
Of course, two decades of storylines also allowed for two decades worth of brilliant costume design from Powell, who's won three Oscars (for "The Young Victoria," "The Aviator" and "Shakespeare in Love") and been nominated for nine more — most recently, for "Carol" and 2016's "Cinderella" live-action reboot. But even three-time Oscar winners enjoy a challenge, which is what a 2017 movie partially filmed in black and white entails. It's especially stunning when you realize that Rose's textured outfit makes her completely stand out from the crowds of people on the bustling Manhattan streets, only to remind yourself that there's no color on the screen.
Powell took the time to explain, among other topics, why she still made sure that Rose's clothing matched during filming and what it was like costuming Moore for two roles and three different time periods — well, sort of. You'll see.
Read on for the (spoiler-free) highlights.
What are the challenges of creating costumes filmed and shown in black and white for Rose's '20s storyline?
I'd never worked in black and white before, so it definitely was a new challenge. I had to go back and sort of unlearn everything I already knew because, very often, I actually start with the concept of color before I know what somebody's wearing. For instance, the young actress, Millicent Simmonds, who played Rose — I would have her try on lots of different dresses, coats, jackets and clothing from the actual period to see what worked best on her, photograph it and then it would not look as great in black in white. Sometimes if the colors are tonally similar — which is nice to the eye [when viewing in] color — it doesn't work in black and white at all. It makes everything all rather bland.
So I had to then start experimenting in putting things together that I would never normally do — especially working with high contrast with lots of darks and lots of lights and very textured fabrics and patterns. Pattern works quite often much better in black and white than it does in color. So it was a process by where everything had to be photographed the whole time and then put through a black and white filter, even down to buying and choosing the fabrics that costumes were made out of. I would photograph them first and put them all together to see how it worked in black and white.
What colors did you end up using for Rose?
She's actually wearing colors that do go together. As much as I knew that I could mish-mash colors, so long as it worked tonally, I still couldn't help myself from striving to make it look nice to the eye [in-person]. It looked good in black and white, but I still wanted it to look nice on the set and I wanted it to look nice for the actress, actually. She needn't be wearing red shoes, but she's wearing red shoes because I thought that Millie would like that. She's wearing deep oranges and rusts and a brown dress, and then the coat color is a lighter color orange. So, having said you don't normally put colors together that work, I found a way that I could do that because I also knew that there would be photographers taking pictures on set and I didn't want pictures of my costumes with bad color combinations going out into the world [laughs]. Even though the end result is in black and white.
Conversely, when Ben arrives in '70s-era New York and walks out of Port Authority into Times Square (or "The Deuce"), there's so much vivid color and print, while he's in muted shades. What was your concept in designing for that sequence?
Well, the '70s was a polar opposite to the '20s. In the '20s, the crowd is affluent and well-dressed because they're in the Financial District part of town, so we see that everybody is busily on their way to work. That was when, in 1927, New York was on the up — just before it crashed in the '30s. In this particular part of the '70s, things were down. The city was at its lowest ebb and there was a lot of unemployment. There was a lot of violence. There was a lot of crime on the streets, and so we wanted to show complete cross section of people and the kind of world that young Ben never come across where he came from in Minnesota, which was more rural. So, it was about creating a cross section of people from all different shapes, sizes and also with a cacophony of color. 
The kimono jacket that Michelle Williams, as Elaine, wears in the beginning of the movie is important to Ben's storyline. What is the significance of its silhouette and print?
Basically, it's summer and she's relaxing at home, so she wouldn't be particularly dressed up. It was going to be jeans or a pair of trousers and a skinny sort of top or T-shirt, but the story demanded that she has an item of clothing that is light and recognizable. The kimono is part of a '20s pajama set. In the '70s — and I think any period, actually — there are certain types of people that would always buy vintage clothing or would like to wear vintage clothing. In the '70s, it was very fashionable to wear '20s and '30s things in fashionable or artistic circles. I'm assuming Elaine, as a librarian and a bookish person, is a little bit bohemian. It's something she would have found in a thrift shop and I just found the thing myself; I knew she had to have something that was really distinctive and bold that the audience and Ben could recognize instantly. When I saw that kimono with that pattern, I just thought, "This is it. This something that's going to work."
You costume-designed for Julianne Moore for two characters in, maybe, up to three decades. What was the inspiration behind each of her costumes?
The character she plays in the '20s [silent movie star Lillian Mayhew] — we never see her out of costume. We don't see her in what she would wear every day. We see her in a stage costume and we see her in a movie costume. The inspiration for both her costumes in that period, I looked at silent movies of the period. The actual silent movie that [Lillian is] in is fictional, but we looked at Lillian Gish films. There's a Lilian Gish film called "The Wind," [in] which is somebody stuck on the moor in the wind, actually. I looked and got inspired by Lilian Gish and the type of costumes she would have in those films from the very early '20s, and again, had to think in terms of texture and contrast for the material, which was a gingham or a plaid and a cotton that was fine — that it would blow around in the wind — and then a crochet shawl that could texturally look good and work in the wind.
The other costume was the stage costume for a made-up play set in the 18th century. I looked at images of period stage shows in the '20s and what I wanted to do was an 18th-century costume that looked like it was made in the '20s. So, for me, [that] was the choice of fabrics — the very shiny metallic lamé decorations on the dress, the bows — and the fact that her makeup is very '20s as opposed to 18th century. Also, I made the dress shorter than it would have been in the 18th century. In the '20s, it was a period when the hemlines drastically rose to almost above the knee. It was so completely different from anything that had ever happened before. It was the first time hemlines on women rose up so high and that tended to happen across the board. If a woman was going to a fancy dress party or dressing in another period, they tended to make those dresses too short, as well. 
Then, in the '70s, I wanted her to look artistic. I wanted her to not look like a typical "old lady in old lady clothes." I wanted her to look like she was still active, still vibrant and artistic, really, and so it's little bit backdated. I wanted her to wear trousers, not a dress. The trousers she's wearing are a '60s shape, considering her character is in her late 60s and it's the '70s — quite often, people wear clothes from the previous decade. Once you got to a certain age, you sort of tend to stick to a shape that suits you. Then the tunic top, I wanted it to look like an artist smock and it was a shape she's been wearing since the '40s. I imagined she was the kind of woman that once she started working, she wore the same kind of thing throughout the decades, just slightly updated.
"Wonderstruck" premieres on Friday, Oct. 20.
This interview has been edited and condensed for clarity.
Want more Fashionista? Sign up for our daily newsletter and get us directly in your inbox.