Victoria's Secret Will Likely Land in Hot Water for Fashion Show Headdresses Again
Maybe one day the brand will learn.
The 2017 Victoria's Secret Fashion Show walked on Monday evening in Shanghai, and although the much-hyped move across the world was meant to court Chinese customers and celebrate an entirely different culture, that didn't stop the lingerie giant from slipping up in the appropriation department as it has in the past. Guests on the ground in Shanghai for the event have been buzzing about one of the show's themed segments, entitled "Nomadic Adventure," that featured Native American-inspired headdresses and several "tribal" motifs. 
One such look, modeled by Austrian newcomer Nadine Leopold (above), included a feathery headpiece that bore a resemblance to the traditional war bonnet, a symbol of respect and bravery in many Native American tribes. It's also reminiscent of the headdress that Karlie Kloss wore in the 2012 edition of the show for which both Victoria's Secret and Kloss herself eventually issued a public apology, and was later cut from the televised show. 
Other "Nomadic Adventures" ensembles heavily incorporated feathers, beading, turquoise stones, Navajo-style weaving patterns and collars that raised eyebrows — and started a bit of chatter on Twitter. While the show won't air in full until Tuesday, Nov. 28, we're willing to bet that Victoria's Secret will land in hot water for its dubious styling choices yet again. You can browse every look from the 2017 Victoria's Secret Fashion Show in the gallery below.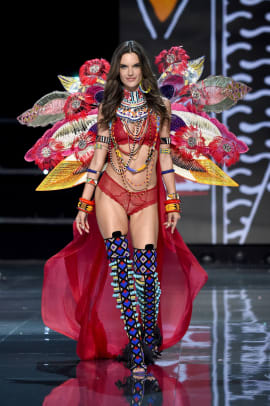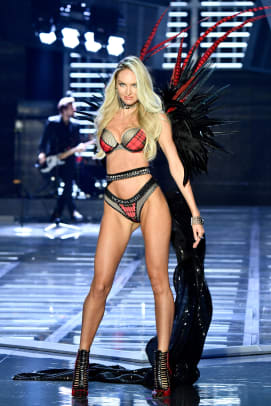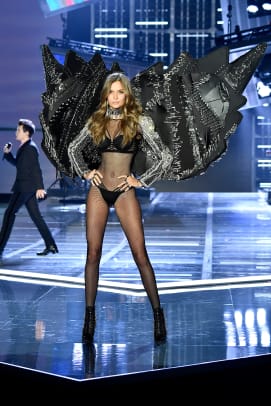 Sign up for our daily newsletter and get the latest industry news in your inbox every day.