How I Shop: Anna Z Gray
The model and writer behind "Things I Would Buy If I Didn't Have to Pay Rent" discusses online stores, her favorite brands and why vintage shopping in New York is bullshit.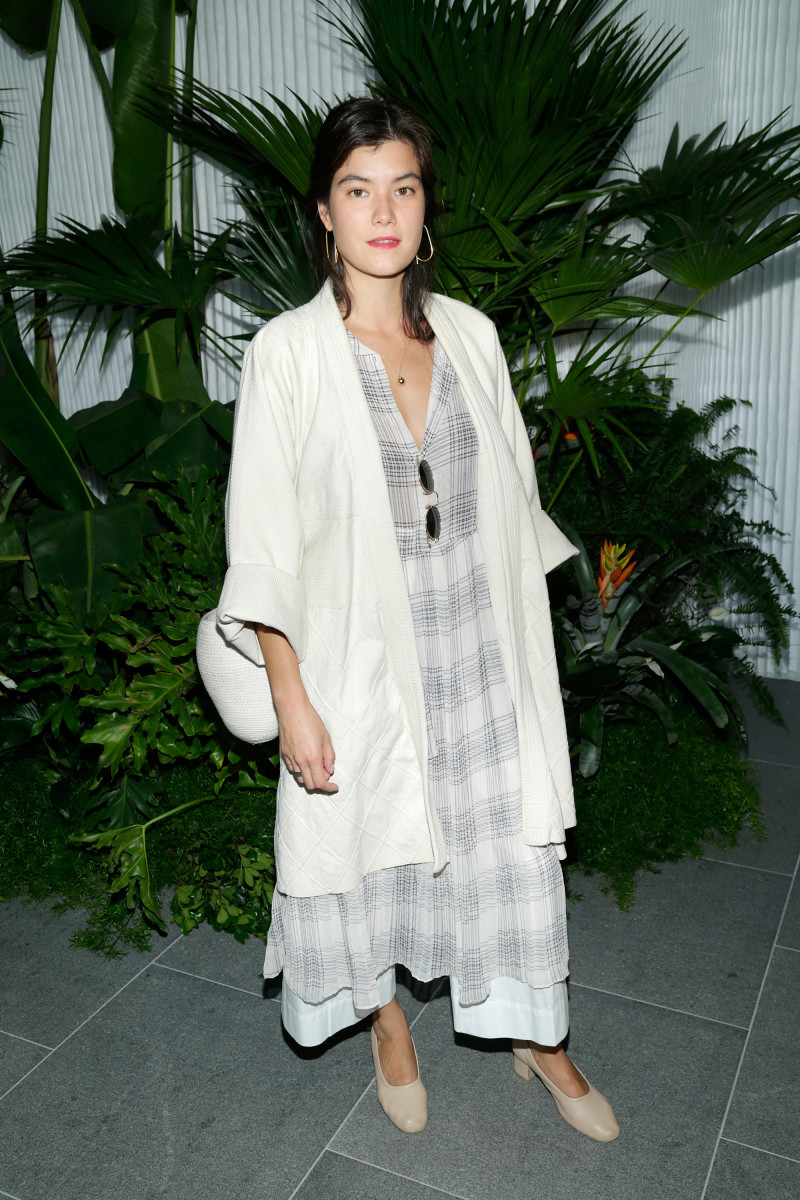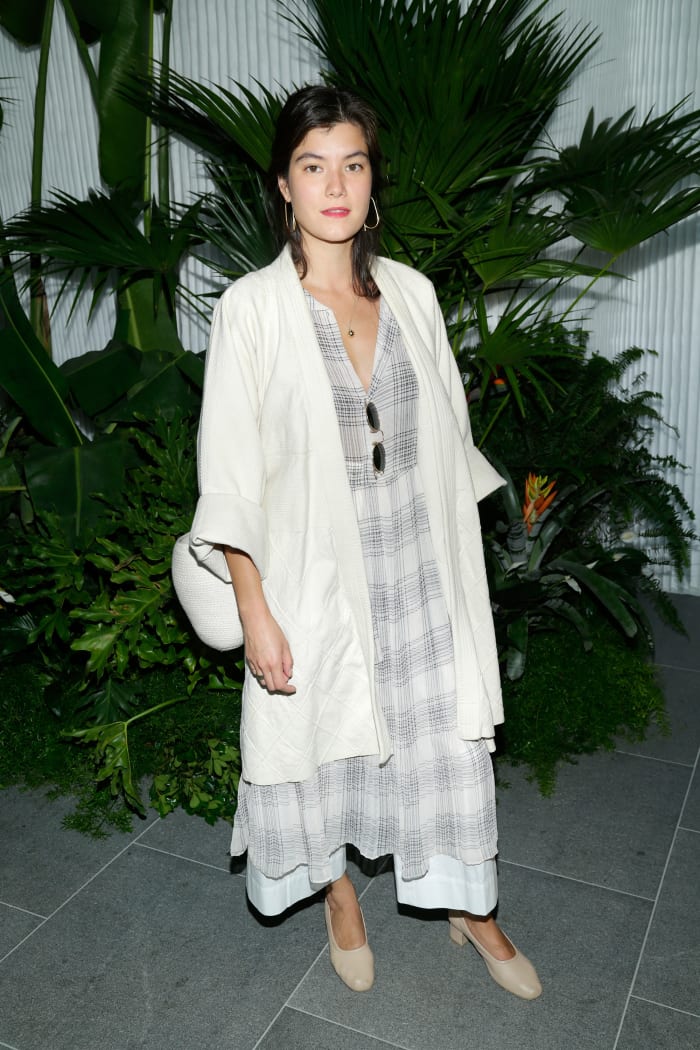 We all buy clothes, but no two people shop the same. It can be a social experience, and a deeply personal one; at times, it can be impulsive and entertaining, at others, purpose-driven, a chore. Where do you shop? When do you shop? How do you decide what you need, how much to spend and what's "you"? These are some of the questions we're putting to prominent figures in our column "How I Shop."
Within five minutes of speaking with Anna Gray, a New York-based writer who hails from Virginia, she was quick to admit that she rarely buys things for herself, but also that she gets a good amount of clothes for free. (She also says she identifies with Saoirse Ronan's lead role in "Lady Bird." "I was really bratty," Gray tells Fashionista over the phone.) It's this type of self-awareness and willingness to not tiptoe around the idea of one's own influence that makes her all the more approachable.
"It's been long enough that I've been super selective of what is sent to my apartment," says Gray of her PR freebies. "Brie [Welch, a stylist and her roommate] gets sent a lot, too, so we literally have eight dry shampoos in our cabinet. I'm like, 'This is getting ridiculous.'" We love a girl who can call something out — even if it has to do with something that she loves.
On the online presence spectrum, Gray falls within the microinfluencer range with other fellow under-the-radar fashion Instagrammers who would rather post candid outfit photos and face mask selfies over orchestrated flatlays and #spon. Her following stems from modeling, freelance writing for websites like Refinery29, Into the Gloss and Garance Doré, as well as having a cool group of New York City creatives as close friends. Plus, she runs a newsletter called "Things I Would Buy If I Didn't Have to Pay Rent," a delightful wish list of items compiled by Gray herself, who finds as much pleasure scrolling through an e-commerce site's endless feed of product as she does trawling through the racks of a random vintage store.
Read on to learn more about how Gray and her love of online stores, her favorite brands and why vintage shopping in New York is bullshit.
RELATED ARTICLES
"I'm constantly shopping but I'm not necessarily buying. If we're talking about buying things, it's almost never. I moved to New York for college when I was 18 and having enough spare money to spend on clothing was such a luxury that I maybe burnt myself out on weird, sequined polyester gowns by the time I was in my early 20s. Then when I started having actual jobs and being able to afford nicer things, I realized the value of investing in clothing and now I'm really reluctant to buy anything — and I try to only buy vintage. That being said, I get a lot of clothes for free, so it's sort of a skewed perception.
I pretty much only shop online. I usually see stuff on other people that I think is cool in terms of color, silhouette or material, and then I search for stuff that way. Then from there, I end up in some crazy wormhole of like, really specific Japanese 1920s kimono belts or something, which I have one of.
I look at Etsy a lot. I have a handful of favorite shops there. The last few months, I've been finding a lot of really amazing stores on Instagram, which is so convenient because all of my procrastinating is in one place. Lately I've been following Desert Vintage, a store in Arizona, Noirohio and Persephone, which is an Etsy store that posts a lot on Instagram.
I definitely look at a lot of sites where I know that I can't afford anything but it's nice to dream a little, like the 1stdibs vintage clothing section, which has the most incredible handbags. I buy a lot of things from The RealReal, mostly Repettos because they're always $90 instead of $200.
I try not to spend too much on stuff. It's hard to put a blanket statement on it because I freelance and sometimes I'm like, 'I'm rich!' and sometimes I'm like, 'I don't know how I'm paying rent next month.' If there's money burning a hole in my pocket, I'll go look at something or find something online and I definitely think about it. I'm not an impulse buyer. I try to keep it really practical, like if it's a beautiful coat that I know I'll wear, then I'll buy it. I think I'm beyond my weird, sequined stuff phase, maybe for the better.
I have an inordinate amount of shoes. It's ridiculous. I think it's because shoes are really easy to buy online because you always know it's going to fit for the most part. I go through phases because I see what I imagine is a hole in my closet and I just get a little nuts and the last four things I have bought will be jackets. I just got sent these Tamara Mellon thigh-high boots. They're very sexy. I've been looking for a thigh-high boot for many years just because for some reason I think it should be staple in one's closet (laughs). I almost pulled the trigger on those Stuart Weitzman ones. They're not perfect and I think these Tamara Mellon ones are perfect because they're pointy-toed, but not too pointy-toed. They almost look like a cowboy boot. 
What brands have I been admiring lately? I love this bag brand Kara and also Catzorange. Their bags are beautiful; they look like porcelain saucers. I've been working with one of my best friends named Khoi Le. He's very talented and we have a fun little capsule collection: It's three bags in the same color with slightly different styles. We went to college together and he's been making bags for like a decade.
In terms of clothing, Ganni is killing it. They're really good right now. I also like this brand Nikki Chasin. Mr. Larkin strikes the perfect balance between vaguely Victorian and contemporary. Simon Miller is a friend's brand that is so cool and considered. Their latest presentation had all of these sculptures that perfectly synced with the collection. There is nothing lazy about the whole vision. 
I really like what Jonathan Saunders is doing with Diane von Furstenberg. He's injected youthfulness into the brand in a respectful way. I have a couple pieces from their fall collection that I wear all of the time, like this green suede trench that I truly, deeply love. I'm pretty sure Mulberry is going to be the next cool 'turnaround' brand. I keep telling my agent that but he doesn't believe me. Did you see those floral duvet coats they made? I love them.
Another friend's brand is Alyx — the cool biker chick I wish I was more often. Everything is made in Italy by the same factories as Hermès, Alaïa, Céline and is fucking beautiful. Staud is also another friend's brand, like the Glossier of clothes.
This summer, I went on a road trip with my friend and sort of pseudo-colleague who's opening a store in Arizona called Object Limited. We went on this buying trip together across the country in a 16-foot Penske truck and stopped at every single antique mall that looked interesting to us. It was so fun and insane. My focus was on vintage clothing, so that was a lot of shopping but not for me, which was really, really fun because I could experiment with buying for different styles of people. The thing that I really found to be lacking across the country in terms of vintage is shoes and sunglasses. I was really surprised.
Shopping for vintage outside of New York is 75 percent cheaper. Vintage shopping in New York is bullshit. Because space is limited, I think stores are catering to a very specific audience in terms of budget and style, which is usually super cool Mary-Kate Olsen vibes in 2012, or whenever she wore that sparkly thing to the Met Ball. But I think once you get out of major cities, or at least New York, you really start to see a lot more options. You don't feel like you're in a store full of boho-chic vintage. You feel like you're in a space that's compiled of like, 70 different old ladies' closets who are very different from each other, which I enjoy digging through. That is relaxing to me, but to a lot of people that's really overwhelming.
When you're shopping for vintage, always try it on. Unless it's Etsy — then you really have to know your sizes. Measure your whole body and always have those measurements on hand. Try to look for natural fabrics, like 100 percent silk, cotton, wool, and avoid polyester. Though, some polyester things are too good to pass up and you're like, 'At least I'm saving it from leaching into a waterway somewhere.'
I've always shopped vintage because it was the correct price point for me. But I think in recent years, I've really become aware of the fact that the fashion industry is extremely wasteful and you know, sometimes you gotta buy something from a store that you know isn't going to last you very long because you need it right away. But I try to be conscientious about that and I like the idea of having one-of-a-kind things. I like it when people say, 'Oh, I love your coat, where did you get it?' and I'm like, 'Vintahj, thank you.' It feels like you put work into it. You're not being lazy about it."
This interview has been edited and condensed for clarity.
Want more Fashionista? Sign up for our daily newsletter and get us directly in your inbox.