Colovos, From a Husband-and-Wife Design Duo, Is Dedicated to Quality and Longevity
The former creative directors behind Helmut Lang have been quietly building their own understated-luxury brand.
It's always exciting to check out the first-timers of New York Fashion Week, and every season, I make a point to see a few young designers for stories just like this. But when I attended Colovos's Spring 2018 show in September, the experience was different than it is for most newcomers. The brand's voice, through its clothes, was crystal clear, and the aesthetic felt both authentic and considered. Perhaps it's because husband-and-wife design duo Michael and Nicole Colovos have been quietly building their luxury brand well before their fashion week debut, already boasting four collections prior to showing in September.
"It's good to take a little bit of time to figure out and build the DNA of the brand," says Nicole, on taking it slow before joining the NYFW calendar. "It's becoming more and more important for everybody who's in this game to find their unique voice. I think for us, runway shows are really an important part of that." After the last model exited the runway, Nicole and Michael took a final bow to cheers and a standing ovation; the wait was well worth it.
RELATED ARTICLES
Runway shows, however, aren't new at all for the Colovoses, either. In fact, they're industry veterans: Michael has a background in design from Italy, while Nicole hails from the styling and magazine world. Together, they were the previous creative directors of Helmut Lang for nearly a decade after Lang, the designer, left his label in 2005. And in 2001, they also successfully launched Habitual, an award-winning, Los Angeles-based denim line that garnered recognition by the CFDA/Vogue Fashion Fund.
After stepping down from Helmut Lang in 2014, the two took a much-needed two-year hiatus before starting Colovos. "Part of it was having a break and enjoying summers, which not many people in the fashion industry get to do," says Nicole. "I think that's really important to have some space between one thing and another, and to think about what it was we wanted to do for our next plan." According to Nicole, there were plenty of different opportunities for them to dive back into fashion, but it was the creative process of design and collaboration that they missed most. They launched their namesake brand in 2016.
Colovos is for the downtown girl who wants an elevated look — a minimal aesthetic, but striking in its subtle details with a focus on longevity and quality fabrics. "One thing that we've done differently than Habitual and Helmut Lang is trying to make clothing that can last," says Michael. He points to his shirt, which he designed himself from his menswear days, as an example. (The garment has been in his wardrobe for 15 years and counting.) "It really comes down to the fabrications, and you can see this when you buy less expensive things, like fast fashion," he adds.
Colovos is far from fast fashion, both in make and price point, the latter of which can start at $375 and go up to $2,000. The line's fabrics are sourced from Italy, and its denim comes from a niche mill in Japan. "We really take a lot of time and effort to source our fabrics because we don't do a lot of decorative embellishments," says Michael. "It comes down to the texture and subtle nuances and finishing. It's trying to find that balance between perceived value and what will elevate the collection." One of the brand's signature designs, a sweatshirt with detailed box pleats, strikes this balance, and, like with Habitual, customers are still drawn to the designers' expertise in denim.
This pared-down, quiet approach is nearly the antithesis of what it might be like running a global, legendary brand like Helmut Lang. Indeed, the Colovos team is comprised of just three people, including Nicole and Michael, who use their Tribeca home as the brand's studio. They prefer to have most of their pattern-making and production done in New York City, too, and when it comes to retailers, they consider Bergdorf Goodman — for its big-boutique sensibility — and Ikram in Chicago — for its highly curated inventory — as great achievements. "We understand the way the fashion cycle works, and I think we're able to do a lot more with a lot less in a way," says Nicole.
But while Colovos leans towards minimalism, Michael and Nicole have big plans for the brand, including expanding into eveningwear, pre-season collections, as well as menswear and accessories — when the time is right, of course. "We really try to formulate the ingredients of the brand," says Michael. "Now we're expanding on those. The spring runway show was more of a push forward and we'll continue to go and take bigger leaps as we go."
See Colovos's Spring 2018 collection in the gallery below.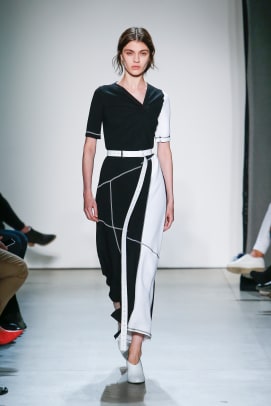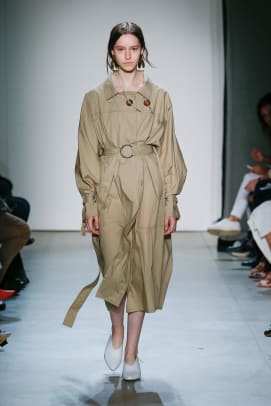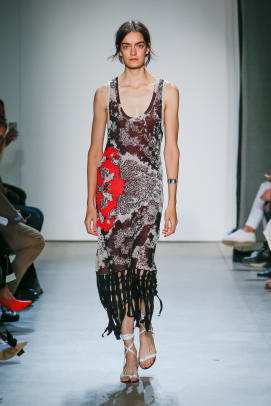 Want more Fashionista? Sign up for our daily newsletter and get us directly in your inbox.