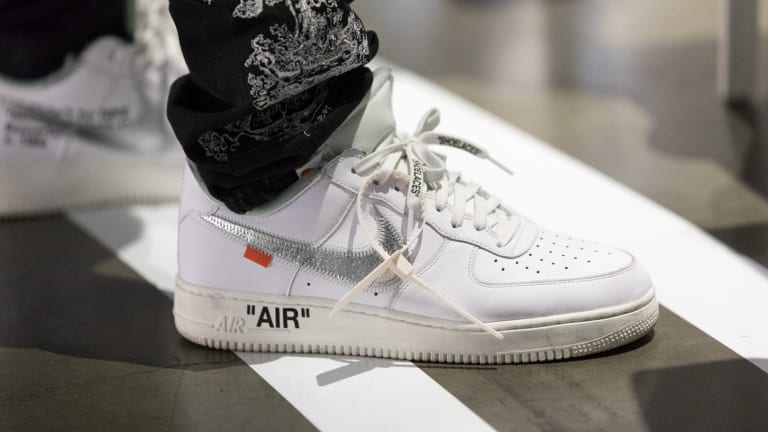 What Makes a Fashion Collaboration Work?
ComplexCon brought together some of the most prolific collaborators in streetwear, including Hiroshi Fujiwara and Adidas's Jon Wexler, for an illuminating panel on the "Art of the Collab."
With an all-star lineup, 2017 ComplexCon drew crowds and lines that rivaled many of the hyped drops that panelists spent the weekend discussing. After a day and a half spent waiting in lines, cutting through lines and walking by lines, I closed out my trip to Long Beach, Calif. with the festival's Art of the Collab panel. Even with my press bracelet, I waited in, yes, yet another impressively long line, but it was with good reason: Jeff Staple of Staple Design assembled a dream team of a panel that included modern-day Renaissance man André 3000, the godfather of collaborations Hiroshi Fujiwara, Colette's Sarah Andelman and Adidas Vice President of Global Entertainment and Influencer Marketing, Jon Wexler.
While each panelist had expertise in a different area in the world of product collaborations, the group came together to shed light on what makes for a perfect design partnership — something Wexler likened to Reese's Peanut Butter Cups: "When you get the two things that go together the right way, you make history." Read on for the key takeaways.
Working with your friends and maintaining relationships births collaboration.
For Fujiwara, ultimately, it's about the people he is working with just as much as, if not more, than the brand itself. If he's working with Louis Vuitton, Fujiwara said it's Kim Jones with whom he's working; similarly, when asked about his collaboration with Starbucks, he mentioned his friendship with the president of the company, Rosalind Brewer.
Later, Staple brought up Kanye West's 2015 Footwear News "Shoe of the Year" Award acceptance speech, in which West said Wexler saved his life. Although Wexler didn't go into detail about those "personal conversations" with West, he did speak a lot to the relationship, partnership and investment — both personally and professionally — that comes with collaborations at that level, but would truthfully be applicable at any.
Different strengths and areas of expertise come together to build greater ideas.
"I knew nothing about how to make a sample," 3000 said, discussing the Tretorn collaboration he and Staple worked on together. "I can draw, but I don't know measurements. I don't know materials that well, so I learned to get the experts to do what they do and then everything will work better." Staple added that he was on the team to help make the ideas inside 3000's head come to life.
Essentially, knowing your own strengths and how to leverage the strengths of your working group will make for a stronger, more knowledgeable and complete team.
Wexler echoed later on that celebrity collaborations with the likes of West and Pharrell wouldn't be successful without leadership teams, creators, trend forecasters and other experts. "We need that full 360 to pull this off," he said.
Each party's participation is fluid and reciprocity is everything.
"I like to think of it in terms of reciprocity," Wexler added. "I believe that both parties have to establish clear objectives and deliverables up front and then it's dependent on everyone to deliver that." That said, ideas can often get bigger than what's initially laid out. "So, you might start there and get in a room and think of 20 other things that you can accomplish together. Then you have Madison Square Garden, Saint Pablo launch and [Yeezy] Season 3 at the same time. You sell out Madison Square Garden in the first fashion show to sell tickets and 20 million people watch it live stream and you've arguably made history."
Fujiwara asked Wexler, the corporate face on the panel, what Adidas's expectation is from a creator and whether it's 50/50 (or where it realistically falls). Wexler likens it to marriage, pointing out it can change project to project or even day to day. "I think sometimes it's 60/40, sometimes it's 50/50, other times it's 90/10, but if you have a real relationship, you build that. I think it's fluid."
Homepage photo: ComplexCon
Want the latest fashion industry news first? Sign up for our daily newsletter.