Emme Parsons Is Making the Chic, Simple Sandals You're Always Looking for
Launching for resort, this Los Angeles-based brand is one to watch.
I'll start this by saying I may have a bias towards brands that fit descriptors like "chic," "minimalist" and "simple," but knowing that I'm not alone in those preferences, and that we live in a time where so many accessories and clothing items can feel over-designed, I feel ethical in labeling Emme Parsons a label to watch.
Parsons, a Los Angeles-based former graphic designer and consultant, launched her eponymous line of understated sandals this month for resort season. She's starting small, with just three styles in three colorways each, all handmade in Italy with acute attention to detail: There's a leather-and-suede toe-ring lace-up, a simple suede ankle strap and a leather T-strap, all handmade in Italy. Prices range from $360 to $470 for snakeskin — not cheap, but more affordable than similar designer options. She's also starting with a small group of discerning retail accounts: The shoes will be available at Bird, Goop and Capitol, in addition to her own e-commerce site.
Parsons, whose resumé includes stints as a graphic designer at Theory and an art director Lucky in New York, began thinking about starting a shoe line years ago while on vacation in the South of France. "I was thinking about shopping for warm weather, whether it be seasonal or an amazing vacation you're about to take, and all the excitement that comes with that and how certain items, especially sandals, bring you so much joy," she explains. The birth of her son was also a source of inspiration. "I realized I wanted to really go for it to be an example for him to never be afraid to follow his dreams and take risks," she says. She also felt that her background in marketing and design, and the connections she'd made throughout her career, would allow her to build a brand.
She set out to create styles that she herself had trouble finding with the intent to keep those styles around for subsequent seasons. "I feel like, for me as a shopper, and a lot of my friends, you find something you love and keep buying variations of it over and over again," she says, pretty much describing me and my closet full of nothing but black ankle-strap shoes. Thus, don't expect drastically varied collections season after season. "I wanted to create a collection with styles that would always be available and then have new colors or materials introduced every season instead of trying to create a huge line with 20 different SKUs... it wasn't sustainable for me as a small brand." She plans to expand into metallics for next spring, and then a close-toed mule and a low heel for Pre-Fall 2018. The price point is strategic, as well: While quality was a top priority, she didn't want them to be so expensive that you feel afraid to wear them. 
Despite being relatively simple, the shoes are imbued with thoughtful components: There's the two-millimeter soles, thicker than many high-end sandals, for durability and comfort; the stitched-in (instead of glued) insoles; the reusable tote bags she includes with each pair instead of dust bags and the emblem stamped on the bottom of every style — the outline of a succulent, as a nod to LA. As they should be for anyone launching a brand in 2017, social and environmental sustainability are also priorities for Parsons; while she initially wanted to produce in LA, she determined Italy would be best for quality purposes, but visits her factories to ensure they adhere to ethical pay and conditions. They're also all Registration, Evaluation, Authorization and Restriction of Chemicals (REACH) compliant.
Parsons is building her brand not only from the perspective of a graphic designer, but with the practical, human perspective of a female consumer, which is likely what makes her shoes so irresistible. 
See each style in the gallery below, and head to her site for more colors.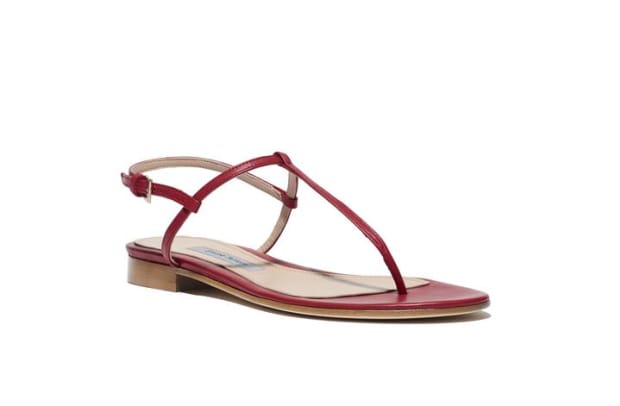 Want the latest fashion industry news first? Sign up for our daily newsletter.