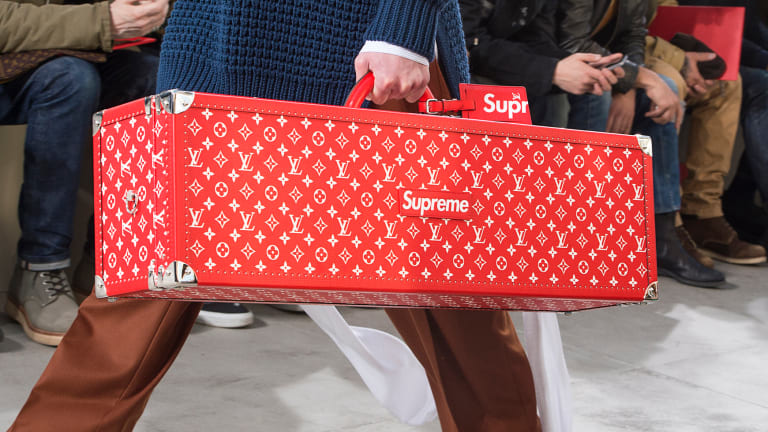 Will The Year of 'The Drop' Change Fashion Forever?
Luxury fashion adopted the streetwear scene's preferred method of retail in 2017. But is the hype model sustainable in the long term?
The Instagram likes had only just begun to pile up on runway photos of the ultra-luxe collaboration between Louis Vuitton and Supreme in January, but online speculation about what would come next was already at a fever pitch. How much would the items cost? (A lot.) Which celebrities and influencers would get their hands on pieces from the collection first? (Travis Scott, ASAP Rocky, Cara Delevingne, Rihanna and Justin Bieber, to name a few.) What does it mean that a cult New York skate brand like Supreme had stormed Vuitton's venerable Parisian runway? (That they'd soon receive a $1 billion valuation.) And, most pragmatically, how would these items actually be sold?
After pricing — which no one doubted would be exorbitant — the answer to the final question was perhaps the most obvious: the collaborative pieces would be offered in limited quantities at select, special retail locations around the globe without much advance warning. It's a tactic that we've come to know as a drop, and one that Supreme has used to great effect at its international brick-and-mortar stores for years.
The Louis Vuitton x Supreme drop wasn't without a few hiccups; the New York event was denied a permit by a local community board, although drops in other cities like London and Paris were held as planned. Still, it concisely illustrated what makes this retail strategy so appealing for brands and shops alike, and why there has been a noticeable uptick in high-profile drops in 2017.
The combination of a coveted label, suddenly available new product and very limited quantities has proven to equal buzz, demand and, often, immediately sold out goods. See the Alexander Wang collection for Adidas (which was released through a series of carefully orchestrated drops), Barneys New York's recent two-day event on Madison Avenue called, suitably, The Drop @ Barneys, and any number of the exclusive product assortments sold at boutiques like Dover Street Market, Kith and Colette. Even less trend-driven brands like Moscot, Opening Ceremony, Misha Nonoo and Todd Snyder have embraced the term this year.
Related Articles 
"Last year was the year of the pop-up," says Lawrence Schlossman, brand director for Grailed, the online clothing marketplace where many dropped pieces are later feverishly bought and sold. "This is the natural progression. Drops have always worked because they're exciting, they're special and they're very of the moment." The difference between a pop-up shop — a temporary selling space that opens and closes on a set timeline — and a drop can be nebulous. Schlossman, for what it's worth, says the key difference lies mostly in the fleeting nature of dropped product, which is made available with little to no notice and not offered for sale again. A pop-up, on the other hand, can theoretically be restocked and advertised in advance. 
The appeal to consumers is clear: buy now or forever miss out on either owning something few others have or re-selling it on sites like Grailed or eBay at a markup. For brands, it's an opportunity to test new product in the market quickly and to lend their releases an air of exhilaration, stoking the competitive shopping urge that gets many consumers, particularly young ones, foaming at the mouth and bleeding from their wallets.
Alegra O'Hare, VP of brand communications for Adidas, says utilizing a series of drops for the brand's Alexander Wang collaboration is a way to maintain momentum throughout the season and for subsequent collections (the partnership is currently in its second season). "Our audience is always looking for newness, and this strategy allows us to capture excitement for each new product release," she explains. In this instance, it also relates to the campaign narrative involving models as bike messengers making deliveries. "It gives the consumer a journey to follow as the collection is brought to market," she adds.
Despite new riffs, the drop strategy is, at its core, a tried-and-true approach in the realm of streetwear. As managing director of Highsnobiety, the men's lifestyle site that consulted with Barneys on its event and served as a media partner, Jeff Carvalho saw firsthand how the strategy is gaining momentum in other categories, particularly among streetwear-adjacent labels that participated in The Drop @ Barneys, like Off-White and Amiri. "It's something that's been around within streetwear and the skate world for probably the better part of a decade," Carvalho says. "It's a new behavior that, now, the bigger guys are starting to realize works for a young demo."
He also believes this method of retail can be replicated to reach more shoppers in other age groups. "I don't have any data to show this is effective with an older consumer, but I think the approach is interesting in that a traditional shopper is now seeing this as another opportunity to get their hands on good stuff," he says. "Sometimes, it's kind of exciting. Think of all the moms and dads and grandparents that shop for their sons, daughters and grandkids, who are not used to this model. Now, they see an opportunity to actually get some cool goods that may otherwise not be available to them."
It has, in fact, already been working well for high-end brands with an older, affluent clientele, says Kristen Dempsey, brand director at Heroine, the womenswear-focused sister site to Grailed. They may just not have previously adopted the terminology. "In some ways, this idea of an unannounced release of a finite amount of product is not something new in the women's space," she says, citing Dover Street Market's tactic of suddenly placing Céline mini-luggage handbags on the store's floor with little fanfare."[These items] would sell out within a few hours, but it wasn't being marketed in the same way that we're talking about streetwear or things that are now in front of the hypebeast audience. It's basically the same thing. It's just wearing a different mask."
According to Dempsey, the concept of the drop may be so closely associated with streetwear — and, in turn, with the young male shoppers who dominate the category — because typical streetwear price points allow for impulse shopping. The luxury that drives drop consumption often lies in scarcity, not monetary value (although resale opportunities with strong ROI abound). A limited-edition Supreme T-shirt dropped to commemorate the brand's new Williamsburg outpost, by way of example, was sold for under $50, but within hours, was being flipped online for upwards of $1,000.
"When we're talking about a lot of brands that are gaining notoriety in the women's space, those are inaccessible to a lot of people because of the pricing," she explains, noting that it may take something truly unique to replicate drop fever for more expensive women's items. "Maybe in the future, [when] the next 'It' bag arises on the market, the same thing could be happening again. The next Rihanna x Manolo Blahnik collaboration … special items could have that same type of drop feeling."
Beyond that, the future viability of the drop model is subject to differing opinions. Schlossman suggests we're reaching a saturation point, much of which is thanks to corporate piggybacking. A list of common complaints associated with drops can also prove frustrating to all but the most devoted shoppers: fighting crowds, waiting in lines that form hours, if not days, in advance and, if the drop includes an online component, losing product to automated bots that are programmed to scoop up exclusives faster than humans can.
Some forward-thinking companies have already moved to address those problems by bringing to market the next evolution of the drop — predictably, it comes in app form. Last fall, e-commerce platform Shopify launched Frenzy, their "mobile flash sales app." Shopify says their first Frenzy sale — a batch of Yeezy Boost 750 sneakers sold in conjunction with streetwear retailer Kith — sold out within minutes and led to subsequent partnerships with other entities in the hypebeast zeitgeist, like Anti Social Social Club and Migos.
Despite initial complaints from users about the app's interface and functionality during the Kith sale, a company rep says Frenzy currently has more 30,000 monthly users in 51 countries, with an average product sell-out time of 30 seconds. The company also has plans to experiment with drops in the realms of music, art and beauty, as well. Adidas and Nike have each launched their own in-house apps for drops, called Confirmed and SNKRS, respectively.
It should be noted that offering a drop online still poses similar logistical challenges to IRL drops when demand for limited-edition product reaches a fever pitch. For example, interest in the latest Off-White x Nike drop was so great that Nike canceled a planned online raffle earlier this month "due to technical issues caused by overwhelming demand."
Aside from the inherent hurdles for both buyers and sellers, designer Heron Preston, who participated in The Drop @ Barneys, believes the effects of drop mania will be lasting. "I think it will change the future of fashion," he told Fashionista at the Barneys event. "The world is in a place right now where people just have the appetite to be fed new stuff all of the time. That's the challenge for us. It's the best ideas that win."
It's also, of course, the best items that ultimately come out on top, regardless of how they reach shoppers. "If you are flash-dropping crap," Schlossman concludes, "it's still crap."
Homepage photo: Imaxtree
Want more Fashionista? Sign up for our daily newsletter and get us directly in your inbox.