At 'Glamour''s 2017 Women of the Year Awards, a Rally and a Celebration
Cindi Leive's very last WOTY as editor-in-chief was an emotional night for all involved.
Glamour's 2017 Women of the Year Awards couldn't have come at a better time. In an alternate universe — 50 years ago, perhaps — the dust may have already settled in the six weeks since The New York Times's Jodi Kantor and Megan Twohey published their explosive report chronicling the many, many allegations against Harvey Weinstein. But as accusations continue to mount against more men in power — across industries ranging from sports to media — women are speaking louder, angrier, harsher, fiercer, clearer. We're speaking up about assault, harassment, gender discrimination, sexual inequality, the wage gap, reproductive health and more, and how all that is reflected in the workplace and, more generally, throughout today's society. The dust, rather, is just picking up steam.
After a 16-year tenure as Glamour's editor-in-chief, Cindi Leive's last WOTY — she departs the magazine at the end of the year — was an especially emotional one. The 27th annual event, held at the regal Kings Theatre in Brooklyn, featured a range of segments that reflected the myriad ways in which women are spearheading this latest iteration of a movement decades in the making: #MeToo spokeswomen Aly Raisman, Cameron Russell, Anita Hill and former New York Police Department officer Ann Cardenas delivered a series of powerful monologues; Ruby Bridges, Katie Couric, Laverne Cox, Ibtihaj Muhammad and Roe v. Wade attorney Sarah Weddington spearheaded a moving portion called "The Firsts" and mother witches Hillary Clinton and Michelle Obama spoke via a mammoth video chat. 
The 2017 Women of the Year themselves — Gigi Hadid, Solange, Nicole Kidman, Dior's Maria Grazia Chiuri, Congresswoman Maxine Waters, late-night host Samantha Bee, record-breaking astronaut Patty Whitson, Syrian refugee-turned-education activist Muzoon Almellehan, "Wonder Woman" director Patty Jenkins and the organizers of the historic Women's March — touched on the evening's themes, too, but none more emphatically than Waters. Often preceded by her beloved candor, Waters received the first well-deserved standing ovation of the night following her introduction by Zendaya.
There was also no shortage of fashion talk: Chiuri's particular cocktail of fashion and feminism was heralded throughout, as was Solange's compelling use of clothing as performance and expression. Of course, the red carpet followed suit, with sexy, structured power pantsuits cropping up on the likes of Bella Hadid, Ashley Graham and Zendaya — as topical a trend as ever.
It was as much a celebration as it was a rally. For a couple of hours women had a platform to relish in all there was to celebrate this year, with resilience and courage taking center stage. But it also acted as a stirring group powwow for the next year, and the next year, and the next year after that. Leive's successor, whomever they may be, has quite the legacy to inherit.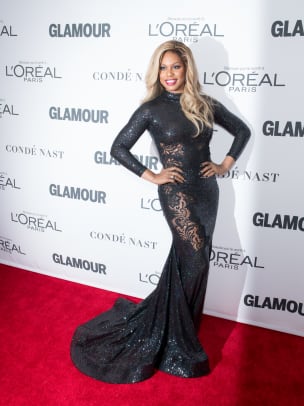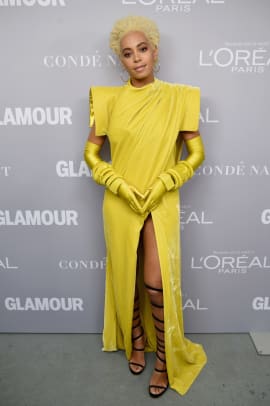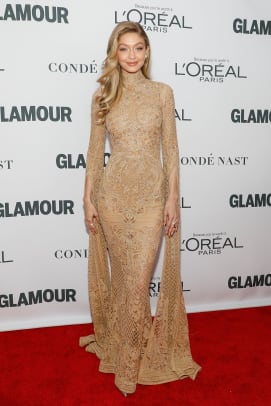 Homepage photo: Bryan Bedder/Getty Images 
Never miss the latest fashion industry news. Sign up for the Fashionista daily newsletter.