'GQ' and 'GQ Style' Had a Banner Year in Terms of Diversity
The Condé Nast titles featured the likes of Mahershala Ali, LeBron James, John Boyega and Colin Kaepernick on their covers in 2017, setting a high bar on the inclusivity front.
Colin Kaepernick's December 2017 GQ cover was one of those social media phenom moments. From the athlete's recognition as the title's "Citizen of the Year" to the overt Muhammad Ali inspirations and Black Panther odes, the story quickly became a trending topic on Twitter and was covered by a number of outlets, amplifying its reach. Somewhere along the line, according to GQ staff, it became the most-liked photo on the brand's Instagram, with another image from the shoot becoming the second most liked. As some remarked on Twitter, this was simply the cherry on top of a year of purposeful, perhaps calculated inclusion at both GQ and GQ Style. But after interviewing staffers from both publications— and looking at the numbers — we learned that wasn't the case.
"I came across it first on Twitter," Isha Aran, a reporter covering pop culture and race for Splinter News, told Fashionista. In a story for the site, Jones pointed to an interaction that showed fans applauding the magazine for doing two back-to-back covers featuring black talent, and GQ responding with the correction that they had done four. "It was very clear that something was going on," said Aran. "With other magazines like Vogue, they might have four total covers with people of color in a year, so this was a really big deal and obviously, it was a very conscious decision." 
Starting in May, Steph Curry, Dwayne "The Rock" Johnson, Mahershala Ali and John Boyega all received solo covers of the publication. For the November issue, LeBron James was honored with his third GQ cover since 2010; Kevin Durant and Kaepernick closed out 2017 for the publication with their respective December covers. In such trying, often terrifying political times, this inclusivity might appear to be a carefully considered strategy, but it's now clear that these strides in diversity were completely organic.
"This wasn't [a situation] where we sat in a room and said we were going to change things for 2017," said GQ Editorial Director Sarah Ball about the supposed uptick. "It's a really organic process; we are looking for a GQ lens on culture, focusing on what's in the culture and celebrating who is standing out in the culture." This year, in addition to the aforementioned subjects, that meant the publication started off by nabbing Ryan Gosling for January before doing two editions for February featuring both Chance the Rapper and The Weeknd on separate covers. Tom Hiddleston and Roger Federer went on to be booked for March and April, respectively.
In all, GQ has released 16 covers for 2017. Of them, nine featured men of color. When broken into months, for seven of 12 months, newsstand goers would find an issue of GQ with a person of color on the cover. This is significant when compared to its newsstand peers: In 2016, the most diverse American women's magazine was Teen Vogue, which featured nonwhite women on seven of its 11 covers; when reviewing the 10 leading U.S. fashion publications, only 52 of the 147 total covers (or 35.3 percent) starred people of color. For many, as calls for diversity ring throughout not only the industry but culture in general, the strides that GQ has made are important — vital, even. But for those interviewed at the magazine itself, it seems just happenstance.
"We are not trying to put more black people on the covers ... we are not not trying to put more black people on the covers," said Mark Anthony Green, the style editor of GQ. "We are trying to reflect where culture is. These are the people who have really made a splash in culture right now." Green was a large part of the Kaepernick project, overseeing the process. In the images, the athlete wears mostly designers of color like Pyer Moss, Musika Frere, Waraire Boswell and Fear of God. Green also wrote both the James cover story for November and the Aziz Ansari cover story for GQ Style.
"Myself and the team here, we're really interested in the energy centers," added Will Welch, the editor-in-chief of GQ Style. "So we're covering who's really doing something interesting in the areas that we cover, who's moving culture, who's got an interesting story to tell. Who's making stuff that wasn't there before that's inspiring and provocative and fresh." Since that publication is quarterly, they only had four cover subjects. Of those, two were Ansari and ASAP Rocky.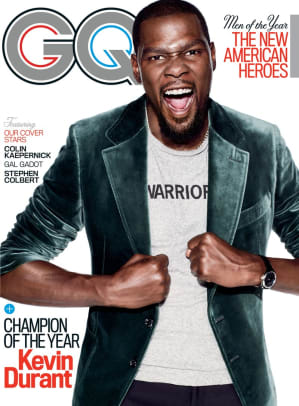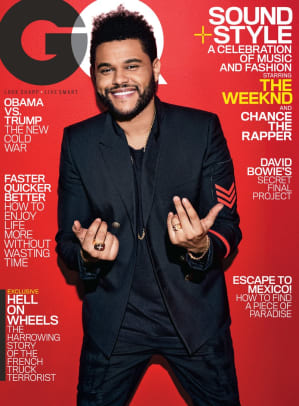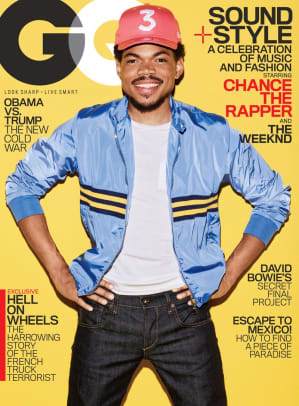 It is important to bring these numbers and these covers into perspective. In the covers from the past five years that we have reviewed, GQ has on average printed five to eight covers featuring men of color per year. This year's nine is not far from that number, but in 2016, the publication had 21 covers total; 2015 had 22 covers and 2013 had 20. The part of this that might seem like a concerted effort is likely the result of GQ doing fewer, multiple-issue editions in an environment where we are already looking for diversity. But having a summer of covers exclusively featuring men of color certainly indicates some sort of shift.
"This is the motherfucking gold rush, especially for black art," said Ty Baisden, the manager of the independent musician Brent Faiyaz, in an interview with DJ Booth in October. It's a thought easily revisited while thinking about these covers. Granted, GQ has quite a solid track record featuring men of color in the pages and on the covers of the publication, but there is no doubt a trend in culture today to be affiliated with blackness. But if this is the case, shouldn't there be increases across the board in men's magazines?
In the issues we surveyed from GQ contemporaries like Men's Journal, Esquire and Men's Fitness, the same progress is not happening. Men's Fitness, which shuttered the print edition in April, has not put a man of color on the cover since September 2016 when Kevin Hart fronted the glossy. Prior to that, it was Michael B. Jordan in December 2015. The print edition has merged with Men's Journal which, from our records, has not had a person of color on the cover since Michael Strahan in February 2015 — though many of Men's Journal's covers do not feature people. Esquire comes the closest to GQ in terms of diversity, having put Pharrell on its cover in February and Idris Elba on the cover in August. 
"It's great that GQ has so many men of color as cover models, but the women's counterparts are still struggling with that," said Aran, pointing to other Condé Nast publications. In particular, she referenced Vogue, which in 2016 and 2014, featured four nonwhite cover stars; in 2015, it featured three. "Also, what about other men of color? Asian men of color, South Asian men of color, Latinx men of color?" The question nods back to Baisden's quote.
It's probably meaningless to look at this and not address a long-held idea in publishing — one that Alexandra Shulman, former editor-in-chief of British Vogue, repeated in a recent interview with The Guardian when asked about diversity. "I was judged by my sales. That was my remit. My chief remit was not to show ethnic diversity as a policy," she said. When asked about putting black faces on the cover, she responded: "You would sell fewer copies. It's as simple as that." But according to GQ staff, cover sales are never a part of their editorial decision making.
"Jim really shields and protects us from those conversations ever affecting our choices about the cover," said Ball. "In my five years here, that's never come up. What really is discussed is the footprint that something is going to have." With this in mind, she points again to the social media interaction of the Kaepernick cover; stats reveal the story reached 10.6 million people on Facebook. 
"[This idea that minority narratives don't sell] is being proven wrong all the time," noted Welch, after explaining that instead of just documenting culture, magazines like GQ Style are in the business of creating "cultural moments" with their covers. "There was a time when what really drove [editorial content] in magazine was whether it would sell, but now we have so many different ways to measure the success of the culture. To me, that seems like a relic of the '80s — and was probably pretty dubious to begin with."
Want the latest fashion industry news first? Sign up for our daily newsletter.