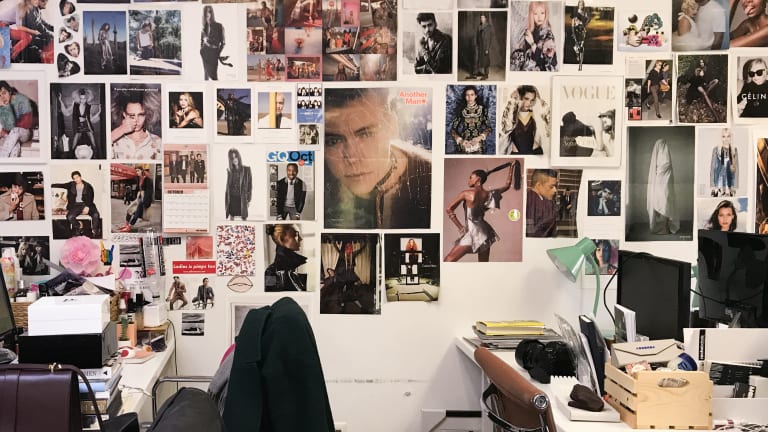 How to Pitch Stories to Fashionista
We want you to write for us! Here's how to make that happen.
For more than 10 years, Fashionista has been run by a small, scrappy team of women who share a mutual respect for (and curiosity about) the worlds of fashion and beauty, and we're proud that many of our full-time editors started their careers as interns at or contributors for the site. Through daily interactions with our community of readers, we know that you're well-informed, insightful and just as plugged in as we are, and we're always eager to hear your ideas — and to introduce new voices on Fashionista. 
Our editors regularly accept freelance contributions from writers of all levels, many of which begin as cold pitches through email. Unfortunately, because our inboxes are often overflowing with press releases, celebrity outfit credits and spam, even the best ideas can slip through the cracks. In an effort to avoid this, the Fashionista team put together a guide to pitching stories to our editors, based on our own personal experiences and best practices.
We accept pieces of all types with one common thread: The subject must be discussed through a fashion or beauty lens. If you're into music, pitch us an investigation into the meaning of Harry Styles's solo artist uniform or the fashion industry's reliance on hip-hop culture to stay relevant. If social issues are more your speed, you could look into a model's responsibility when faced with cultural appropriation on the job or the gender gap that's plaguing the diamond industry. The sky's the limit! Plus, we appreciate humorous stories as much as we do serious, in-depth reporting, so be sure to let your personality shine through.
All freelance submissions are paid, and rates, deadlines and word counts are agreed upon before writers begin work on their stories. Read on to learn the best rules of thumb for pitching Fashionista, and we're looking forward to working with many more of you in the future.
Make sure you're familiar with Fashionista's tone and overall editorial strategy.
If you're a regular reader of the site, this will be a breeze, since you already know we cover the ins and outs of the fashion and beauty industries with a familiar, yet authoritative voice. This gives us the freedom to write about almost any subject under the sun through a fashion or beauty lens, be it pop culture, politics, TV, film, art, music, religion, race, gender issues or travel. As long as you're able to make a clear connection between your topic and either the fashion or beauty industry, it's likely a fit for Fashionista.  
Search Fashionista to make sure your pitch is unique from stories we've already published.
Before you send our editors a pitch, please be sure to search the site to assure that we haven't run a similar or identical piece before. We also strongly suggest doing a quick Google search of your proposed headline or idea; if we've read a story like it on another site, we will not be able to move forward with it.
Keep your email pitch personal and to the point.
Our editors would love to hear a little bit about you, your background and your interests if we haven't worked together before, but please keep your story pitch to four or five sentences. If we're interested and would like to know more, we'll reach out and ask for additional details.
Make sure your pitch is fully fleshed out and clearly states what you'd like to prove.
If we come away from your submission unclear about what the points you'd like to make in your piece and how you plan to get there, we are more likely to pass on it.
When pitching personal essays, make sure your experience is one that will resonate with our readers.
We love running essays on Fashionista, especially since fashion and beauty are such personal topics. We've run first-person stories on why representation of Muslim women in fashion and beauty is so important, how a DIY denim patched jacket helped one writer fall back in love with fashion, the lessons our editor learned while taking Accutane for five months, how the scent of certain beauty products can spark intense feelings of nostalgia and more. 
If a pitch is timely or pegged to news, please make a note in your subject line.
Some stories are, as we like to call them, "evergreen," but others must be executed within a day or two in order to feel relevant. If your idea is timely, it's helpful to call that out in the subject line of your email as well as at the very beginning of your pitch.
If there is a specific column or section of the site for which you're pitching, please make a note in your intro.
Is your idea specifically pegged to one of our site categories like beauty, shopping, style or business, or a Fashionista franchise like "How I'm Making It," "Hey, Quick Question," "How I Shop" or "Fashion History Lesson?" If so, let the editors know at the beginning of your pitch.
Keep in mind that options for art are limited and plan your pitch accordingly.
We have access to celebrity red carpet images, designer runway collections or lookbooks and, of course, Instagram, but if your story will require very specific imagery, please make a note in your pitch.
Please include links to published clips, your blog, social media channels or a short bio.
Before we work together, we want to get a better idea of your voice, your likes/dislikes and your writing experience. Including links in your introductory email is the easiest way for our editors to get to know you.
Feel free to follow up!
Once a pitch is received, the editorial team will likely discuss it before we're able to give you a firm response. If you do not hear back regarding your pitch within two business days, please follow up to make sure it didn't get lost in our inbox. Feel free to follow up a second time if you do not get a reply, but after that, we'd suggest you pitch the story elsewhere. As much as we'd like to answer every editorial inquiry, it's unfortunately not possible, especially if you pitch us during fashion month.
Only pitch during business hours to make sure the editors see it.
While we're basically plugged in 24/7, the team takes a bit of an email break on nights and weekends. The best chance for your pitch to catch our eye is if you send it on Monday through Friday between the hours of 8 a.m. and 5 p.m. EST.
Fashionista's editorial team can be reached at tips@fashionista.com. If you're pitching a story, please make a note of it in the subject line. We can't wait to work with you!
Never miss the latest fashion industry news. Sign up for the Fashionista daily newsletter.