J.Crew Cast 7 'Real People' in Its 2017 Holiday Gift Guide — and You Could Be Next
Use the hashtag #CastMeJCrew to land a spot in an upcoming campaign.
For several seasons, J.Crew had differentiated its New York Fashion Week presentations by trading models for "real people" — i.e., a diverse range of friends and family of the brand — to showcase its new wares. This drew no shortage of attention from within the industry, with many editors angling to get cast in subsequent seasons, too; Elle.com Fashion Features Director Nikki Ogunnaike even started an Instagram hashtag, #CastMeJCrew, with the goal of landing in one of J.Crew's presentations. 
But when the brand began making changes — cutting 250 staff positions; letting go of longtime executives Jenna Lyons and Mickey Drexler; saying goodbye to Chief Design Officer Somsack Sikhounmuong — in the first half of this year, J.Crew omitted its Spring 2018 presentation altogether.  Little did we know, the #CastMeJCrew movement was alive and well, and was just incubating until the holiday season. 
On Monday, the brand revealed its #CastMeJCrew contest, in which followers and fans of the brand can use Ogunnaike's hashtag to enter to win a spot in an upcoming J.Crew campaign — and all you have to do is post a photo and tag the brand on Instagram or Twitter with "#CastMeJCrew and #contest." In the meantime, J.Crew will feature standout content on their social channels. (For contest specifics, head over to JCrew.com.)
In the spirit of "real people," J.Crew tapped Ogunnaike alongside six additional non-models to star in its 2017 holiday gift guide: Chris Altchek, CEO and co-founder of Mic; Curtis Harding, musician; Jenn Steele, founding editor-in-chief of Girls I Know; Karel Funk, artist; Manish Vora, co-founder of the Museum of Ice Cream; Mikey De Temple, director of Surfer New York; and Zora Casebere, artist.
"It all started with a simple little hashtag," wrote Ogunnaike in an editorial on Elle.com. "You see, I've loved the brand for years now. The way they encourage personal style through pieces that are fashionable, but affordable and not too over-the-top has always been an inspiration."
If you, like Ogunnaike, are a die-hard J.Crew fan looking for your Top Model moment, get to Instagramming!
Click through below to see J.Crew's 2017 holiday gift guide.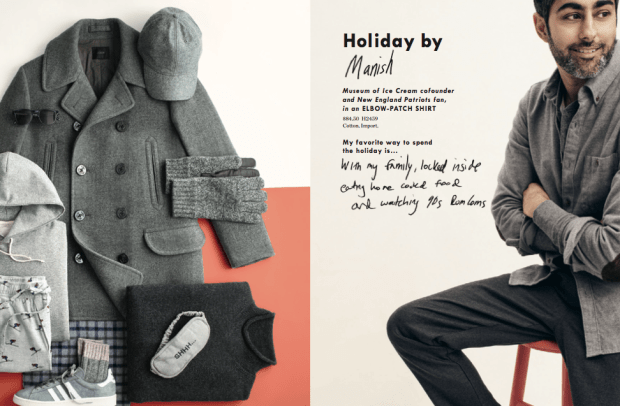 Never miss the latest fashion industry news. Sign up for the Fashionista daily newsletter.