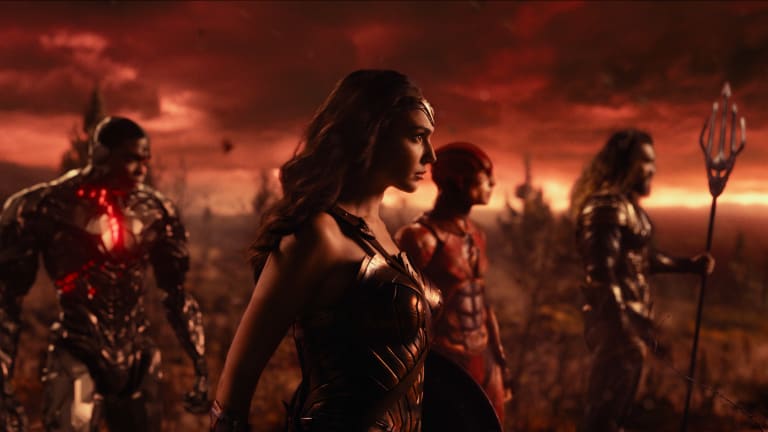 Wonder Woman's 'Civilian' Wardrobe in 'Justice League' is Just as Stunning as Her Supersuit
Costume designer Michael Wilkinson also found inspiration for Aquaman's armor from Jason Momoa's forearm tattoos.
Warning: spoilers for 'Justice League' are below.
The first live-action film centered around the supergroup of D.C. superheroes, "Justice League," opened a week ago, bringing a much-appreciated Wonder Woman (Gal Gadot) back onto the big screen. She joins a trio of newbies — super-speedster (and comic relief) The Flash/Barry Allen (Ezra Miller), hunky ocean whisperer Aquaman/Arthur Curry (Jason Momoa and his unleashed Dothraki hair) and cybernetics-human-hybrid Cyborg/Victor Stone (Ray Fisher) — and reunites with both Batman/Bruce Wayne (Ben Affleck) and Superman/Clark Kent (Henry Cavill).
In a shock to no one, Wonder Woman steals the show with her heart, her humor and, you may have noticed, a shinier supersuit than the last iteration of her red, gold and blue look from the "Wonder Woman" movie, costume designed by Lindy Hemming. 
"I felt it was important to keep definite visual continuity for 'Justice League' and keep [her suit] very unified for the character," said costume designer Michael Wilkinson, who created her debut suit for "Batman v. Superman: Dawn of Justice," over Skype from London, where he's filming the live-action "Aladdin." "So there were only very minor tweaks. I think the audience will notice that the suit in 'Justice League' has a little more glow to it than previously. It's quite vibrant, but all of the main iconic elements — the star and the tiara, the lasso, the cross-straps with sword and shield, the eagle across the chest plate and the 'WW' in the belt — are all pretty much the same." 
RELATED ARTICLES
The internet definitely noticed that some of the Amazonian armor in "Justice League" differed from the more practical and covered-up plating first seen in "Wonder Woman," but there's a simple explanation for that. "For the majority of screen time in 'Justice League,' the Amazons appear in 2017: one hundred years after the events of the 'Wonder Woman' film," explained Wilkinson. "We wanted to show the passage time by having a slight development in their armor, so some of the lines and details are different." As Hemming also mentioned back in June, she and Wilkinson met before production of both films to jointly develop a "style and visual language" for the Amazons to stay consistent with the original "Wonder Woman" supersuit. 
"Zack wanted a more primal feel," he explained about a flashback scene that jumps back thousands of years to another Amazonian era. "So we harkened back to a time where armor was more primitive, metal was less developed, and the Amazons had a more tribal feel." The actors (and real life athletes, in some cases) playing the Amazons in "Justice League" also went through super-intense training, as they did for "WW." "It was inspiring to see the pride the actors had in their strength and fighting skills, and an honor to showcase them on the big screen," said Wilkinson.
The costume designer also enjoyed the privilege of creating a more extensive wardrobe for Wonder Woman's alter ego Diana Prince, who holds a day job as the very chic Curator for the Department of Antiquities at the Louvre (and, sometimes, as a Justice League recruiter). "People are always surprised that it gives me just as much pleasure thinking about these characters — what we call their 'civilian clothes' — as much as their superhero looks," said Wilkinson. 
"I used a lot of rich brown to earth browns and deep reds and majestic blues and lovely Grecian gold accents," he continued about Prince's wardrobe. "All of her lines were very sophisticated. She has a different vibe than the other characters because she's European and she has the confidence and fantastic sense of individual style that sets her apart. It was really great working with Gal and she obviously is a pleasure to create costumes for; she had lots of really smart ideas about making her character really leap off the screen."
While one of her looks — a white, fitted and lace-up detail dress — might seem a bit impractical for restoring an ancient statue, the piece actually imparts a deeper meaning for the scene as a whole. "Hopefully there's this subconscious connection between her and this beautiful classic sculpture that she's working on at the Louvre. She's in white. The statue is in white. It has this beautiful, lovely strength to it." And for anyone looking to buy one of Prince's sleek moto-jackets, leather leggings or the gorgeous, chestnut cashmere cape-coat she wears at the end of the movie, we hate to break it to you: they're one of a kind.
"I always like to create things from scratch for Gal because her character is so unique and I didn't want anyone to feel like she was a follower. She was more of a leader with her style," Wilkinson explained. "So, yes, she was all custom — from head-to-toe."
Director Zack Snyder's male gaze camerawork tends to linger a bit on Wonder Woman's physique, but audiences also get to enjoy a very fit and shirtless Arthur Curry before he takes on his Aquaman responsibilities wearing iridescent, green scaled armor. But perhaps that's because the full-torso tats are part of the costume that Wilkinson created — inspired by Momoa's own body art.
"He's got lots of great tattoos and his forearm has a particularly great graphic quality to it," explained the costume designer. "I took that as a starting point and created this graphic language and a whole full body tattoo ... then [the Aquaman] armor is almost a three-dimensional extraction of that same graphic pattern that you see graded into the [scaled] armor." 
The comic book Aquaman is a personal favorite for Wilkinson, so the opportunity to finally make the fish-whispering superhero — whose previous comic book iterations feature dorky kelly green tights and a bright orange torso — badass and cool through costume really resonated with him. 
"Working on the Aquaman suit was a bit of a career highlight for me. I love the character and the casting is so genius. I can't imagine anyone else in the world being Aquaman [than] Jason Momoa and it was great collaborating with him because he really brought a lot to the table — not just his own sense of personal style, but also his ideas about the character," said Wilkinson, who also researched creatures, colors and textures inhabiting oceanic low-depths for inspiration. "We were really on the same page and I was really excited about making it feel very organic because Aquaman is of the sea. But, at the same time, there are a couple costume technologies that have come up recently that I was excited to use. We discovered this interesting resin that was very flexible, but has a translucency through it — almost like a rigid gel kind of material — that we were able to make all of his armor out of."
Wilkinson also brings The Flash to the big screen with a grittier, scrappier aesthetic for the nerdy-cute speedster. The costume designer went into the head of Barry Allen, thinking of how the slacker-genius (and squatter with a very high-tech computer system) would go online and research how to create his own mega high-tech supersuit tailored to his super-speed.
"He's a very unusual combination because he has all of these high-tech elements, but he's basically just a kid. He's just starting to come to terms with his powers," explained Wilkinson of Barry Allen, who hates the concept of brunch (understandable), but wants friends. "He doesn't have a lot of money. He hasn't been given a suit by someone else and he's kind of making it up as he goes. [His suit has] this great quality of almost a prototype suit, where he's working through these ideas. Some of it works; some of it doesn't. It's all scratched and busted up; he has these high-tech materials fused with this grassroots, skater punk aesthetic." 
As for Batman, Bruce Wayne may have gone through a slight attitude adjustment in "Justice League" (although he should never say the name "Steve Trevor" ever again), but his supersuit definitely underwent a significant evolution. You might notice in the first half of the movie that the Batsuit is a lighter gray, as opposed to jet black in "Batman v. Superman." 
"We wanted to honor the idea of a gray Batsuit as opposed to a black Batsuit. Batman in the graphic novels is usually drawn with a gray suit with a black cape as opposed to all in black," said Wilkinson. "Also, Zack loved the idea that Batman's forearms would have this extra metallic plating strapped to it to collect hits and bullets and any kind of incoming." (Very Wonder Woman.) The suit also has added "thin plates of armor" embedded underneath the layer for definition.
After getting his ass handed to him by a newly resurrected and shirtless Superman, Bruce Wayne smartly upgrades his Batsuit for that final showdown with Steppenwolf and his magic boxes. "Batman faces a challenge of even higher intensity in this film, so we wanted to give him what we call a 'tactical suit' for high level battle for when things are becoming more serious and deadly," explained Wilkinson. "This suit is has exterior layers of armor and extra details and it has a different cowl. He has additional eye protection."
Of course, the Justice League wouldn't be complete without Superman, who came back to life — and only briefly "Pet Sematary"-style — to save the day and the world. Wilkinson also costume designed "Man of Steel," Cavill's 2013 debut as the superhero, and continued developing the red-caped supersuit, originally created by James Acheson, through "BvS."
"Because of developments in materials and costume-making technology, I've been able to make the suit even more lustrous and metallic-looking than we were able to do before," explained Wilkinson, about creating a "bolder blue" by adding a bright chrome layer under the blue sheer outer-suit printed with a dimensional Kryptonian pattern.
"So he really jumps off the screen in a really beautiful heroic way," he added. "I feel so lucky that I'm able to advance the look of the suit. This is now my third time doing the suit and each time there are developments in technologies and materials and Henry is obviously is in such great shape. He gets even more impressive in every film, so I'm able to track that with the suit and make sure we're just going for this heroic ideal."
Follow Michael Wilkinson on Twitter @wilkinsonmartin and Instagram @michaelwilkinson.
Never miss the latest fashion industry news. Sign up for the Fashionista daily newsletter.