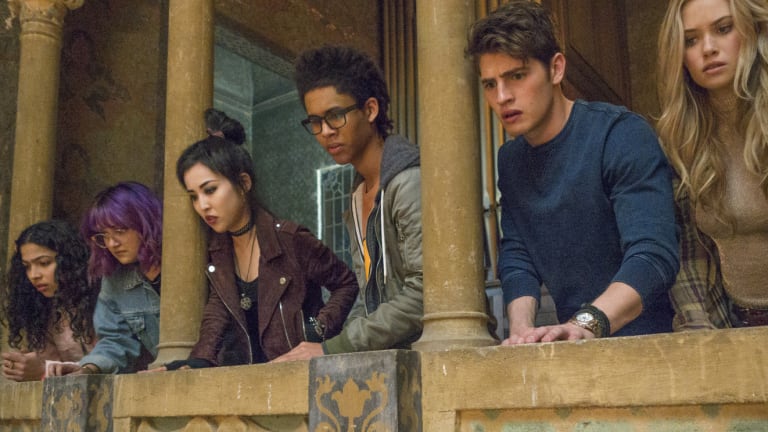 The Costumes in Marvel's New Teen Superhero Series, 'Runaways,' Include Pink Pussy Hats and Feminist Slogan T-Shirts
Costume designers Samantha Rattner and Meredith Markworth-Pollack also share what outfits send Gregg "Hulkin'" Sulkin to the gym for "arm day."
Hulu's new original series, "Runaways" is essentially a lovechild of two of our favorite genres: a Josh Schwartz-Stephanie Savage joint (you know, "The O.C.," "Gossip Girl," Rachel Bilson-starring "Hart of Dixie" and the "Dynasty" reboot) and a Marvel superhero series. But this time around, the defenders are a diverse group of misfit (or misunderstood), affluent Los Angeles teens who discover their parents are the big bads. 
True to a Schwartz-Savage show, the parental casting is genius, resonating with us TV nerds who predate Gen Z (Spike from "Buffy the Vampire Slayer" and tech whiz Marshall from "Alias" are dads) and the fashion is on-point. This was actually the case in the original "Runaways" comic series, which debuted in 2003, as well.
"[The style depicted in the comics] are of a very specific time in fashion," series costume designer Samantha Rattner told Fashionista over the phone. "The low-slung jeans and a little bit of belly peeking out." Meredith Markworth-Pollack, who designed the pilot before going to "Dynasty" full-time, also had a laugh. "[Executive producer Savage] kept talking about Karolina's low-rise flare Miss Sixty jeans. She was like, 'Do not put her in those jeans," she said.
RELATED ARTICLES
At the end of the day, the two costume designers stayed sartorially accurate to the source material, but only in spirit. "[The comics] really were trying to reference what was cool at that time, so I tried to do that in the costumes on the show," said Rattner.
As a sartorial primer before the Nov. 21 Hulu premiere, we had Rattner, in New York, and Markworth-Pollack, from the "Dynasty" set in Atlanta, unpack each of the non-supersuited superheroes and their signature aesthetics; they even provided a few spoiler-free hints about the Runaways' journeys through teen angst and empowerment via their newfound powers, so to speak, and how they lean on each other.
Alex Wilder (Rhenzy Feliz)
"He's our ringleader," said Rattner about the geek-chic gamer, who reunites his disparate group of former friends in the first episode. After going on a "crazy wild goose hunt" for vintage tees, Markworth-Pollack and her team ended up custom-building the "1" t-shirt for the pilot, mirroring his look in the comics. Rattner continued custom-designing graphics for Alex's signature Ts throughout the show, which she'd intentionally layer under a mix of textures, prints and colors. "Alex is a little bit of a mystery," she said. "He's got a lot of secrets, so he's always got the graphic t-shirt and a printed button down and maybe a hoodie or a cool jacket." She also brought in "pops of color" through "fun socks" or a Hypebeast-y sneaker. "He's a cool nerd."
Nico Minoru (Lyrica Okano)
"She's our goth Wiccan girl," said Rattner of the budding witch, who's still dealing with the mysterious death of her sister. For the pilot, Markworth-Pollack opted for armor-like layers, including a dark plum suede moto-jacket. "She was protected in it because she was looking for some comfort and solace after her sister had died," she explained. Markworth-Pollack took care to not to tread into Asian Goth Girl stereotype territory by toning down the goth-ier elements for the pilot. "She couldn't come in and be straight out of a different show. She had to fit in within this [grounded] world," she added. But that doesn't mean Nico can't be creative with accessories. 
"Nico's a rebel. She's a little dramatic and I wanted that to come through in her clothes," said Rattner. "She's always got a ton of jewelry layered on. Every day, it was like, 'how many pieces do we have to put on her?'" Rattner shopped at Posers Hollywood for Nico's chunky "monster boots" and Maya for jewelry, plus a mix of Urban Outfitters, ASOS, Zara and smaller Los Angeles boutiques for her clothing.
Karolina Dean (Virginia Gardner)
"She's part of this church that's really focused on light and also she's discovering her power that involves light and little bit of sparkle, so I tried to reference that in her clothes," explained Rattner. Karolina's beachy, bohemian vibe references the '70s, "with a lot of high-waisted jeans and just a simple tee and tanks, cool denim jacket and layering on lots of jewelry with hints of sparkle." The Dean family — or matriarch, rather — runs a Scientology-like church, which is bathed in whites and zen-like pastels, which are also reflected in Karolina's (and her parents') wardrobes. Markworth-Pollack points out that due to her church obligations, Karolina enjoys the privilege of the most costume changes in the pilot, putting on a very Betty Cooper pink collared top and floral skirt look by Ted Baker for a "Vanity Fair photoshoot." But otherwise, you'll see her in lots of Frame denim, Free People and Anthropologie with shoes by Madewell and Superga.
Gert Yorkes (Ariela Barer)
"She's our '90s grunge feminist," said Rattner, referring to the purple-haired teenage activist with the kooky, crunchy, hippie scientist parents, who contrast the more severe and streamlined parental units otherwise known as "The Pride." Markworth-Pollack noted the kismet of filming the pilot and establishing Gert's activist character in January, when the cast and crew were planning for the Women's March. After trying out a bunch of slogan t-shirts, Markworth-Pollack custom-built one emblazoned with "Girls Invented Punk Rock Not England" for the pilot. Rattner continued the craftiness with custom empowerment tees, including a hand-drawn top featuring representations of celebrated "rebellious women" and "rebel, rebel" written across it. She also hand-painted denim jackets and added patches and pins by feminist artist and designer Tuesday Bassen. 
Gert also has the most Easter Eggs hidden in her wardrobe, including Verameat jewelry depicting dinosaurs (you'll see). "She's wearing a dinosaur-eating-fried-chicken [Verameat] ring for the whole show," hinted Rattner. Gert also wears matching friendship bracelets with adopted little sister Molly in colors paying homage to "Rugrats," which was the show's code name during production.
Molly Hernandez (Allegra Acosta)
"She was my little 14-year-old girl meets Nylon magazine editorial, with a little bit of Fly Girl thrown in," laughed Rattner about the youngest of the group. "It was fun to have her in a t-shirt with unicorns and things on it, but at the same time, she looks like she could be editorial." The contrast of her traditionally girly colors and cutesy prints with edgier silhouettes and styling is also a symbolic contrast of the baby of the group coming to, uh, grips with her developing super-strength. "She's wearing sparkly heart bracelets, but she can crush a metal table with her hand," said Rattner. 
In the comics, Molly's accessory of choice is a pink cat-eared hat, which is highly relevant in 2017 thanks to the election of documented pussy-grabber Donald Trump. "It was meant to be," said Markworth-Pollack. "It was this moment in time." But she was shopping for pussy hats around the same time an estimated 4 million people were planning for the Women's Marches. "I ordered in like 15 different hats because I needed to make sure we had the right one. I was begging [all these vendors on Etsy]," she said. Her efforts proved a success. "Molly has a plethora of knit pussy hats that she wears throughout the season," said Rattner.
Chase Stein (Gregg Sulkin)
"Hulkin' Sulkin," quipped Markworth-Pollack, about the former Little Fitz from "Pretty Little Liars." 
"Accurate," agreed Rattner. "He would text me and be like, 'alright, what am I wearing tomorrow? Like do I need to have an arm day at the gym?' Gregg can really wear anything," she added. The actor's distracting model good looks created a bit of a challenge in dressing the lacrosse bro (and low-key genius engineer) character, whose brain is underestimated by his peers and asshole dad, played by James Marsters (Spike!). "We kept him really simple and wanted him to feel like easy and effortless and classic," said Rattner, about his Henleys and "nicely fitted t-shirts."
Plus, in the comics, Chase is more of a shaggy haired surfer dude, rather a preppy, well-coifed private-school jock. Both costume designers opted to avoid the stereotypical athlete aesthetic — "'Riverdale' was coming out and I was like, let's avoid the Letterman jacket," said Pollack — and went all-Americana instead. But subtle and fashion-forward attention to details, like how Chase cuffs his slim-fit jeans or wears a drop-crotch khaki pant, reveal more about his character. "He's got a more sensitive, thoughtful side that I wanted to show, in that he thinks about the way his clothes fit," Rattner said. Especially when it's arm day.
Follow Samantha Rattner on Twitter, @SamiRattner, and Instagram, @SamiJRattner. Follow Meredith Markworth-Pollack on Twitter, @Mere_Costumes, and Instagram, @meredithcostumes. "
"Runaways" premieres on Tuesday, Nov. 21 on Hulu.
Never miss the latest fashion industry news. Sign up for the Fashionista daily newsletter.