Inside the 'Influencer Prom' That Was the 2017 Revolve Awards
"The earned media value in this room right now is scary."
Before declaring his intentions to run for president in 2020, Kanye West said some very interesting things during his 2015 Video Music Awards rant. Among them: "I still don't understand award shows."
Be it the Oscars or the iHeartMusic Awards, it's marketing dollars, industry politics and "favorable optics" that fuel these events, from show production to winner announcements. Still, it's low-grade exciting to observe the red carpet, to huddle around competition, to critique the production on Twitter as it happens live. Award shows are lawless bologna, but they're also fun.
Revolve, the multi-brand online shopping site which has made an international splash with brilliant leveraging of influencer marketing, concocted its very own awards ceremony this year, replete with expert panelists, fan votes and a live ceremony held at the Dream Hotel Hollywood on Thursday night. Across 17 categories — among them Best Influencer Brand and #COUPLEGOALS of the Year — the Revolve Awards aim to create "an annual celebration of the creativity, collaboration and innovative talent that defines the Revolve community... celebrating the year's most revolutionary talent in the influencer, fashion, music spheres." 
With the Revolve Awards, the company has turned its own ecosystem of beauty and fashion influencers and brands into something to be judged — in true award show fashion — by the people who created the very world it is celebrating. No one has invested in influencers like Revolve; it is certainly an authority in the space. And, because award shows are lawless bologna, there's no one stopping Revolve from creating a self-serving #content circus pitting key players from its own Revolve universe against one another.
"When we came up with the idea of an awards show, we asked ourselves, 'Do we really need another awards show?'" co-founder and co-CEO Mike Karanikolas said at a nominee brunch the day prior to the grand ceremony. "We quickly decided yes. The establishment who has been looking the other way can no longer ignore us," he said. "Revolve is in the best position to communicate globally who are the most influential influencers in the world." As Jen Atkin, celebrity hairstylist and founder of the Ouai hair-care line, said upon accepting the award for Best Beauty Brand, "This is literally the Oscars. The earned media value in this room right now is scary," she joked, referring to the group's social media reach, which amounted to something like 11 million followers, equivalent to the population of Greece.
Based in Los Angeles, Revolve skirts the snobbishness of the New York fashion scene and was early to welcome fringe voices. "We've been blogger believers since 2009," Revolve Chief Brand Officer Raissa Gerona said at the brunch. "They speak to our customers in a really authentic way that's really meaningful," co-founder and co-CEO Michael Mente (yes, two Mikes at the helm) told Fashionista. "Thank you for talking to our customers in a way we can't do," he said to the crowd at the formal award ceremony. "They see you as peers and no brand can do that."
"Were millennials too, so we automatically got it," Gerona told Fashionista of the blogger boom. "Instead of being like, 'Why are you writing about your outfit,' it's like, 'Cool, you're telling me what you're wearing on your blog!' I feel like I can get someone else's perspective that I can trust. It's not like Anna Wintour, who I'm never ever going to meet, you know?" Mente defines it as the difference between being talked down to and talking with your friends. From the beginning, "that was a conversation that we wanted to a part of," he added. And the investment is paying off: WWD reported last month that Revolve in on track to do over $1 billion in sales this year, attributing 70 percent of that sum to the might of the e-tailer's influencers, a global network of 5,000 content creators.
The company has become infamous for its over-the-top influencer trips and parties, designed to maximize exposure for select brand partners with highly sharable live events, of which the Revolve Awards is an extension of. The lavish experiences haven't come without backlash, however. Last year, the company laid off nine staffers from its photo retouching department, outsourcing the roles to a third party company. "We see how much money they throw away on parties, flying models out, celebrities," one of the laid-off employees told Jezebel under the condition of anonymity. "Seeing all that excess wealth every day on social media, in your email, it's totally offensive, because we don't get paid that much," they added, estimating the average salary for Revolve photo editors at $36,000.
"It may seem like we have a crazy budget, but a lot of these [influencers'] other clients are multi-billion dollar, massive companies," Mente said. "Like Louis Vuitton, H&M," Gerona chimed in. "There's no way we have that money." The influencers have a sense of loyalty to Revolve, which identified their potential before many other fashion brands were willing to work with them. "They were the first ones to understand from the influencer's perspective," said Negin Mirsalehi, who claims 206K subs on YouTube and 4.3M followers on Instagram. "They see that influencers are more than just people who take pictures all the time," she added, noting the company's willingness to collaborate and brainstorm with influencers to create maximum benefit for both parties. 
"They're organized, hard-working, they have a clear strategy on how to work with influencers, clear focus points on how they're going to promote their brand," she said. "They know what they are and they know what they aren't." Camila Coelho, a beauty vlogger turned fashion influencer who is on annual contract with Revolve, told Fashionista that the e-tailer is one of her favorite clients to work with, thanks in large part to the experiences it offers, as well as the ease of working with the brand marketing team. "It never feels like work because the whole team is so welcoming and fun and young and they just make me feel at home... I feel like they really care about us being happy, they really think about us," she said of what makes working with Revolve unique. The Brazil native counts 3.1 million subscribers on her original YouTube channel, another 1.1 million on her dedicated English language channel, and a whopping 6.7 million followers on Instagram. When contracted by Revolve, "the content we're doing just comes organically, she says. "Sometimes I even do extra, because I'm having so much fun."
That word — "fun" — comes up across my conversations with Revolve staff, influencers, and outside brands who work closely with the retailer. "Fun is key," Mente says, "Even from a photo perspective — very few fashion brands will have ads where people are smiling. If people aren't having fun, we're like, 'Did we mess up somewhere?'"
The Revolve Awards were, of course, designed to be a good time: Black tie, red carpet, open bar, all set on a roof deck overlooking Los Angeles. It truly felt like influencer prom, with girls in sparkly gowns greeting each other with excited hugs, exchanging takeovers on each others' Instagram Stories — sans appearance fee. "Having all the influencers in one room is priceless," Gerona said. "Naturally, they're going to want to post, but seeing them interacting with each other, it's so important," she said. It really is the only company with the power (or the thinking) to put all of these personalities in the same room, many meeting IRL for the first time. "It keeps them on their toes, too, like, 'Am I going to win, am I not going to win?'" Gerona said. "That element of surprise is super-fun."
Whether you fervently follow influencers or roll your eyes out of your head at the mere mention of them, it is undeniable that Revolve distinguished a powerful marketing tactic and is several steps ahead of the rest of the fashion industry in this corner. Like it or hate it, banking on social media popularity is the digital, global equivalent of keeping an ear to the streets. As Kanye repeated many times in that infamous VMAs speech, "Listen to the kids, bro."
Click through the gallery below to see the event's attendees, and read on for a full list of winners.
YouTube Channel of the Year: Camila Coelho
BFFs of the Year: Aimee Song & Camila Coelho
#COUPLEGOALS of the Year: Negin Mirsalehi & Maurits Stibbe
Best Influencer Brand: Shop Sincerely Jules by Julie Sarinana
Best Beauty Influencer: Jenn Im 
Influencer of the Year: Negin Mirsalehi
Brand of the Year: For Love & Lemons 
Best Beauty Brand: Ouai
Best Swimwear Brand: Beach Riot
Best Activewear Brand: Alo Yoga
Innovator of the Year: Eva Chen
Artist of the Year: Rae Sremmurd
Stylist of the Year: Elizabeth Sulcer
Icon of the Year: Nicole Richie
Woman of the Year: Chrissy Teigen 
Muse of the Year: Shay Mitchell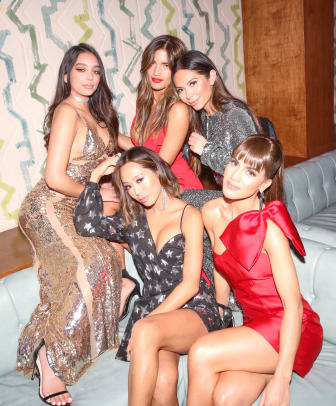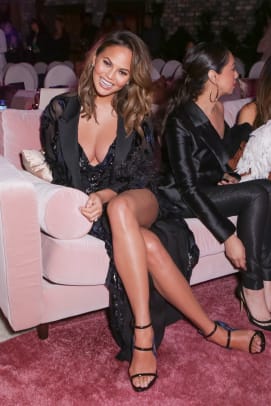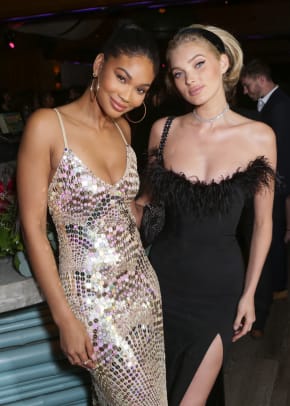 Sign up for our daily newsletter and get the latest industry news in your inbox every day.