Solange Basically Cast Her Own Calvin Klein Campaign
She did an excellent job ... in her Calvins.
Who needs a casting director when you have Solange? That's what Calvin Klein thought when it tapped the fashionable singer/performance artist for its latest #MyCalvins campaign concept.
The all-American brand resurrected its '80s "my Calvins" tagline a couple of years ago as a hashtag, often casting groups of disparate influencers and celebrities (including Justin Bieber, Kendall Jenner and Frank Ocean) to take part. This season, the brand seems to be aiming for a more personal feel, calling its new underwear and jeans campaign: "Our Family. #MyCalvins."
For the new concept's debut, Solange "curated" a group singers and songwriters including R&B up-and-comer Kelela, producer and Blood Orange singer Dev Hynes, Caroline Polachek (formerly of Chairlift) and Adam Bainbridge of Kindness. Per the press release, they were shot by Willy Vanderperre as a "chosen musical family," in what looks to be some type of barn or elaborate treehouse. They all look very, very cool.
Related Articles
"The evolved #MYCALVINS concept has family at its center, a display of unity between strong individuals, further emphasized by the symbolism of the traditional American quilt," the release reads.
That this family-themed campaign comes just as the holiday season — a time during which retailers and brands are under the most pressure to rake in sales — kicks off is surely no accident. Everything they're wearing in these images is for sale now, and  product launches will continue to roll out from Holiday 2017 through the Spring 2018 season, the brand says.
It marks the first time Solange has repped Calvin Klein in an official capacity, though she hasn't shied away from aligning herself with fashion brands lately, participating in partnerships with both Reebok and Levi's this year. Through this project, she's also brought to the forefront a group of cool creatives who were already well-known in certain circles for both their talent and excellent on-stage style, and whose rise to more mainstream stardom will likely be accelerated by this campaign. We think Solange — and Calvin Klein's Raf Simons — made an excellent call here.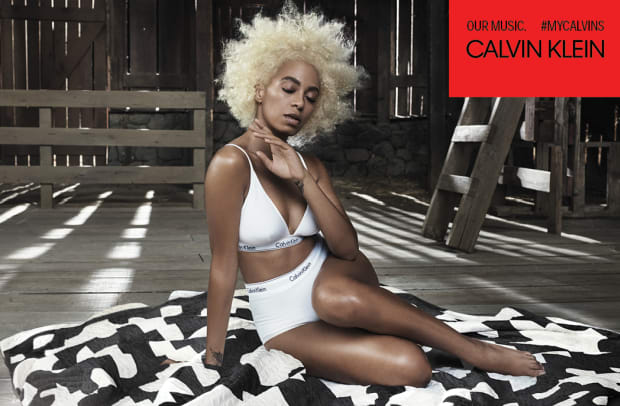 Want the latest fashion industry news first? Sign up for our daily newsletter.