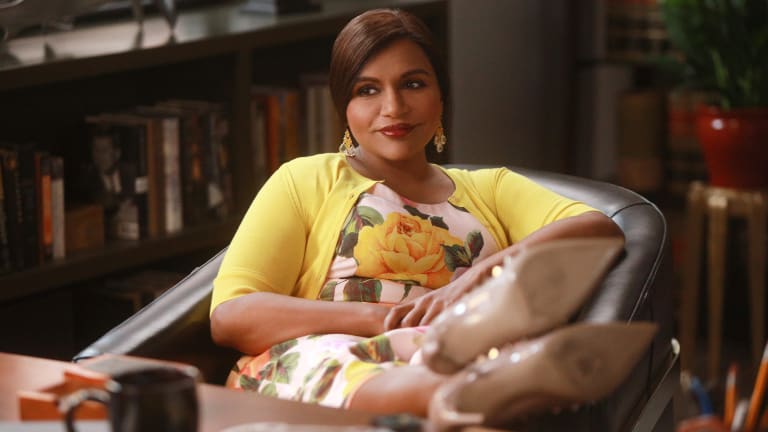 The 7 Most Game-Changing Fashion Moments on 'The Mindy Project'
"There were no rules with Mindy, and it let me just be creative," says the show's costume designer Salvador Perez.
Throughout the six-season run of "The Mindy Project" — and a mid-series jump from Fox to Hulu — we knew we could always rely on at least three things: Dr. Mindy Lahiri's lovably irresistible selfishness, snappy one-liners from the entire cast (and its rotating love interests) and the lead's signature wardrobe of bold colors, prints and embellishments. Thanks to Emmy-nominated costume designer Salvador Perez, Dr. Lahiri's eye-candy — and often meticulously matched — outfits on "The Mindy Project" were just as body-positive, clever, playful, fearless, humorous, audacious and sometimes contradictory as the character herself. The close and oft-Instagram-documented collaboration between the show's creator and star, Mindy Kaling, and Perez — the latter of whom regularly custom-created pieces for both Lahiri on-screen and Kaling off-screen — came through in both Mindys' consistently fun wardrobe. (When the costume designer waxes lyrical about his muse, he almost talks about Mindy, both faux and real, as one person.)
"My entire career, I've been told, 'Oh, it's too much sparkle. Oh, it's too much color — make it more muted,'" Perez told me over the phone from Los Angeles. "This was the first time in my career when someone was like, 'Oh, I love that color.' I can do neon green and yellow together, yeah! There were no rules with Mindy and it let me just be creative. Mindy actually rationalized 'daytime sequins.' She rationalized that she could wear it to work."
"The Mindy Project" costume design was groundbreaking and revolutionary, not just because Kaling as Dr. Lahiri made bright sequins safe for an office dress code — well, at Shulman's Women's Health Associates and the Lahiri Fertility Clinic, anyway — but also the sartorial synergy amongst the creator-slash-star, the costume designer and the devoted audience via Instagram. As the show's big boss, Kaling essentially gave the green light (for herself) to post social media costume spoilers even before the episodes aired, sometimes selling out pieces in the process — as Perez fondly explains below. 
As we all ready ourselves for Tuesday's series finale, take a walk down memory lane — and drops a couple last episode wardrobe teasers — as the show's longtime costume designer walks us through the top seven groundbreaking outfit moments on "The Mindy Project." We'll miss you, Beyoncé Pad Thai.
All 6 Seasons
"The pajamas were iconic. One day, [Kaling] was like, 'I was walking by Bedhead Pajamas on 3rd Street and I love the pajamas. Can you give me some of them?' I went in and bought a few pairs and she's like, 'These feel so good, I love the way they fit.' I think of all the clothes we wore on the show, 10 percent of those were pajamas. When we wrapped — we've never seen them all in one room — and I pulled down the rack, there were like 150 pairs of pajamas and every single one of them had been worn and some had been worn twice because it was the one thing she would repeat [on the show]."
"Danny and Mindy," Season 2
"Mindy was really open-minded and very experimental with clothes, and sometimes she wanted to be high-end couture and sometimes she just wanted to be funky. We had seen a runway look that was a baseball tee and a sequin skirt, so we did our version of it. We made her a green sequin skirt and she wore it with ankle booties, an Erickson Beamon green rhinestone necklace and a leather jacket. It was fun. She was willing to be avant-garde — and who wears a baseball tee with a sequin skirt and a rhinestone necklace? It was Mindy being playful and not being the typical fashion girl."
"Crimes & Misdemeanors & Ex-BFs," Season 3
"There was an outfit we put together: a cream blazer with a little shell and neon green skirt from Karen Millen that I really didn't think much of. But I remember it really showed the power of her fans because Mindy posted an Instagram photo of herself in the outfit [before the episode aired]. Then [production was] going to do a stunt in that scene and I had to buy another [of the same] skirt and I went to buy it and Karen Millen was like, 'Oh god. That thing sold out yesterday. I don't understand why.' I understood why. It's because Mindy posted on Instagram and everybody wanted that skirt. It was interesting that I shot myself in the foot by letting her post it because then I couldn't get it anymore!"
"Lahiri Family Values," Season 3
"[Kaling] loves clothes, and she had bought this really sort of dowdy Oscar de la Renta suit — it was sort of boxy and had a very long skirt — but we loved the fabric. So we recut the suit, tailored it within an inch of its life, cut the skirt in half and made it into a miniskirt. We had fabric left over and she's like, 'Oooh, I want a matching bag!' When people took the photos of that outfit, they were like, 'It's a beautiful suit, what is it?' And they all went to look for it and couldn't find it and I'm like, 'Yeah, I technically used it as fabric.' And we were notorious for that. We were notorious for like, taking something that designers didn't sell that way and recutting it and making it our own."
"Baby Got Backslide," Season 4
"I remember I always made [Kaling] gowns for the Costume Designers Guild Awards, and we had made her this really beautiful coral gown with crystals and it was spectacular on her. She arrived at the awards, did the red carpet and gave the award and it was a work day, so she was only in the dress maybe an hour and a half and she was like, 'I love that dress so much; we should make it a cocktail dress so I could wear it on the show.' I love that we were able to take a gown that I made for her for real life and then, literally a week later, she wore it on the show as a cocktail dress."
"Morgan's Wedding," Season 6, Series Finale
"We saw this layered cut-up lace dress that was done in chiffon and rainbow colors and [Kaling is] like, 'I love the idea of this,' and I'm like, 'I think this is hideous. Let me make the beautiful version of this.' It was oranges and blues. I said, 'This would be beautiful in pinks,' so I went and found a bunch of Chantilly lace, which is very expensive, but it's got a beautiful border. I bought 40 yards of Chantilly lace to just to cut the three-inch border off. It's an ombre from gold to golden pink to pink to pinks and reds by doing ruffles of lace going down the body, and it is the most decadent dress we've ever made because it is just so lavish. 
I wanted to have buttons down the front, so we went to an antique store and found antique glass buttons that matched the laces from gold to pink. It's just the most magical dress on her and, mind you, I'm also also trying to hide a [real-life] pregnancy. Because it was so detailed, we kind of killed ourselves to get it done in time. She only wears it for two scenes, but it really is a remarkable work of art — and that we could do that level of couture for a TV show is pretty phenomenal."
"Morgan's Wedding," Season 6, Series Finale
"After six years and 117 episodes of color and style, I needed to design Mindy's final costume. I had been thinking about it since I started the season... 'What color would it be: red, pink, aqua, yellow?' The fans would expect it to be a bold color, but after much thought, I decided it it should be black: a fitting end to this magical fashion journey. It's a black deep V-neck cocktail dress, the cousin to the 'Mindy Neckline.' We trimmed it with black and hematite crystals to match her Gucci shoes. We had our final fitting the Friday before the Labor Day weekend and Mindy loved the dress, but wanted it completely covered in crystals. I called several workrooms to see who could do the work over the holiday weekend, but everyone said they couldn't do it, and [it was due] first thing Tuesday morning, so I stayed home all weekend and crystalized the dress myself. It was oddly satisfying. I have put all my heart and soul into this design job for six years, and is was fitting that I got to hand-finish the last dress that Mindy will ever wear on camera as Mindy Lahiri."
Follow Salvador Perez on Instagram @salvadorperezcostumes. The series finale of "The Mindy Project" streams Tuesday, November 14 on Hulu.
Related Articles
This interview has been edited and condensed for clarity.
Homepage photo: Jordin Althaus/Hulu
Never miss the latest fashion industry news. Sign up for the Fashionista daily newsletter.