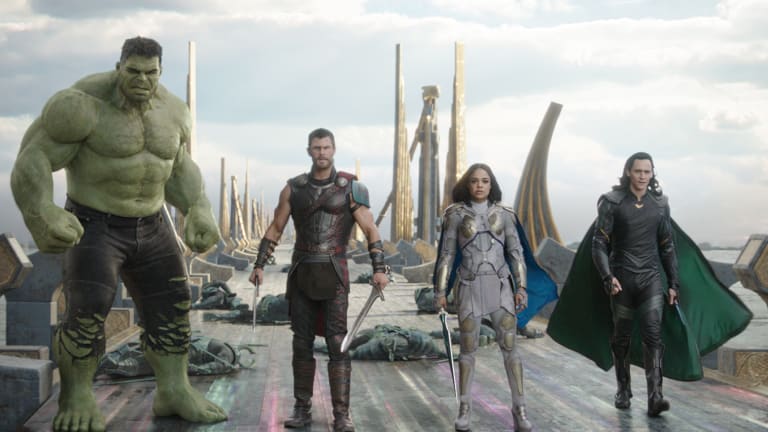 The 'Thor: Ragnarok' Costumes Are Just as Fun as the Movie
Costume designer Mayes C. Rubeo discusses Cate Blanchett's "goth" look as Hela, the Goddess of Death, and the symbolism behind Thor's and Loki's wardrobe evolution.
In a shock to no one, the third installment of the Chris Hemsworth-starring Marvel superhero franchise, "Thor: Ragnarok" ruled the box office this past weekend. With Thor and his supersuited makeover, the return of Loki — a wickedly charming Tom Hiddleston, making us forget about that tank top moment — and a deliciously terrifying Cate Blanchett as Hela, the Goddess of Death, the movie is non-stop action and laugh-filled enjoyment; it gives "Guardians of the Galaxy" a run for most fun Marvel franchise yet. 
It's no surprise that "Thor: Ragnarok" might also be the most fashion-y of superhero movies, with multiple costume changes for all involved — not to mention a refreshing new 'do for Thor, courtesy of "creepy old man" Stan Lee in one of his famous cameos. Top sartorial credit goes to Hela in her second-skin black and iridescent green-detailed bodysuit and stunning antler headpiece, which are both very true to the comic book version, but even more gorgeously terrifying when brought to life by costume designer Mayes C. Rubeo. 
"Can you imagine what a great opportunity?" she enthusiastically told Fashionista over the phone. "In the past two movies, [Thor and Loki] could only wear the same costumes." Rubeo reveled in the opportunity to go to town with inventive and innovative variations of the Asgardian heroes, villains and sometimes villains (ahem, Loki).
The designer, whose portfolio includes dressing Brad Pitt and legions of zombies in "World War Z," was happy to answer our burning questions about what that metal squiggle on Loki's Sakaar costume really means (or doesn't), why the Grandmaster (a sublime-as-always Jeff Goldblum) prefers his golden robe asymmetrical and how wedge heels have different effects on villain Hela and antihero-turned-hero Valkyrie (Tessa Thompson). Here are the highlights.
How did you bring Hela's villain costume to life from the comics and update it for the movie?
It was a very, very loyal interpretation of the [comic book] character because it was so perfect to begin with. We just had to [update it to reflect current technology] and add a little bit more magic to it. This is a costume that is 100-percent technological in a way that used super-modern technology to make it. I chose [to work with] a company that I always use for my specialty costumes, Ironhead Studio [run by] Jose Fernandez in Los Angeles. We had to digitally print the fabric with a super-special pattern. [We also created a] system of closures, so [Blanchett] can look like she's wearing it like it was a glove because she has to look so sexy and dark and really, a bit goth. It absolutely captured the whole image, which is not difficult with Cate Blanchett. [Editors' note: Agreed.]
We actually made the headpiece. It was really as big as the comic book character's. We just had to make it for motion capture because it was [too] big and difficult to maneuver and act in it. But we had it initially and it was fantastic and she looked just amazing. A real goddess of death.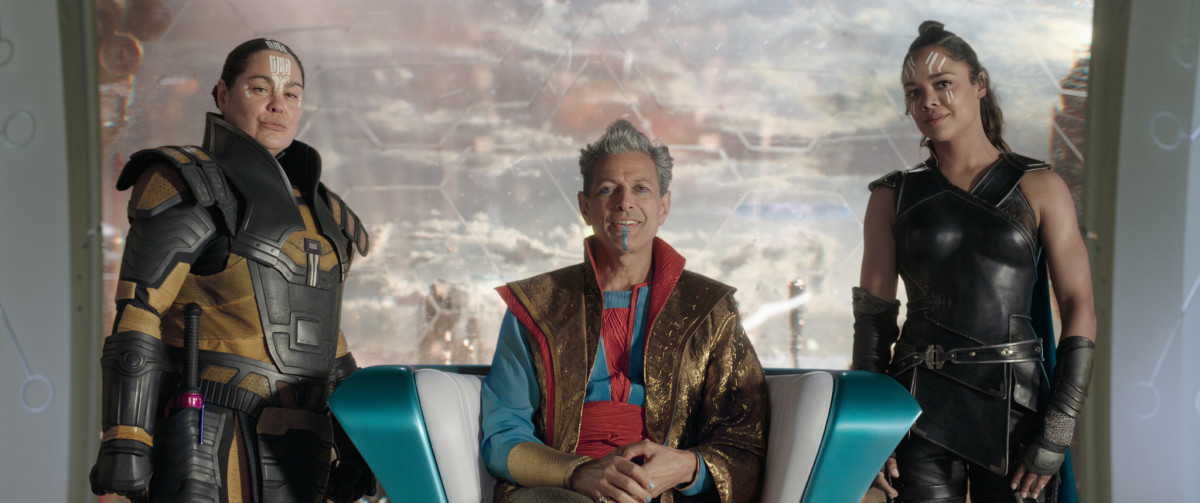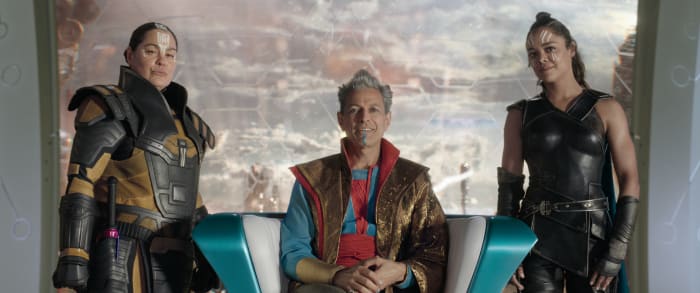 There's also a distinct asymmetry on Sakaar, notably in the Grandmaster's one-sleeve gold robe, which is symmetric in the comics, and Valkyrie's (Tessa Thompson) first bounty hunter look (above) — what is the meaning behind that?
The aesthetic inspiration of Sakaar is just ["Thor" comic book writer and artist] Jack Kirby. You see it in the colors, in the shapes, in the fashion in the buildings — everywhere — and nothing fits straight. It's always on an angle or on the bias or shapes of trapezoids, because he was a very intelligent creative person and to create something that incredible takes a mathematical mind. Instead, in Asgard, it's all very classic and very smooth and very earthly in terms of fashion that they have. It's something that we relate to because it's from mythology and from classic aesthetics. Sakaar is the opposite. Sakaar is really all about angles and incredible and odd shapes and colors.
What was the meaning behind the evolution of Thor's armor and the significance of the details?
When Thor comes back from his voluntary exile from Asgard, he has left all his armor somewhere else and has a new, very simple costume and armor. That's because he's a new person. [His new persona] made him grow and made him stronger, so we went back to the old technique in making those kinds of costumes in-house.
We sculpted [Hemsworth's] torso onto a wooden block, so we could then sculpt his body [onto his chest plate] exactly. We made all these costumes just with the right shape, so it looks very natural. It shows his real body and because he's in incredible shape, we show his arms because the character [in this movie] needed to be much more agile.
Loki has an outfit update for his time on Sakaar, too. What was the inspiration behind his futuristic blue suit, and what does that logo on the front mean?
Oh, it doesn't mean anything! It's just an aesthetic [detail] from Sakaar. Like, if you see all the style that Jack Kirby has, it's all about rhomboids and trapezoids and really nothing fits square or round. It's always either all or both or all together in different layers of realities. 
But with Loki and his color when we first see him in Sakaar, it's because Loki is full of weakness. One of his weaknesses is to [associate] with the wrong people — many times in his life. And this time, he's [joined] the Grandmaster, who is some sort of like a tyrant. Loki's there, betraying his own people. While his people [on Asgard] are just suffering and trying to escape the waves of death from Hela, he's out there trying to find exile in a place that he feels safe to the cost of betraying his people, naturally. So he adopts the same kind of colors, which is uncharacteristic of him and of his actual [green-hued] costume. Then he goes back to his original costume when he finds his senses to help Thor and being a good brother again. As long as it lasts.
Valkyrie's Asgardian armor (above) gave me chills when she walked onto the Bifröst in that big battle scene. What was the inspiration for her second look?
Many people [at Marvel] contributed to that costume and they put a lot on the table. We also put other design elements to it, and we used the same technology we used for for Hela's costume, which is superhero-printed fabric. We create our own print and the print has a very elastic ability to better adhere to the shape of the person. It's also very audacious and helps her move nicely. She rides winged horses and she fights throughout her third act of the movie in that costume. It's heroic. It's epic. It especially helped the character and honored Asgard.
I noticed that both Hela and Valkyrie wear wedge heels with their costumes. What was the decision behind having a heel and not a flat?
We took that license. Always, when you put a little heel on somebody, it always gives you better [posture] and it's more sexy. We wanted Cate to look like a vixen and Valkyrie to look like she's kicking ass. It's just an aesthetic situation and these ladies pull it through. They were able to fight with those wedges, which is amazing.
What was the most challenging part of costume designing for "Thor: Ragnarok?"
I think Hela was challenging because she has to look flawless and [the costume] had to look like a part of her own body. Her body really shifts and shape-shifts into weapons. That is made in post, naturally, but we have to accommodate the canvas to do that and without [distracting from] the incredible shape that she has, which is all Cate Blanchett.
Top image: ©Marvel Studios 2017
Never miss the latest fashion industry news. Sign up for the Fashionista daily newsletter.