Drag Queen Violet Chachki On What Her Women's Lingerie Campaign Means For Queer Visibility
The "RuPaul's Drag Race" winner opens up about buying bullet bras and taking risks for the sake of pushing conversation forward.
Violet Chachki is not unused to being photographed in underwear. She has, after all, built a reputation as a drag queen whose aesthetics and performances blend fetishism, striptease and high-glam; sexy lingerie is par for the course. But recently, Chachki stepped into territory that's new even for her: fronting a campaign for Bettie Page Lingerie, a line from London-based brand Playful Promises.
The campaign, which dropped Wednesday, features Chachki wearing a range of vintage-inspired ensembles from the brand's latest collection, which is named after '50s pin-up model Bettie Page. 
"I reference Bettie Page all the time, so when I found out that I had booked this, I was really excited," Chachki tells Fashionista over the phone. That the collection features "vintage staples" like bullet, full-coverage and overwire bras, which are useful for creating the impression of a full bust, is especially delightful to Chachki. "You can kind of get away with the illusion, which I have to think about when I'm buying any kind of lingerie."
More than that, though, the "RuPaul's Drag Race" winner is excited about the campaign because of what she believes it means for queer visibility. Though she's not the first drag queen to front a campaign for a lingerie company aimed at women — Australian queen Marie Claire starred in ads for Aussie bra company Bonds in 2014 — she recognizes that it's still far from common. 
"It's interesting to be kind of a figurehead for something that is very polarizing for a lot of people," she says. "It's really gratifying when a company takes the risk. Because it is a risk and there will be negative feedback. I love that certain companies just don't care, but are taking a step in the direction of having more visibility for the queer community. And I think the result is just more acceptance."
She's quick to note that the underwear she's helping sell is meant to appeal to more than just the queer community, and says straight cis women are just as likely to be drawn in by the "glamour and beauty" of the collection. In that way, she sees modeling and drag as an easy pairing; both create a fantasy onto which onlookers can project their own desires, regardless of background. This isn't the first time Chachki has linked the two, either, as she walked the runway at London Fashion Week for designer Dilara Findikoglu last season.
"What's really interesting to me about drag and fashion is that drag's kind of had its own little fashion industry," she says. "There's a circle of freelance designers who work almost exclusively with performers and queens, because all of our wardrobes for the most part have to be custom-made since we're wearing clothes that aren't made for bodies like ours. I love it because it's our own little piece of the fashion world."
As much as she enjoys operating in that separate world, though, Chachki is excited to continue dipping her toes into mainstream fashion. Even if her participation invites criticism, she says it's worth it.
"Either way, people have a feeling about it," she says. "I think the worst thing you can be is middle-of-the-road. If this campaign can make people stop and think, then that's amazing."
You can see Chacki's Bettie Page Lingerie campaign in full below.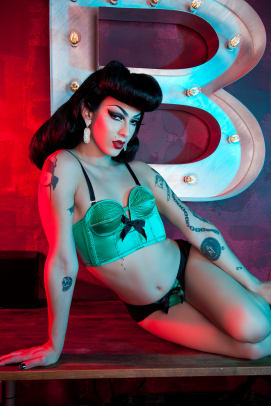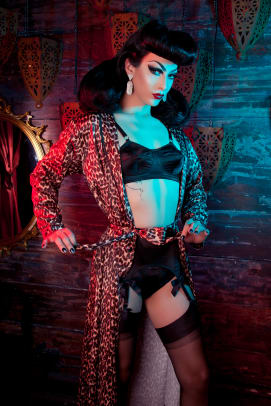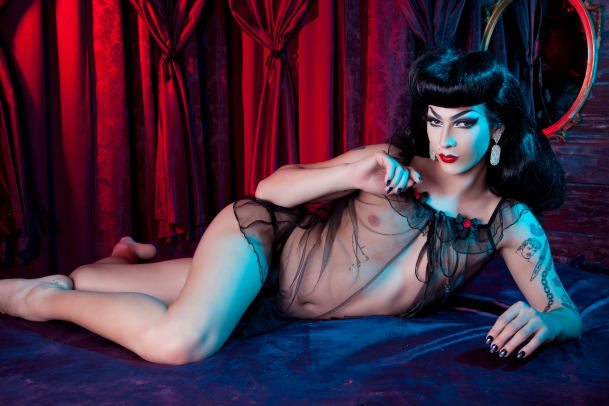 Related Articles
Want the latest fashion industry news first? Sign up for our daily newsletter.