6 Brands Giving Fine Jewelry the Affordable, Direct-to-Consumer Treatment
Fine jewelry is the latest industry to be disrupted by the Warby Parker/Everlane/Glossier business model.
It may be gift-giving season, but an increasing number of people— millennial women, especially — are buying jewelry for themselves these days. In fact, the fine jewelry industry is practically being turned on its head, with millennials forcing 100+ year-old brands to completely overhaul their marketing and retail strategies, leading retailers to rethink their jewelry departments, and inspiring a new wave of brands that are targeting this demographic, specifically.
In addition to women buying jewelry for themselves, millennials are getting married less, doing more research before making purchases, shopping more online, caring more about sustainable and ethical production and generally eschewing tradition. Traditionally thought of as an in-person purchase, fine jewelry is poised for online growth. According to Technavio, the global online jewelry retail market is expected to grow at a CAGR of 16.59 percent between 2017 and 2021. Overall, according to Mckinsey, global jewelry sales are expected to grow by five to six percent, per year through 2020. The same study also notes that fine jewelers would be wise to introduce more affordable entry-level price points. And they could: traditional fine jewelry brands like, say, Tiffany & Co., mark up their product significantly, often eight-to-10 times what it costs to produce.
One of the first brands to make a splash with affordable fine jewelry was Catbird, by selling a vertically-integrated in-house line of delicate, affordable, stackable fine jewelry that young jewelry shoppers can't get enough of alongside other, similarly youthful (but often more expensive) brands through a storefront and website.
Related Links
More recently, a number of entrepreneurs (many of them female) have gone a step further to take the digital-first, direct-to-consumer business model that's worked for companies like Warby Parker, Everlane and Glossier, and apply it to fine jewelry. It costs less to make fine jewelry than people have traditionally thought, and when the markups for wholesale, extravagant marketing and a famous brand name are cut out, it becomes much more accessible. Today, it's easier than ever to get a pair of solid gold earrings for less than $150 or a diamond ring for less than $500. See how three of these disruptive brands (very similarly) compare their pricing to that of traditional fine jewelry companies in the gallery below.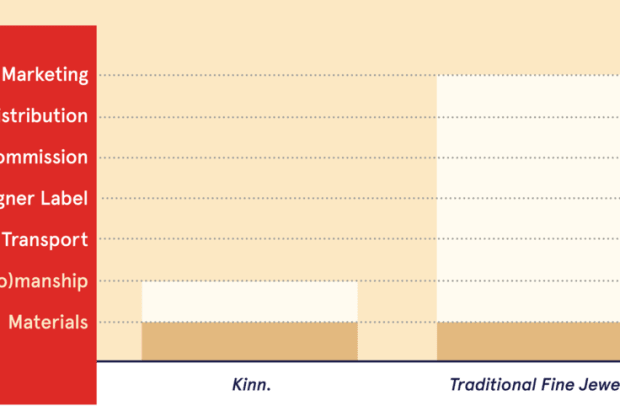 In addition to reasonable prices, many of these brands provide more transparency around production, sourcing and quality than is typical of the jewelry industry, and one even uses lab-grown diamonds from Silicon Valley. Instead of partnering with big celebrity names, they're getting the word out through Instagram ads, micro-influencer partnerships or even giving product away. With some of them already receiving venture capital, they're definitely on to something. That said, some of these companies are so similar we can't help but wonder if all of them will be able to obtain enough market share to stay afloat.
Nevertheless, read on to learn about six brands who show promise. Chances are, you'll also end up wanting to buy something for yourself... I mean... as a gift.
Vrai & Oro
Launched in 2014, Los Angeles-based Vrai & Oro makes delicate jewelry for everyday wear in addition to a wedding collection and "black label" collection of higher-end diamond pieces. The materials are what differentiate this brand: The diamonds come from Diamond Foundry — a Silicon Valley-based firm that produces lab-grown diamonds and acquired Vrai & Oro this year. Prices range from $55 to $1,500+ for engagement rings and the brand opened a store in Downtown LA this past summer.
The brand's founder, Vanessa Stofenmacher, wanted to create something in between upscale labels like Tiffany and Cartier and disposable costume jewelry from the high street, with a focus on sustainability. She says 75 percent of her engagement-ring customers are couples choosing the ring together (as opposed to men buying for women), and younger customers tend to be more receptive to the lab-grown diamond idea: "The older generation isn't going to change their mind; the middle are asking questions; and the younger generation is completely on board."
Kinn
Out of all of these brands, LA-based Kinn feels the most like a Glossier for fine jewelry, with its voice-y, millennial-friendly branding and classic lifestyle startup font, and the fact that the simple-yet-stylish product that is released in "capsules." The brand advertises on Instagram and engaged in another tried-and-tested millennial marketing move when it launched by giving away pairs of its classic gold hoop earrings this past October, a la Girlfriend Collective.
"It's such a saturated market... it's hard to gain people's trust these days, especially with millennials shopping; they have so many options to choose from," Founder Jennie Yoon told me of the giveaway idea. "I thought this might be the best way: I know once they see the packaging and my personalized note that went in every box, I know people will know that there's a person behind every [piece of] jewelry that's being made." The response was overwhelming and Yoon was forced to end the promotion early in order to get them all produced and shipped. Plans for the future include more influencer marketing (she already has a few micro-influencers as paying customers) and physical pop-ups so people can try on the jewelry. She mentioned Everlane and Glossier as points of inspiration for how she might want to do physical retail in the future.
Aurate
Launched in 2015, New York-based affordable and ethically-sourced fine jewelry brand Aurate has already raised $2.6 million in seed funding and expanded from being online-only to opening stores in New York, Boston and D.C. Prices range from around $80-$800 for classic, sophisticated pieces including vermeil, solid gold and diamonds with customization options like, say, 18k gold instead of 14k or black diamonds instead of white. It boasts about its transparent pricing and ethical sourcing.
The Last Line
"We decided to say 'screw you' to the traditional jewelry industry," reads The Last Line's version of an About page, titled, "WTF is The Last Line anyway?" This LA-based and -made, markup-free line that launched this past summer uses the "drop" method of releasing product and while it does sell basics, many of its designs are more colorful and stylized than the other brands on this list and often include precious and semiprecious stones aside from diamonds. Its branding is youthful and feminist-y; pieces are mostly in the $100-$2,000 range.
Mejuri
Like with many direct-to-consumer startups, I first learned of Toronto-based Mejuri via an Instagram ad. It launched in 2015 with the goal of empowering women to buy their own fine jewelry at a reasonable price. Styles include "quality essentials" offered in gold vermeil, solid gold and sterling silver, with and without stones. Prices range from $49 for gold vermeil hoops to $295 for a diamond necklace.
Noémie
Founded in 2016 by Yuvi Alpert, formerly of Ruby Kobo, New York-based Noemie is more focused on sparkling, diamond-covered (but still tasteful) pieces. The brand posts the "appraised retail value" of each piece alongside its prices and the discrepancies are pretty staggering: $1,570 vs. $5,800 for wrap-around ring, for instance. For the most part, items range from $450 to $3,000. They come with an IGI certification card, and those who want to see pieces in person can do so at Noemie's Soho studio.
Want the latest fashion industry news first? Sign up for our daily newsletter.