Chanel's 2018 Métiers d'Art Show Was a Sweet Hamburg Homecoming for Karl Lagerfeld
Was it also a farewell tour?
For Chanel's last Métiers d'Art show, held almost a year ago to the day, the French house staged an elegant tribute to Creative Director Karl Lagerfeld's long-adopted hometown of Paris. The presentation had all the makings of a quintessential (if textbook) display of Parisian grandeur, from the set (at the über-glam Ritz Paris) to the runway cast (including native Parisian Lily-Rose Depp). In a more overt sense, Chanel's 2018 Métiers d'Art show served as a tribute to another of Lagerfeld's hometowns, too: The event took place on Wednesday in Hamburg, Lagerfeld's place of birth and his residence until he moved to Paris to finish secondary school at the Lycée Montaigne as a teenager.
Lagerfeld's choice of Hamburg has led many — present company included — to speculate whether this homecoming will serve as his final Chanel show before retiring next year. If, yes, this is to be his swan song, it was a beautiful one on which to go out. 
The show took place at Hamburg's Elbphilharmonie, a stunning, architecturally renowned concert hall situated on the Elbe River, and came complete with a live symphony. Guests received opera glasses, which they could use to either view clothing details up-close as looks paraded down the aisles or, perhaps, to get a better glimpse at the finely dressed showgoers across the auditorium. It wasn't quite as overblown as the house's rodeo-themed 2014 Métiers d'Art spectacle in Dallas, but it wasn't quite as subdued as its gussied-up, beau monde affair last December. It was a comfortable medium, with a tangential benefit being that it also allowed the clothes to do a lot of the talking.
Which is to say: The collection was lovely — you'd think Lagerfeld would have completely exhausted tweed by now, but alas! — with an interesting, almost obsessive attention to detail paid to the accessories. Each look was paired with an embellished peaked cap à la Charlotte Rampling in 1974's "The Night Porter" — very 1950s-era Vienna — as well as no shortage of Coco Chanel-esque baubles, brooches and pendants.
Be this Lagerfeld's farewell tour or not, we look forward to doing as we always do upon a Chanel show and pour over each look, shown in the gallery below, from top to bottom. But this time, we'll also take notice of the hometown he chose to fête — just in case.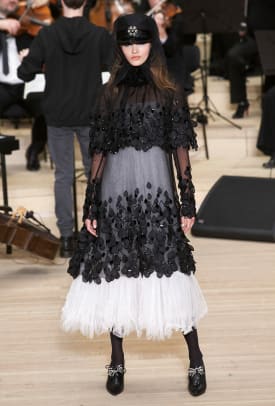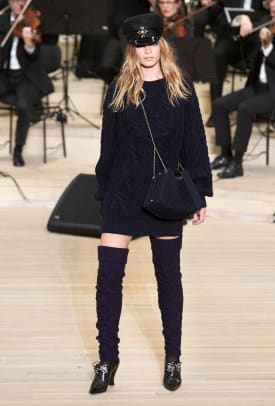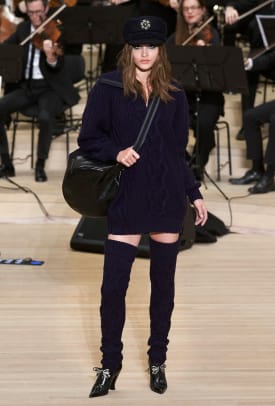 Never miss the latest fashion industry news. Sign up for the Fashionista daily newsletter.