Everlane's First Permanent Store Is Worth the Hype, and Then Some
The direct-to-consumer stalwart brought its civilized shopping experience to Prince Street.
Amid the trials and tribulations famously facing brick-and-mortar retail of late, there have been the few, notable success stories bringing buzz back to an ailing industry. While Nordstrom experiments with its merchandise-free outpost, Warby Parker continues to launch stores nationwide, including its 50th — and as of now, biggest — outpost in Los Angeles. It's in the case of the latter, actually, that there's more good news than bad: As young, nimble direct-to-consumer brands grow their businesses, many are increasing their IRL footprints with civilized, experiential shopping locales to supplement, not substitute, an already booming e-commerce business.
It was with all of this knowledge in mind that I arrived at Everlane's first permanent store — located at 28 Prince Street in New York City's Nolita neighborhood — on Friday for a walk-through, before it opened to the public the following day. I've been a fan of the brand and its transparent practices for years, essentially since the retailer launched online in 2011. To that end, I feel like I'm Everlane's target demographic: I don't do much, if any, of my shopping in-store anymore, but I'll make exceptions when it's a brand I respect and when the brick-and-mortar experience is, well, an experience. 
That's where Everlane gets it right. The space is designed to offer more than just clothes, which, of course, is great news for those of us who are pre-existing patrons. The store will play host to panels and community events, and, tapping into its signature transparency, will also offer factory VR experiences; at one point during my tour, I was recommended to slip on a pair of headphones to hear firsthand how a T-shirt is made, a feature available to all shoppers.
The store will not carry all of Everlane's inventory, instead stocking only a selection of its best-selling products — going so far as to line a whole wall with jeans that customers can try on, but not buy in-person. It makes for a staggeringly simple shopping process: For those who have shopped with Everlane before, credit cards are kept on file, while portable buzzers notify guests when a fitting room is open and ready. And for new customers who stumble in off the street, it doesn't hurt that the place itself is beautiful and crawling with natural light, thanks to the four skylights, 4,500 pounds of glass and 40 gallons of bright-white paint. 
But nothing speaks more to the hype than a friend of mine who, upon seeing that I had posted about the store on my Instagram Stories, was so excited about the opening that he attempted to stop in that day after work. "You inspired me to go, but it's closed for a private party," he wrote in a DM. "I am heartbroken." The good news, though, is that it looks like this place is going to be around for a while.
Everlane's first-ever permanent store is now open at 28 Prince Street. Before you visit, click through the gallery below to go inside the space.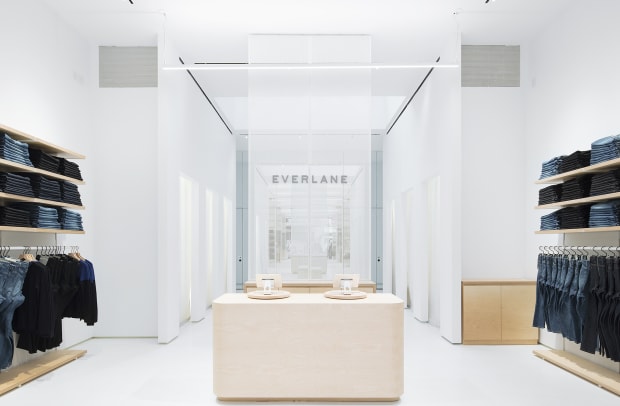 Never miss the latest fashion industry news. Sign up for the Fashionista daily newsletter.