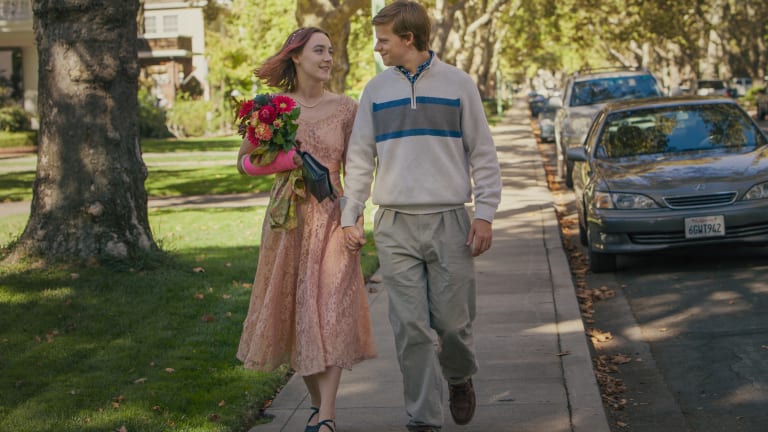 The 'Lady Bird' Costume Designer Looked to 'Dawson's Creek,' '90s-era Kirsten Dunst and Chloë Sevigny for Inspiration
"She's in a beautiful moment of self-discovery and questioning and learning about herself," said April Napier, about Lady Bird's thrift-shop aesthetic.
"It's a coming of age film, but it's a coming of age film that has not been told in such an authentic and realistic way," said April Napier, costume designer of critical darling, bonafide box office hit and definite Oscar contender, "Lady Bird." The movie, written by Greta Gerwig in her directorial debut, follows 17-year-old Christine McPherson (an excellent Saoirse Ronan) on her road to self-discovery. While rebelling against the norm of her monotonous hometown of Sacramento and struggling to connect with her mother Marion (an also-excellent Laurie Metcalf), "Lady Bird" — McPherson's self-given name — also uses clothing as a means of finding herself, as real teens often do.
RELATED LINKS
But despite the film's 2002 setting, Lady Bird's style isn't necessarily reflective of definitive (and sometimes polarizing) early-aughts fashion trends. "She's in a beautiful moment of self-discovery and questioning and learning about herself," explained Napier about Lady Bird's aesthetic, which ranges from thrifted, demure lace party dresses from the '50s for important life occasions like prom, to '90s grunge-referential plaid jumpers when she falls for a rich, wannabe alt-rocker named Kyle (Timothée Chalamet).
As Lady Bird says to popular classmate Jenna (Odeya Rush) with much contempt, "Sacramento is the Midwest of California" —  meaning, it's also behind when it comes to fashion trends. So Napier looked to seminal movies of the mid to late '90s, including "Empire Records," "10 Things I Hate About You" and "Kids," also citing Chloë Sevigny and her alt-cool sense of style as inspiration. Turn of the century pop culture references are sprinkled throughout, too. For instance, on Thanksgiving, Lady Bird changes in the car from her "meet the Kennedys" Thanksgiving dress into jeans, a grungey T-shirt and a beret, right before she spots dreamy Kyle performing with his band for the first time.
"It's her bohemian moment," explained Napier about Lady Bird's mindset in that scene. "'What would Kirsten Dunst wear?' Or 'what would Fiona Apple or Annie DiFranco wear?'" 
Napier looked to personal favorites in the music genre for style inspiration that was also referential, but not married to a specific era: lead singer of Bikini Kill and Le Tigre Kathleen Hanna, Sonic Youth and "A Scene in Between: Tripping Through the Fashions of UK Indie Music," a photography book chronicling bands like The Jesus and Mary Chain, The Smiths and The Pastels. In researching for general flavor of the era, she couldn't help but analyze certain icons of the period as well. "I was looking at Britney Spears and Christina Aguilera," Napier said. "Low-waisted, boot cut jeans, short crop tops and Juicy Couture track suits. That was such a horrendous moment."
Gerwig's personal experience growing up in Sacramento in the early 2000s also provided valuable and authentic sartorial information. "[Gerwig] gave me kind of a magical box full of references [from the era], so you know that jeans look so crappy on the guys and everyone is wearing things that were so disheveled," laughed Napier. "It was good to use that as setting the stage for possibility for what Lady Bird could be — and to be rebelling against."
While the early aughts displayed a "particularly distasteful" sense of fashion to Napier, the time period ironically offered vast opportunity to play with Lady Bird's style, while still staying authentic to what a rebellious, less affluent and yearning-for-more teenager in a sartorially stunted town might wear. "It was a really special time — prior to the [rise of the] internet when you could figure out on your own what appealed to you and go down that path without this giant web of information being fed to you," Napier explained.
At the time, H&M had only arrived on U.S. shores two years prior in New York, and it didn't even hit the West Coast (in San Francisco, not Sacramento) until 2005. "It was indicative of that moment when things start to change," Napier said about taking advantage of the brief calm right before the fast-fashion storm. This allowed Lady Bird to experiment with different styles on her own time.
"Now you're making fast edits in your mind," she said. "People are craving stuff so fast, so quickly — the new thing — whereas I feel Lady Bird was more mindful. She was thinking about the stuff she's doing, as opposed to the stuff she reads or sees on the internet." She thereby made Lady Bird a bit of a poster child for the slow fashion movement, kind of literally.
Meanwhile, in real life, the rise of fast fashion and online shopping created a costume challenge for Napier. "That was a really shocking and horrifying part of the discovery," she said, comparing shopping for Lady Bird's pieces from the '50s through '90s, which were well-constructed and still in great condition, to her mid-length button-downs and stripe-y tops from the early 2000s. "They're totally falling apart and and they're the newest clothes that are there! I was like, 'right, this was the beginning of fast fashion.'" 
For the country and western-themed homecoming dance, Napier enjoyed the opportunity to show the main character's dedication to rejecting the mainstream. Although, from a contemporary fashion lens, Lady Bird's teal blue and gorgeously embellished western-shirt-and-jeans ensemble looks chic — bringing Alessandro Michele's exuberant and irreverent Gucci designs to mind. "Oh, it does now, doesn't it?," Napier delightedly said in response to the comparison. "That's incredible, actually." 
But the stunning shirt is actually one-half of a '50s gabardine country-and-western suit by legendary North Hollywood-based "Nudie the Rodeo Tailor," who created spectacular ensembles for rock star cowboys and musicians back in his heyday. "It has her rebellious spirit and so much character and individuality to it. It's different than what everybody else is wearing," Napier said. "But Greta suggested that it shouldn't be the whole outfit and I thought that was a really good decision because it would be too much of a costume. When it's just the shirt with jeans, it makes it more real, like Lady Bird could have found it in a thrift store."
Super-popular Jenna unsurprisingly chose the most 2002 look of all at homecoming: a denim mini-skirt and double-layered custom-built baby tanks tackily emblazoned with "Save a Horse, Ride a Cowboy." Napier looked to a very early aughts source for exactly how Jenna and her squad should wear that outfit. "'Dawson's Creek,'" she said. "I watched a little bit of it in prep. It kind of came from Jenna being that kind of a character ... an upper middle class, kind of boring, unimaginative person and that's what she would wear." 
Napier paid the same attention to detail with the accessories, which offered little, but important clues to each character's personality — especially with the Catholic school uniforms. "Greta knew from personal experience that when you go to a school where you have a uniform, the only way that you have a voice to say 'this is me' is how you accessorize it," she said. Of course, Jenna wears a gold Tiffany & Co. Paloma Picasso heart pendant, while Lady Bird layers ying and yang bracelets and leather and beaded choker necklaces. Plus, she quietly resists the power with boxier, "tomboy-esque" polos, fun socks and chunky, creeper-soled shoes.
"Greta said, 'man, if you could find those Mary Jane Doc Martens that would be so incredible for her,'" Napier recalled. Although, sweet Beanie is actually on-trend for 2002 — and, apparently, 2017 — with her choice of sneakers. "I thought I would never put them in the film, but she wears Skechers because that was right for that character," Napier laughed.
Reflecting real life, Lady Bird's shopping scenes with her mom brought out the fraught dynamics between a mother and teenaged daughter trying to connect, but with good intentions underneath. The prom dress shopping moment also required a plot device in the form of a too shiny, too tight, too cut-out and too short abomination before settling on the perfect '50s rose- and sequin-embellished lace dress, which Napier rented from Palace Costume.
"We were just trying to find kind of the most unattractive dress from that era, that would be completely wrong for Lady Bird trying to fit into that place," explained the costume designer. "So when she finds that '50s lace prom dress, it's like, 'right, that feels comfortable on me.' That thrift store scene is so extraordinary, because so much is revealed about the mother-daughter relationship."
Lady Bird eventually settles into herself when she goes to college in New York, drinks too much at a party and eventually calls her recently estranged mother in a very tear-inducing (and relatable) moment. "She's wearing that little boy's blazer, a little boy's vintage striped t-shirt, those mid-rise jeans that have the pockets and a stacked heel boot," Napier explained. "It seems that she's really found her place. It's more urban and she feels comfortable and it's the time she can say her name is 'Christine.'"
Follow April Napier on Instagram @aprilroko.
Want more Fashionista? Sign up for our daily newsletter and get us directly in your inbox.