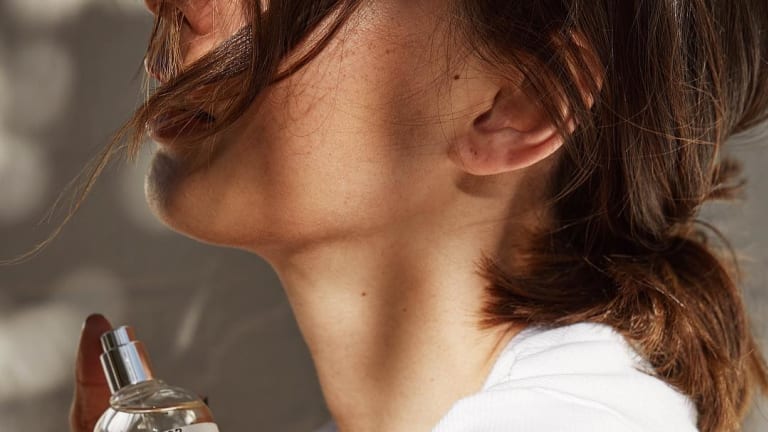 The Cult of Le Labo Santal 33
Five superfans on why they love the storied fragrance.
The cult of Le Labo Santal 33 is a serious one, if not exactly a stealth one. In fact, if you've spent even a minute at LAX, JFK or Heathrow, you've no doubt smelled it yourself, whether you're a beauty scion or firmly feral in your fragrance devotion. Its appeal spans ages, genders, cultures and sexual identities. Devotees run the gamut from corporate leaders to fringe creatives. Says Le Labo co-founder and perfumer Fabrice Penot, "We never thought about who was going to wear it in terms of gender at Le Labo. We are more thinking of the souls — perfumery has to be sexual to me — it has to create an attraction, an addiction." Santal 33's superfans seem to have taken that last part quite literally.
The slightly sultry, smoky scent is so ubiquitously beloved by celebrities, fashion folk and cool kids in the know that it inspired a New York Times story about "that perfume you smell everywhere." And Penot is well aware of its powers. "We are lucky at Le Labo to have a few 'cults' in our collection," he told the Times back in 2015. "But Santal 33 is another level of success; it has had a stupid amount of success. As a perfumer, you always secretly hope, but you never expect, such an impact. It happens once in a lifetime — if you are very, very lucky."
Le Labo's star perfume boasts a wearing ratio by men and women of 50/50, according to Penot. It earns a spot in the perfume pantheon shared by wild scent successes Dior Poison, which ruled the '80s, CK One, which dominated the '90s and Angel by Thierry Mugler, which reigned supreme in the early aughts, in terms of fragrance ubiquity. Here, we explore the popularity of the scent with some of the fragrance's most devout devotees; each a L. Ron Hubbard of the cult of Santal 33 in his or her own right.
Related Articles
The Transformed Scent Profile Fan
Social media strategist and MB Social founder Mimi Banks says that for years, she preferred fresh and clean scents. "I always steered clear of all things musk — what I thought were heavier fragrances — until I discovered Santal 33 by Le Labo," she says. Santal 33, for her, was a gateway drug into a totally different suite of scents. "I now look for fragrances (candles, body lotions, soaps, shower gels) that have black pepper, vetiver, sandalwood, amber, tobacco and other notes reminiscent of Le Labo," she says. "I love the trail the fragrance leaves behind in an elevator, on my clothes or even in a room. It's memorable and immediately bonds you to the person who knowingly asks if you are wearing Santal."
The Man Fan
Damon DeGraff, dGi Management founder and partner, is man who loves fragrances on himself, on others and especially in his apartment. He discovered Santal 33 when he was looking for a new scent for his apartment. "A friend of mine suggested we go to Le Labo for candles," he says. "I hadn't heard of the brand before but was quickly drawn to the lovely packaging and fragrances. I found myself pulling things off of the shelves like a kid in a candy store," he adds. DeGraff was drawn to Santal 33 "because of its unisex 'smells good without trying' feel."
The Sexy Sandalwood-Scented Mom
Lyss Stern, CEO of Divamoms.com, is a mom of three, author and self-described Le Labo Santal 33 fanatic. For her, the fragrance is a family affair: Not only does Stern love her Le Labo Santal 33, but her husband does, as well. Lyss discovered the scent while taking her daughter to Stern school, where she smelled it on another mom in the elevator and interrogated her. She purchased it immediately at Barneys, and it's been one of her favorite perfumes ever since. 
"I love the scent because it is feminine, sexy, smoky, floral all wrapped into one fragrance," she says. And its appeal seems to be universal in her experience: "The super in my building stopped me the other day because he had to know what scent I was wearing." Stern also loves that you can customize the bottle; she designed hers to read #FabULyss. But abiding and deep though her love for Santal 33 may be, she's not a purist about it: She's been known to swap it out on occasion for the likes of Tom Ford Tobacco Vanille, Frederic Malle Portrait Of A Lady or (in the summer) Ex Nihilo Fleur Narcotique.
The Cocktailer
Adrienne Gold, Jewish Women's Renaissance Project Trip Leader, says that she has such a discerning nose that she "can identify the brand of hair products in the heads of anyone who moves within three feet of me," adding that a good day is when everyone smells like Aveda Shampure. "When I sniffed Santal 33 on my best friend, I practically inhaled her entire wrist," she says. 
Gold regularly dons Tom Ford Santal Blush or Orchid Soleil (with a Jo Malone Dark Amber & Ginger Lily as an alternate) and says that her house is redolent with Votivo's Smoke on the Water candle. "So I know what I like and even mix essential oils for my bath that recreate these notes," she explains. The problem for her is that Santal 33 doesn't smell as compelling with her body chemistry as it does with her friends': "So I own it and love it, but choose to layer it with Santal Blush to offset the chemical funk it creates on me without a 'sister-scent,'" she explains. "On a recent trip to Israel I dived on one of my co-trip participants when I smelled Santal 33 on her while touring the old city of Jaffa! I will now forever associate that glorious place with that glorious scent."
The Industry Insider
Grace Atwood, Founder of The Stripe, worked in the fragrance industry for more than eight years (first as an assistant buyer for a department store, and then in marketing for larger brands — P&G Prestige and Coty). "I'd tried nearly every fragrance under the sun and just thought that I wasn't really a fragrance person," she says. "My journey with Le Labo — because fragrance is always a journey! — actually started four years ago, when I went into the store on a whim and bought a small bottle of Fleur d'Oranger, Le Labo's orange blossom fragrance." She ended up buying the Santal 26 candle and becoming addicted to it. When the candle was done, Atwood went back to the store and asked if they sold a Santal 26 perfume. The store clerks laughed at her. 
"They were like, 'You don't know about Santal 33? It's our most iconic scent!'" Atwood says. She went home with a bottle and has been hooked ever since. In fact, she loves the smell so much that she has to force herself to switch up her scent (usually to Rose 31) for a day or two every so often. "Your nose gets used to your own perfume and you stop smelling it on yourself. I need to be able to smell it!" she says. 
Homepage/main photo: @eleanorpendleton/Instagram
Please note: Occasionally, we use affiliate links on our site. This in no way affects our editorial decision-making.
Sign up for our daily newsletter and get the latest industry news in your inbox every day.