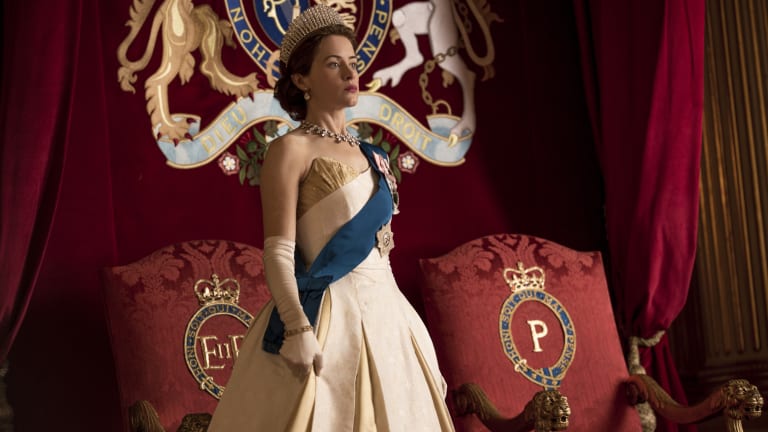 'The Crown' Costume Designer on Dressing a Royal Wedding, Jackie Kennedy and the Sexy, Swinging '60s in Season Two
Jane Petrie also starts Queen Elizabeth II's wardrobe evolution into her current day signature style.
Warning: Spoilers for "The Crown" season two (and history), below.
Despite the setting of 1956 to 1964, the second season of the Queen Elizabeth II biopic series "The Crown" hits pretty close to home right now, with a televised royal wedding (to a commoner!), U.S.-Anglo relations in need of "repair" — although then it was due to the U.K.'s involvement in the Suez Canal Crisis as opposed to the sitting U.S. President's objectionable Twitter activity — and institutionalized sexism all around. But fans of the Netflix show also have the privilege to binge scintillating 20th century political intrigue, royal family drama — possibly giving insight into why Princes William and Harry became such seemingly chill guys, to be featured season five or so — and gorgeous, gorgeous costumes thanks to Jane Petrie, who takes over from the first season's Michele Clapton and Timothy Everest.
RELATED ARTICLES
For the sophomore season, the London-based costume designer enjoyed the opportunity to explore and reflect a transitional time in Queen Elizabeth's (Claire Foy) life and marriage to Prince Philip, Duke of Edinburgh (Matt Smith); the out-of-touch monarchy, which needed to become accessible to British subjects of all socio-demographics (and more accepting of Princess Margaret's marriage choices); the decline of Britain as a global power; and the progressive, increasingly egalitarian and ultimately sexy attitudes of the swinging '60s. For Queen Elizabeth, that meant a move into softer cardigan and skirt sets for negotiations with her husband (and more than one Prime Minister) and an approachable pink and white polka-dot skirt suit for lunch with the middle class when the Palace opens up to the public. Of course, there are plenty of sumptuous gowns, too. 
"We made hundreds of bloody dresses," laughed Petrie, over the phone from London.
Season two not only includes iconic historical milestones and scandals, but also iconic fashion moments and people: the return of Duchess of Windsor, Wallis Simpson (Lia Williams) and a few appearances by 35th FLOTUS Jacqueline Kennedy (Jodie Balfour). Plus, glamorous younger sister Princess Margaret (Vanessa Kirby) meets dreamboat photographer and future First Earl of Snowden, Antony "Tony" Armstrong-Jones Matthew Goode), leading to another delicious fashion evolution — and royal wedding to recreate.
Petrie, who also designed the Carey Mulligan-starring film, "Suffragette," was more than happy to discuss season two costume moments in detail, including how she gave Princess Margaret a boho sensibility, took a little license in dressing Jackie Kennedy and brought one royal family member through the quintessential on-screen shopping montage. Here are the highlights.
How did Queen Elizabeth II's costumes reflect this transitional time in both her life and for Britain?
I knew that I wanted her to arrive at something toward the end of the season. When you look at the way the Queen dresses now, there's a residue of the way she looked around about the mid '60s. She started to almost find what would become her solid look. I knew we had to move away from those pinched in waists of the '50s, not only for fashion, but for her story and the choices that she made — and we had her pregnancies [of Princes Andrew and Edward] in this season, as well. 
But I wanted it to feel that she was slightly trapped inside the world of the palace, and the monarchy and outside world was moving in such a rapid forward propulsion that she was becoming almost isolated from her people and the outside world. And yet Margaret was becoming much more in touch with all of that. There were sort of fairly easy kind of story arcs to mark, in a sense, because you saw that young fresh Queen with the nipped-in waists in season one and then someone who needed to reconnect with the public. I was hoping I could tell some of that through clothing.
Vanessa Kirby as Margaret is excellent this season, as is her wardrobe. How does costume help tell where she's going?
When I picked up on Margaret after season one, she was quite fashionable in dress, anyway, so I felt I'd put her in touch with something that was more bohemian. When she starts off, she doesn't start off stuffy, but she's still quite cool — and she's got all these fantastic cocktail dresses — but she's getting more and more bored around the palace and is needing the excitement that Tony is going to bring. So it was about finding fabrics and costumes that could show her connecting with the art world instead of just the aristocratic world, which was all about wealth and hardly anything that she wanted. Suddenly there was something that she might not be able to have, even if she wanted it enough. So I was looking at different, more '60s cloths and colors and trying to move into something more edgy and urban and bohemian.
You could definitely see the transition, especially in the beautiful and paint-spatter-like coat she wears to Tony's gallery opening.
I had already made different costumes for that scene and then I found that cloth during the week we were shooting it. She had a black coat she wears in a different scene now. I found that silk velvet and painted, kind of, mid-century canvas and I thought it was too good not to use. So we pushed that into the workroom schedule so she could have it for the gallery opening. It feels fantastic in your hand. I loved it. Sometimes you have a lucky day, and you need to change direction because you find something that you want you weren't looking for and it's just perfect for saying everything that you need it to say. 
The dress Margaret wears to what turns out to be her official 29th birthday photo shoot ended up being kind of a plot device. How did you design that dress to culminate in her "naked" birthday photo?
She arrived in a lovely lace blouse, for the dark room sequence, which looked fantastic in the red light, but she changed into [that] dress. The whole thing was built around [Tony] being able to take it [off her shoulders] because we thought, 'she's squeamish; she can't be naked in the photo, she's still Princess Margaret.' He has to find a camera angle to be suggestive. So we had to design something that he could pull off her shoulder. That, we had to cheat in. It was more about addressing it very quickly to become invisible.
Because 'The Crown' is always in sort of in flux — it's always being written and it grows and you'd get new scenes — I'm not certain, but in the early sequences that I read, [viewers] didn't see the actual photo shoot. [The camera] just cuts to the photograph [in the newspaper]. I worked really hard on what she was going to wear in the dark room and then they said, 'we are going to see that dress.'
For the Royal Wedding, Margaret and her entire wedding party were recreated down to the last detail. What went into the design process for that segment?
That's what's so wild about 'The Crown.' You read [the script] and the [goal is] the family photograph at the end of that episode. And then you have to say, 'oh hang on a minute. We've got to make [the entire family's costumes and] that really well-known blue gown for the Queen, for a still, really?' I don't know if [the directive] came from costume or from the directors, but eventually [the script included a dressing montage of the whole family] in front of the mirror getting ready. So that was helpful because I felt we were getting a little bit more screen time for all that work. Because sometimes in 'The Crown,' you get a line on a page that seems like nothing and you start and think, 'hang on a minute, that's a really famous photograph. There's no cheating here. We're going to have to make all that.' 
What were the challenges in recreating Margaret's wedding gown?
When you look at images of that dress, the way that the layers of the organza sit, they hold their shape in quite a soft, rounded, almost cloud-like way on the top of the dress — [it was hard] to find the right weights of cloth to get the layers, so it would hold its shape and it wouldn't collapse, but you would be able see through some of the layers, like her sleeves. You can see her arms through the sleeves, but they're not sheer, they're a bit milky. The challenge was just getting the right fabric. 
For the Kennedys' visit in episode eight, you recreated Queen Elizabeth's sky blue dress, but gave Jackie Kennedy a strapless version of her Chez Ninon shantung gown. Why was that?
We can't resist [recreating the Queen's look because] we had that whole storyline of her choosing that dress. I couldn't have done anything better to see what we needed to see — of her having to stand side-by-side with Jackie Kennedy. It's all there in the actual gown. Then you kind of go with the actress in the fitting, sometimes you think, 'that suits you better, let's do that.' I think we didn't make too many changes to Jackie Kennedy's outfit, but there are a few tweaks that we did just because we were having a lot of fun. 
One of my favorite gowns for the whole season: [Jackie Kennedy] wears a yellow and black evening gown [by Chez Ninon in a quick scene showing a 1961 White House state dinner]. It's got a bright yellow silk skirt and a black bodice. In reality she wore white gloves, but we gave her black ones because it was a lot more dramatic. It would have felt a bit more conservative to a modern eye if she had white gloves on and it felt like we were really breaking a rule from looking at photographs. We [went with what looked better] for the story we were trying to tell.
What was your process behind creating original looks for the more intimate moments that the public wouldn't have seen or have records of?
By the time we got going with it, we were getting to the point of making it up, really, rather than just going with existing information. We felt that we knew the characters, so you go about the way you go about other films that are fictional. I knew what my storylines were, I knew what I was trying to say, the things that would feel right or wrong for the character and I would get some options and start building it in traditional way. When you've done a lot of good prep and good solid research and worked hard on the script before you make any costumes, you get to the point where you start to rely on your instincts. I think you can overthink it and you can take the spirit out of the costume by trying to be too academic about it. 
Prince Charles is the only royal family member to enjoy a shopping montage in anticipation of starting Eton. What research and attention to detail went into that series of costumes?
That's another example of a very, very small line on a page becoming a whole day of filming and me saying to Stephen [Daldry], 'what do you want in this montage?' And it becomes, 'we want the boating outfit, the rugby, all the different outfits.' The next thing, we're on the phone to the company that provides the costumes to Eton, and they're in their archives and we're trying to work out exactly what everybody would have worn at that time. It starts off as Charles is at the outfitters and then you move on [and] it's like seven more costumes. 
But it's dead good fun because, often, a lot of films that I've done in the past have been incredibly low budget, so a lot of my experiences [have been designing as] much as possible with as little as possible. But on 'The Crown,' you can just do it right.
'The Crown' season two is available for streaming on Friday, December 8 on Netflix.
Top photo: Robert Viglasky / Netflix
This interview has been edited and condensed for clarity.
Want more Fashionista? Sign up for our daily newsletter and get us directly in your inbox.