Nicolas Ghesquière Explains Why He Finally Designed a Sneaker and Gushes Over 'Stranger Things'
The Louis Vuitton Artistic Director was honored at the Lincoln Center Corporate Fund Gala on Thursday evening.
On Thursday evening, the fashion crowd gathered at the annual Lincoln Center Corporate Fund Gala, hosted by Hearst and Harper's Bazaar, to honor Louis Vuitton Artistic Director of Women's Collections, Nicolas Ghesquière. But for such a sartorially cultivated affair, multiple nerd references abounded — and no one was happier to geek out than the guest of honor himself. That should be no surprise, as Ghesquière caused major waves in both the fashion and the pop culture worlds when he sent a "Stranger Things" t-shirt down his 18th century couture-meets-sneakerhead spring 2018 collection runway at the Louvre this past October.
RELATED ARTICLES
"I'm a fan of the series," he told Fashionista on the red carpet before the award presentation introduction by Harper's Bazaar Editor-in-Chief Glenda Bailey, who also mentioned Ghesquière's love of "Star Wars" and the '80s-set hit series. "I was talking with Netflix, and I knew the kids from the series — we did a few things together — and when the idea came to do something together again, I said I want to do a little mention of the fact I'm a fan of the series in the fashion show, and so we did the T-shirt together."
Of course, he hinted at the project back in September, when the young cast of "Stranger Things," including Millie Bobbie Brown, visited his atelier in Paris — and caused an Internet frenzy amongst Duffer Brothers and fashion fans alike. Despite his very demanding schedule, Ghesquière made time to binge watch the second season of the hit Netflix series, like the rest of us. 
"I love it," he said excitedly. "I already adore the first, and I think they [did] even get better on the second season: more characters and the aesthetic of it is fantastic. It's everything that I like, to be honest with you." 
Also like us, he was super into Eleven's "MTV punk" makeover, too. "Oh yeah," he nodded. "Millie is such a sweet girl, and it's beautiful to see her transforming herself into a teen." The fashion house is helping add to the 14-year-old's bona fide fashion cred. During a visit to the resurrected "TRL" in early November, Brown enjoyed the privilege of wearing a ripped-from-the spring 2018 Vuitton-runway look, complete with those chunky, thick-soled basketball sneakers that will have the Hypebeasts lining up in droves when they come out next season.
"It took me a few years to do one sneaker," Ghesquière explained. "I was thinking of sneakers for Vuitton for a long time, and I was like, 'When I am going to do it, I'm going to try to do it good.' So here we are, and I hope people will enjoy it as much as I designed it." 
"It's about the styling, too," he added. "In the show, I put them with such embellished pieces. I think that was the surprise, probably, to have something so sporty and tech in design with something very costume, in a way." At the gala, Ghesquière's close friends, collaborators and campaign stars, including Nicole Kidman, Michelle Williams, Ruth Negga, Riley Keough, Sophie Turner and Jennifer Connelly, all wore 18th-century aristocrat-inspired looks from that collection — though all opted for high heels as opposed to the more comfortable thick-soled, hi-tech sneakers. Connelly, who, along with husband Paul Bettany, presented the designer with the evening's award, did thank the designer for "making boots that we can stand tall and walk all night in."
During her intro, the actress and close friend to Ghesquière also lauded the intellectual and cerebral aspect of his innovative creations for Louis Vuitton. "I am struck by the way his work explores opposition in concept, form and texture, yet rests perfectly in balance," Connelly said. "Nicolas has an unerring sense of proportion and allows his designs to embrace contradictions and so they are bold, yet restrained. Creatively unfettered, but harnessed with precision; displaying both the vision for the future and an understanding of the past."
She also credited Ghesquière's focus on inclusion in his work. "Nicolas prescribes neither how we should wear his clothes nor who should wear his clothes," she said. "Instead, with each collection he expands the vocabulary we can use to express ourselves and he invites us to listen to a striking array of powerful voices celebrating artists insisting that blonde hair, pink hair and dreadlocks are equally beautiful; that the beauty of 75 is as relevant as the beauty of 25."
While accepting his award on stage, Ghesquière first paid a heartfelt tribute to the late Azzedine Alaïa. "Discovering the genius of Alaïa when I was young made me want to become a part of the fashion world," he said. "He lead me to discover my true calling and I would not be here this evening without him."
While the evening was a glamorous celebration of fashion and celebrity (with the occasional nerd reference), turmoil in the political and cultural landscape was on everyone's mind, including Ghesquière's.
"Louis Vuitton has always been a global brand and always held the firm belief that the world is interconnected interlinked and to be shared by all. As an artistic director of a women's collection, I am proud to say that these are my beliefs as well," he said, closing out his acceptance speech. 
"Another important belief for me is equality and one of the best opportunities that my work has given me in the time is the possibility to meet extraordinary women of all kinds. I design to please women, to make them happy," Ghesquière continued. "Today, in this moment of reckoning, I want to express my full support in the battle against abuse of any kind. I want every woman to know that I am standing by their side to stand by their freedom and their dignity."
Click through the gallery below to see all the bold name guests in Louis Vuitton at the Lincoln Center Corporate Fund Gala honoring Nicolas Ghesquière.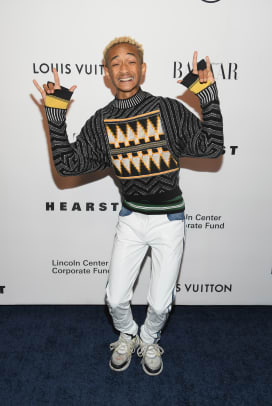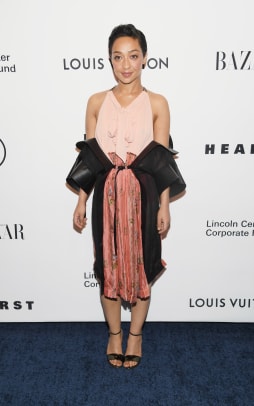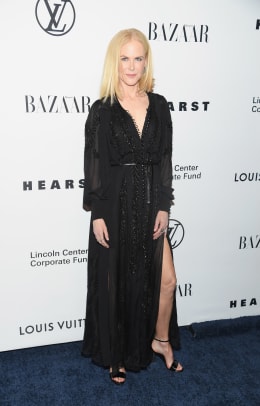 Homepage photo: @nicolasghesquiere/Instagram
Want more Fashionista? Sign up for our daily newsletter and get us directly in your inbox.