Emerging Designer Recho Omondi Isn't Scared to Call Out the Fashion Industry
"I think the fashion industry has really sold its soul for a dollar."
If you ask designer Recho Omondi what's wrong with the fashion industry, she'll tell you "almost everything." But where a pessimistic outlook might deter some, Omondi's frustration with capital-F fashion's shortcomings only fuel her fire to change what she sees as a broken system.
Omondi's eponymous label, founded in 2015, is her ongoing response to and dialogue with the industry's failings. Though she debuted her first collection the prescribed way — that is, at New York Fashion Week in alignment with the seasonal calendar — Omondi quickly decided that running her brand the way everyone else ran theirs wasn't going to be her thing.
"I realized I was going to need to do it differently," she says over the phone. "And in realizing that, I decided to just dive in and start."
That meant a few different things. One, Omondi adopted a model used by brands like Fear of God and began to release new collections on her own schedule, rather than adhering to the traditional fashion schedule. This week marks the drop of Omondi's fourth collection, which features a range of seasonless dresses, embroidered sweatshirts and monochromatic ensembles that are both playful and sophisticated.
Second, Omondi chose not to shy away from shaking things up. While she hates the idea of being pigeonholed or reduced to the label "black designer," she nonetheless recognizes the uniqueness of her perspective as a black female creative director and has addressed race head-on in her work.
"No one that really looks like me is doing it this way, or if they are in the space, they're men," she says. "I have a lot of other references circling my brain that have nothing to do with my blackness and I think it's kind of corny when people project their blackness all the time — but it's a part of the story and it would be strange to not ever talk about it."
A few of the ways that Omondi has addressed race through her work in the past have included all-black model castings and a popular, if provocative, sweatshirt that ended up being worn by actress Issa Rae in her hit show "Insecure."
"Fashion is not going to abolish racism. No one industry is going to do that," Omondi says. But like anything else she's experienced — from a past job nannying to growing up listening to Reba McIntyre and All American Rejects to participating in ballet and musical theater as a kid — race is bound to find a way into her work, she says.
It's not the only social issue that Omondi is using her designs to address. The amount of waste that the fashion industry produces is another thing that's top-of-mind for her at the moment. By using deadstock fabrics and making garments in small quantities to prevent excess inventory, she hopes she can keep her brand from contributing to a growing problem that she thinks too much of the industry is simply ignoring. It's something that her latest lookbook subtly references with its vaguely post-apocalyptic backdrop and industrial props.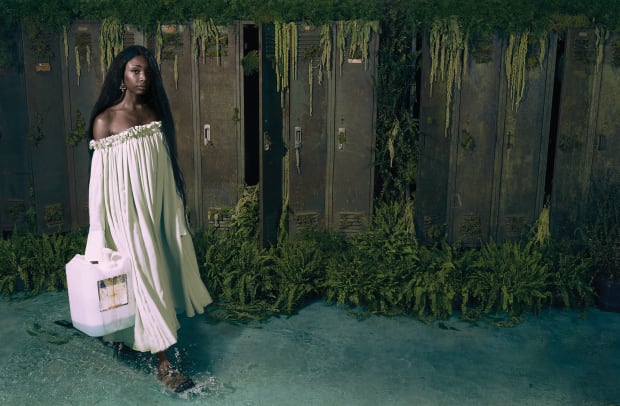 "I was like, 'I want to sell you guys clothes, but I'm not really trying to sell you guys clothes, because I'm really trying to sell you something more important,'" she explains. "That was my way of not feeling guilty about the fact that there's all this stuff going on."
One of the other negative components of the "stuff going on," in Omondi's view, is fashion's obsession with celebrity. After studying at SCAD, Omondi was disappointed to realize how rare it is to make it in the industry on design acumen alone.
"You're better off being a recording artist, to get a fashion brand off the ground, than being a designer," she says. "The only currency that's valid is influence and visibility."
Still, she's hopeful that her career can be an exception to the rule. And since her clothing has garnered approval from the likes of Solange, SZA and Emily Weiss, it looks like Omondi, the brand, is well on its way despite not (yet) being a household name.
Beyond the celebrity question, other fashion issues that get under Omondi's skin include nepotism in modeling ("wouldn't it be great if we could scout supermodels again and they weren't just all kids of rich people?"), the lack of meaningful support for young American designers ("getting into one of these incubators is like winning 'America's Next Top Model' and then not having a modeling career after the show wraps") and the reason fashion media is in so much flux ("magazines are all closing because they're simply not doing good content").
As frustrating as it all is to her, Omondi believes that speaking out on these issues is a necessary part of the industry changing for the better.
"You know in 'Titanic' how, when the ship is going down, there's this four-string quartet that keeps playing? That's the fashion industry," she says. "They know the ship is sinking, they know there are problems, but they're just like — we're not going to stop, we're not going to address anything."
If her line can continue to call out the industry while also providing an example of a healthier alternative, Omondi will be doing important fashion work, indeed.
Never miss the latest fashion industry news. Sign up for the Fashionista daily newsletter.