All of the 'Star Wars: The Last Jedi' Fashion Collaborations (So Far)
The next chapter in the galaxy far, far away hits theaters Friday, Dec. 15.
When "Star Wars: The Force Awakens" premiered two years ago, the fashion industry embraced the galaxy far, far away with more rabid enthusiasm than we knew what to do with. Most often, this feverishness took the form the collaborations between the franchise and labels of all makes, models and price points. Some collections — like Bloomingdale's big-budget"Force 4 Fashion" charity auction — were more experiential than wearable. But there was plenty of practicality to go around, too, thanks to the mass-retailers like Forever 21, Urban Outfitters, Uniqlo, Old Navy and J.Crew churning out limited-edition tees, sweaters and no shortage of accessories.
With the next installment in the Rey (played by the inimitable Daisy Ridley)-led trilogy, "The Last Jedi," due out in theaters on Friday, Dec. 15, fashion is gearing up to celebrate once again. It's a smaller group this time, but a passionate one. Take all 22 items of Rag & Bone's special-edition apparel and accessories range, for which only 100 copies were made of each style; after debuting on Dec. 1, it's almost entirely sold out, even the $1,295 hero pieces.
We compiled all of "The Last Jedi"-adjacent collaborations here, for easy browsing (and shopping, for whatever's still in stock). And should more collaborations roll out between now and the film's premiere, we'll update this story with those, too.
Related Articles
Asos
Asos's celebration of "The Last Jedi" hits Asos.com on Dec. 13, and there's plenty for even the franchise's most fashion-minded super-fans. The collection melds streetwear with key themes from the "Star Wars" galaxy — including Princess Leia's Resistance military force, as well as Millennium Falcon and Star Destroy imagery — with both men's and women's ranges coming in as low as $29.
The Asos x "Star Wars" collection launches Dec. 13 at Asos.com.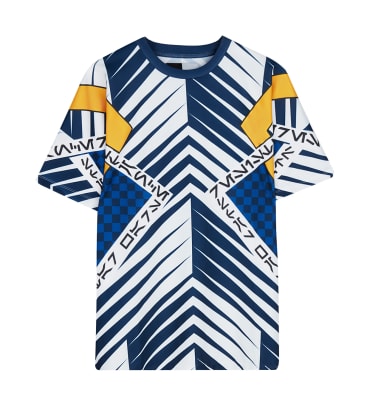 Christian Louboutin
Christian Louboutin linked up with both Disney and Lucasfilm — Disney bought Lucasfilm in 2012 for a record $4 billion — on a one-of-a-kind collaboration on four heel styles, each epitomizing the spirit of four of "The Last Jedi"'s heroines: Rey, Vice Admiral Amilyn Holdo (Laura Dern), Captain Phasma (Gwendoline Christie) and Rose Tico (Kelly Marie Tran). The items have each been signed by Louboutin himself, as well as the actress who plays each shoe's namesake. The collection will be auctioned on Charity Buzz with all proceeds benefitting Starlight Children's Foundation, a nonprofit that works across the U.S. to bring joy hospitalized children and their families.
The auction kicked off on Thursday and runs through Wednesday, Dec. 20. Start placing your bids here.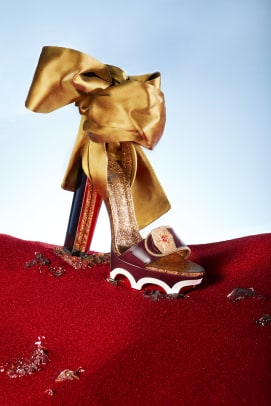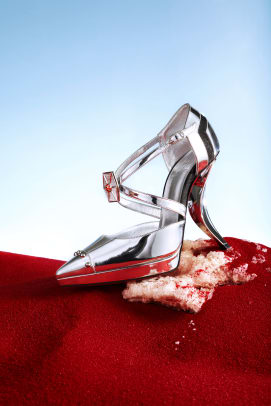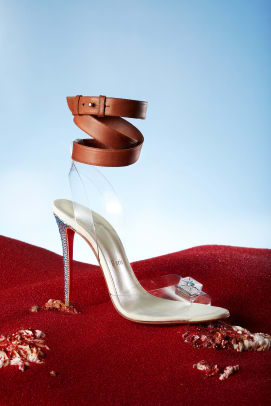 Clarks
British-based shoe manufacturer Clarks got into the "Star Wars" spirit with its "Force of Nature" collection, comprised of six collaborative styles for women and girls. The items — an updated execution of Clarks' Nature V boot — have been designed to "[champion] female power and authenticity," much of which is represented by the trilogy's leading heroine, Rey. Beyond inspiration, Rey is also included in the actual design of the shoe: The iconic Resistance symbol is included on the boot's heel, while four of the six colorways come in a "Rey"-branded camouflage pattern.
The Clarks x Star Wars "Force of Nature" collection, which dropped Dec. 1, retail for $160 for women and $120 for girls.
Shop it here.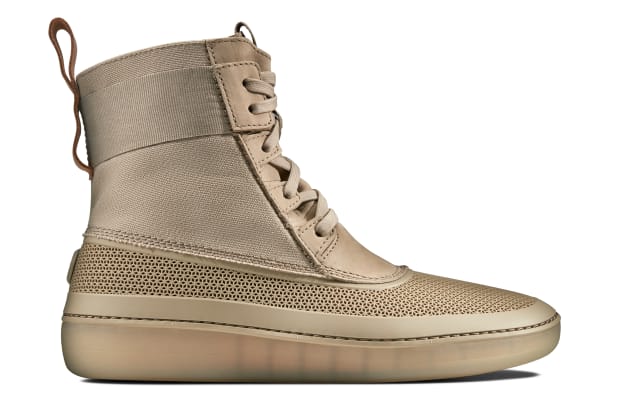 Columbia Sportswear
For last year's "Rogue One," Columbia Sportswear unveiled three premium, limited-edition jackets inspired by the characters in the film. The Portland, Ore.-based outdoor retailer is replicating that success again, just in time for "The Last Jedi," with its upcoming Echo Base collection, now inspired by "The Empire Strikes Back." Priced at $400, the three high-performance jackets — aptly named the Leia Organa, the Luke Skywalker and the Han Solo — reference costumes worn at the beginning of the movie, which takes place on ice planet Hoth.
In addition to the three jackets, Columbia is also linking up with Harrison Ford on an extremely limited run of brown parkas, the Han Solo Echo Base Archive Edition, only available in select Columbia stores. All 100 percent of the proceeds will go to Conservation International, an environmental nonprofit dedicated to protecting nature. To further sweeten the deal, each jacket will be hand-signed by Ford.
The Echo Base collection will be available in limited quantities beginning Dec. 8.
Shop it here.
Rag & Bone
Decades before Rag & Bone toasted "The Last Jedi" with this epic, extremely limited-edition collection, the brand's chief executive Marcus Wainwright was just a boy in the U.K. collecting "Star Wars" figurines. His fanaticism for the franchise, even today, is palpable, imbuing the soul of the films and its characters into all 22 pieces of the collaboration. 
You'll notice that though the line does feel explicitly "Star Wars," it also maintains those Rag & Bone design tenets — and perhaps that's because Wainwright has referenced the franchise in previous seasons. "There's a lot to pull from 'Star Wars,'" he told WWD. "It's very real. It's not like 'Star Trek,' or any other futuristic space movie. It's definitely set in the past and set in a parallel dimension, opposed to a very futuristic perspective." 
Despite launching just a week ago, on Dec. 1, the range — for which only 100 pieces were made of each style — is almost entirely sold out, even the $1,295 hero pieces. So, if you're still looking to snatch something up: May the Force be with you.
Shop it here.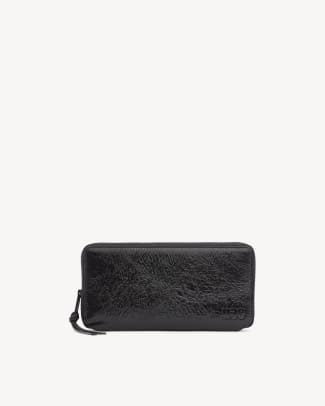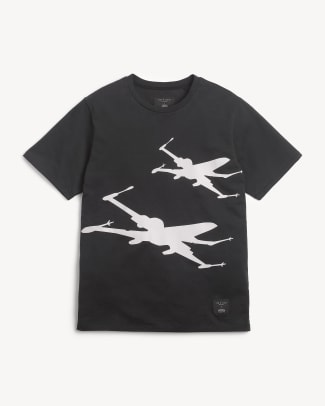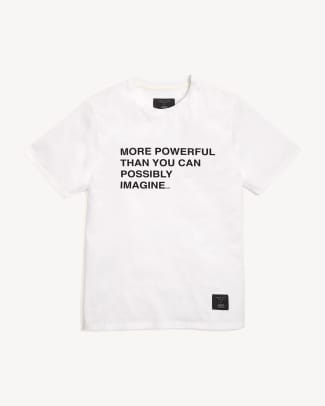 Storybook Cosmetics 
Storybook Cosmetics, which you might already know from its Insta-famous "Mean Girls" and "Harry Potter" palettes, announced in October that it's looking to "Star Wars" next. The collaboration isn't set to launch until sometime next year — specific details are scarce — but per Allure, we can expect for the range to include a palette in the shape of a book, as that's tradition for the brand's movie collections.
Keep your eyes peeled for when the collection launches, eventually, in 2018.
STATE Bags
Brooklyn-born, one-for-one backpack and accessories company STATE Bags has already partnered with the likes of Chance the Rapper and Jessica Alba's The Honest Co. on philanthropical initiatives. But "Star Wars" was next, launching a range in celebration of "The Last Jedi" late last month. STATE's selection of "Star Wars"-inspired backpacks and accessories was created to epitomize the movie's friendships and its fights for good, both of which are important ideals to STATE as a brand, as well as to the "Star Wars" franchise. To that end, the items reference those friendships in the original series, including between Princess Leia and the Ewoks and R2-D2 and C-3PO.
The collection is priced from $25-$295, and features styles for the men, women and children "Star Wars" fanatics in your life.
Shop it here.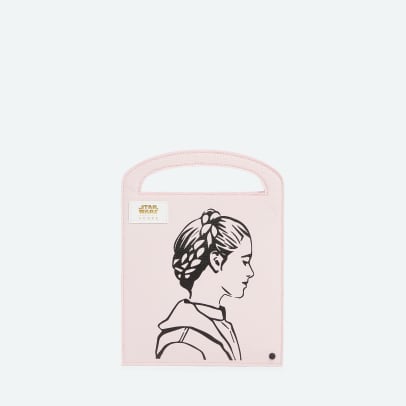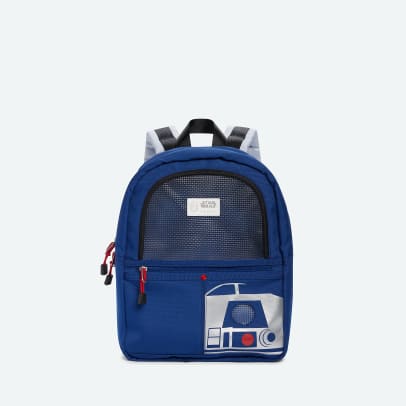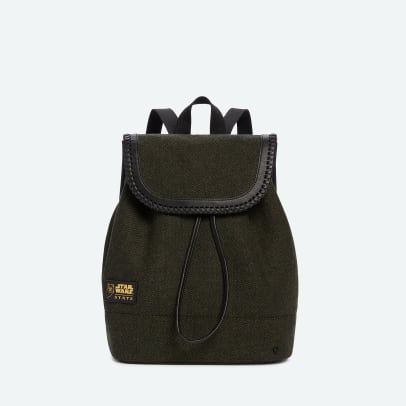 Ugg
Ugg put together a range — aptly called the Droid Collection — of boots for all the "Star Wars"-obsessed wee ones in your life. The itty-bitty shoes are adorably inspired by franchise-favorite droids BB-8 and R2-D2, and don't lack the sensibility that have made Ugg such a footwear favorite after all these years; the boots feature Treadlite, Ugg's customary outsole influenced by athletic styles. The capsule has a limited supply of 500 units per style, with prices ranging from $100-$185. 
Ugg's Droid Collection drops Dec. 15, only at Ugg.com. 
Homepage photo: Courtesy of Rag & Bone
Never miss the latest fashion industry news. Sign up for the Fashionista daily newsletter.