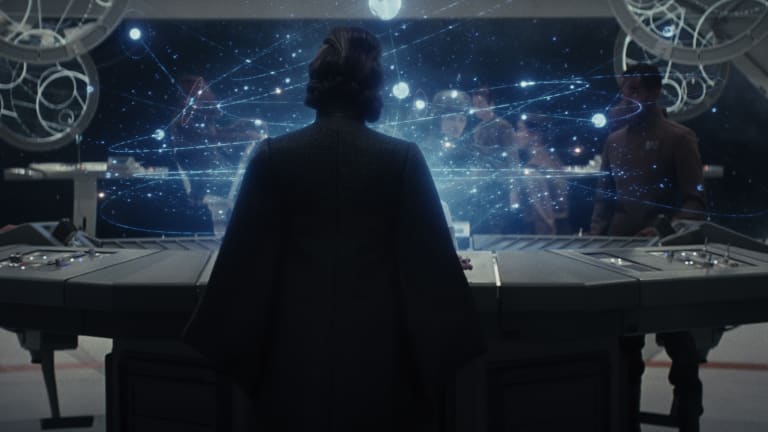 The 'Star Wars: The Last Jedi' Costume Designer Looked to Queen Elizabeth II to Dress Carrie Fisher
"I wanted her to look as beautiful and regal as possible," said Michael Kaplan, about Princess Leia in her Resistance-leading capes.
Warning: Spoilers for "Star Wars: The Last Jedi" below — but you've probably already watched it, right?
"Star Wars: The Last Jedi" blasted through the weekend box office, continuing the frenzy among hardcore super-fans and newbie followers alike. Along the way, the eighth installment in the 40-year-old franchise has ignited a bit of a fashion-frenzy, too. The late Carrie Fisher, as the beloved and infinitely badass Princess Leia, with the rest of the movie's cast covered the Annie Leibovitz-shot summer issue of Vanity Fair, while "The Last Jedi" launched a galaxy full of fashion collaborations too. (Nevermind that Episode VIII, written and directed by indie auteur Rian Johnson, includes a heartfelt beauty-referential one-liner, when Leia reunites with her prodigal twin Luke Skywalker and she quips that she finally changed her iconic hairstyle.)
RELATED ARTICLES
Costume designer Michael Kaplan, who also designed Episode VII, "Star Wars: The Force Awakens," and is working on the currently-untitled Episode IX, merges high-fashion references with the hi-tech, advanced intergalactic military aesthetics that we've come to expect from the trilogies. (He also designed the last two "Star Trek" installments and the original "Blade Runner," starring Han Solo a.k.a. Harrison Ford, so his geek cred is damn solid.)   
With Episode VIII, Kaplan takes the new class from VII — interplanetary scavenger-turned-fledgling-Jedi Rey (Daisy Ridley), Stormtrooper-turned-Resistance fighter Finn (John Boyega), hot-headed (and just hot) pilot Poe Dameron (Oscar Isaac) and millennial Darth Vader (Adam Driver) — into their next chapter, while introducing two kickass female members of the Resistance, heroic crew member Rose Tico (new red carpet star Kelly Marie Tran) and dedicated leader Vice Admiral Holdo (Laura Dern). Plus, Kaplan created two deservingly majestic looks for Carrie Fisher as General Leia Organa in what turned out to be her last "Star Wars" movie.
The costume designer jumped on the phone with Fashionista from a press day in Los Angeles to discuss how Rey and Kylo Ren's looks have evolved as they connect through the Force, what historical fashion references inspired the glamorous costumes for swankiest party full of intergalactic 1-percenters and why Princess Leia's glorious capes are especially meaningful in "The Last Jedi." Here are the highlights.
Rey's outfit has changed from when she first landed on Ahch-To in "The Force Awakens." What does her new training outfit tell us about her character arc in "The Last Jedi?"
The change is just practicality. We saw her through most of Episode VII wearing her look that was created for the desert and the job she was doing as a scavenger. Then, at the end of that episode, when she knew she was going to be traveling, she had a new look, which ended that film. We see her with Mark [Hamill as Luke Skywalker] and she does have a bag with her and, in that bag, we're assuming there are things that she'll require for the terrain of where she is, like, ponchos for the rain, that will protect her because it's a very rainy climate. Then she sheds some when training with Mark. So it's all just, hopefully, a very organic change that goes from Episode VII into VIII. Then we see her honing down and losing elements and almost becoming a warrior in a very simplified workout look.
When Kylo Ren takes her to Supreme Commander Snoke on the First Order ship, she changes into a draped blue-gray-ish outfit. What does that signify?
Because of what she had been through, she just needed a costume change. And that was basically her look, but we decided to give her more color. She's not in the desert anymore and those desert tones worked for the other environment. Part of it is [it's] just a color that Rey looked beautiful in. Because we do think beyond just practicality. It is a movie and we want people to look good, and that shade of blue-green she was wearing was very complementary. So, there's no hidden meaning.
General Leia Organa is in a less tactical look with regal cape-outfits and very notable jewelry. Where did you look for inspiration for the looks, and what does the change from Episode VII tell us about her?
She was very rough and tumble [in VII] and J.J. [Abrams, "The Force Awakens" director] had his point of view of how he wanted her to [look] as a general commanding the ship, and he loved the idea of her wearing coveralls. Rian wanted her to look more regal, as you said, and more like a princess. So I thought capes were good, especially when she's in the cave and on the battlefield. There are pictures of Queen Elizabeth II wearing a military cape that inspired me. We made all the jewelry. She's wearing one ring from Episode VII, but the rest of the jewelry is all new for Episode VIII. I wanted her to look as beautiful and regal as possible and I think the shape and the cloak she's wearing is very "Star Wars," but very elegant, as well.
She has two costumes that are somewhat similar because they're both capes. One is metallic woven fabric and the other one which is much more simple — a gray-green cape that she wears until the end of the film. I love how it frames her face. Rian loved how it looked when [the camera] hit her face and you just saw her eyes. Toward the end of the film, there's a beautiful shot of her looking above the cape, with just her eyes, with the the collar spiraling around her head and face. It's a beautiful moment.
Why does Vice Admiral Holdo wear a more high-fashion gown [which, editor's note looks amazing from the back], as compared to the rest of the Resistance?
Rian wanted to see her body language and wear something that was close-fitting and yet elegant. I thought we were just going to put her in a uniform, but Rian said, 'No, I want her in a gown.' So, I looked back to the beautiful clothes that Madame Grès did in the '30s and '40s and used this beautiful jersey fabric in this crazy color, which I think is called puce. There's something a little Grecian about it and she was very happy. I think she looks very beautiful.
What was the inspiration behind Rose's hooded flight suit?
She's more just rebel ground crew wearing a uniform, and I think the color is really nice on her. But we didn't want to do anything too sophisticated. She's just a ground crew member who happens to be in the right place at the right time and that's how she enters the film. I didn't feel I wanted to single her out. 
Is Finn still wearing Poe Dameron's fighter pilot leather jacket?
He is. It's been repaired because it was all torn up in the last one. You can see it's been put back together with the help of futuristic intergalactic staples.
Kylo Ren ditches his mask after being mocked by Supreme Leader Snoke (Andy Serkis) and he's literally and figuratively exposed. What does his still-all-black outfit tell us about him?
We just made some subtle changes. He's still the same character. He still dresses the same way. He's maybe loosened up a bit. You see him without his shirt on. You see him without his hood, which he wore a lot in Episode VII, and yet he's still in black and he's still Kylo Ren, with or without the mask. Some elements like the sleeves stayed the same, but a lot of other things changed: new trousers, new boots.
I always love those intergalactic bar scenes in the original trilogy. How did you envision and create the whole composite of costumes for the glamorous casino segment on Canto Bight?
Rian had asked for it to be black and white. What I found so daunting was there were 200 extras that I had to dress, and we never had to do anything that elaborate and detailed. It was almost like the MGM studios in the '30s where, on the same lot, you had wig makers and glove makers and jewelry makers, and milliners doing the hats. It was so incredible. For security reasons, everything has to be done in one place. We can't really farm things out. So, everyone was brought onto the Pinewood Studio lot, and I was just in heaven because, I mean, what other film would allow you to do something like that?
What was so difficult was to come up with enough fabrics and designs for that many extras. I also chose all the extras because I wanted their faces to look right for something that was high-fashion. There are a lot of really amazing character faces and people of all shapes and sizes — and creatures, which we also had to dress. That was very daunting, but we got through it. It was like doing two or three collections for 7th Avenue at the same time. 
What fashion references did you look to?
Initially, I looked at Truman Capote's Black and White Ball. I looked at photographs of [poet who said "good taste is the worst vice ever invented"] Edith Sitwell and Fred Astaire. Just anything that seems like it could fit and then just use that as inspiration and go off and start.
What was the biggest challenge in designing for all the fantastical creatures in the movie?
The creatures are designed by [Creature Shop Head] Neal Scanlon, then they're sent over to me just so I can measure them — almost like having a person coming for a fitting, except they're really, really crazy crazy shapes, as you see in the film. To make clothes for them is just like one would do with an actor, but we measure them and we have a drawing of them without any clothes on, and then we design on the actual creature's figure, and then have it made. It's pretty crazy.
This interview has been edited and condensed for clarity.
Homepage photo: Film Frames Industrial Light & Magic/Lucasfilm. ©2017 Lucasfilm Ltd.
Want more Fashionista? Sign up for our daily newsletter and get us directly in your inbox.