The Hair Accessories You Probably Missed on the Golden Globes Red Carpet
Hairstylists got accessory-happy with velvet ribbons and sparkly star clips.
The 2018 Golden Globes red carpet was a somewhat unconventional one, with most of the event's attendees participating in the Time's Up initiative, wearing ensembles of all-black. From a fashion perspective, it was interesting to see how celebrities and their stylists chose to create looks that were elevated and unexpected without being able to rely on color. Some turned to flashes of green jewelry for colorful accents, while others decided to work in a bright lip or voluminous hairstyle. 
But another beauty trend that showed up repeatedly on the Globes carpet was hair accessories; specifically, the use of them in styles that were chill in the front, party in the back — and no, not in a mullet-y way (thankfully). Hairstylists like Lacy Redway and Adir Abergel got accessory-happy, adorning ponytails, twists and loose waves alike with velvet ribbons, sparkly star clips and even craft wire. But chances are, you didn't even notice these elements on the red carpet; in many cases, they were hidden away in back, tucked near the nape of the neck or behind the ear, as with Katherine Langford's Jennifer Behr clips, shown above. But don't worry if you didn't catch a glimpse of them during the E! red carpet show — that's what social media is for. 

In the gallery below, you'll see close-up shots of the glittery, crafty, unexpected hair accessories that graced the Golden Globes red carpet. (You can also check out our full roundup of the most memorable beauty looks of the evening here.)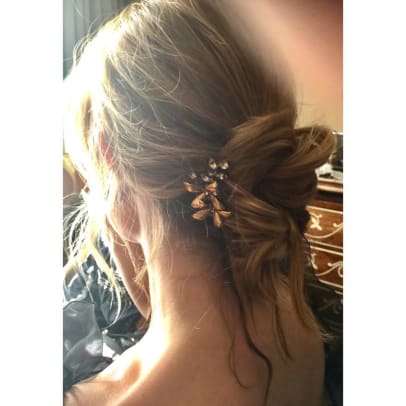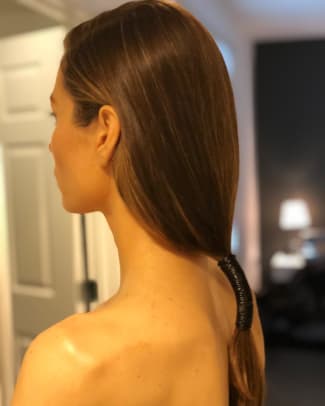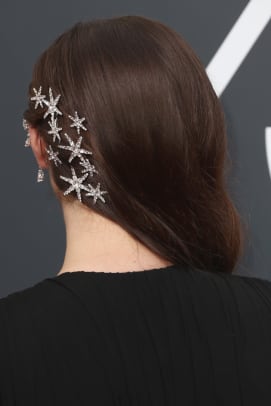 Sign up for our daily newsletter and get the latest industry news in your inbox every day.