The All-Black Golden Globes Red Carpet Begat One Major Jewelry Trend
Real life accessorizing tip: Green looks good with black.
As you've likely realized by now, it was not just a few actresses who chose to participate in the Time's Up initiative by wearing black at the 2018 Golden Globes — it was all of them, and most men, too.
The fear among fashion enthusiasts was that the dress code would make for a bland, boring, funeral-like red carpet; but most stars and their stylists found ways to make their looks stand out. Some, like Allison Williams and Mandy Moore, couldn't help but add a pop of color to the dresses themselves, arguably breaking the dress code altogether. Others went with statement accessories — though many of them oddly chose the same color with which to make a statement: Green. Green earrings were especially prevalent, brightening the already-beautiful faces of stars like Zoe Kravitz, Catherine Zeta Jones and Debra Messing. Meanwhile, Issa Rae livened up her deep-V gown with a green necklace; Amy Poehler wore a green bracelet, and many wore green cocktail rings.
Emerald and black make a stunning combination, it turns out. And the the green gemstones made a statement that was subtle enough to not take away from the more important statement wearing black was supposed to make. With the topic of fashion more or less off the table on the red carpet, attendees had time to talk about female empowerment, gender equality and their professional accomplishments. But, they still made an effort to wear something special, and we couldn't help but take note.
Take a closer look at the green jewelry trend below.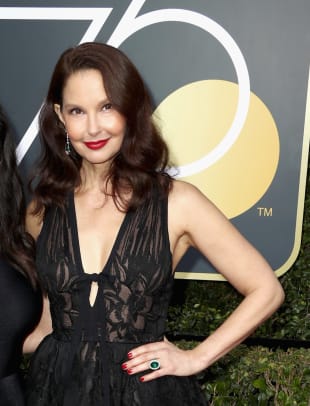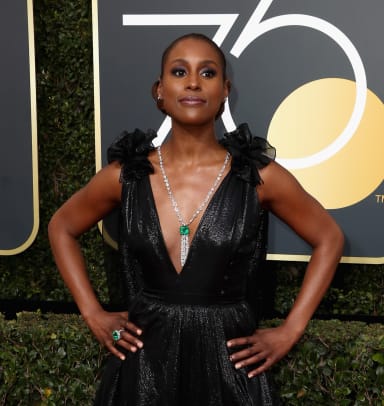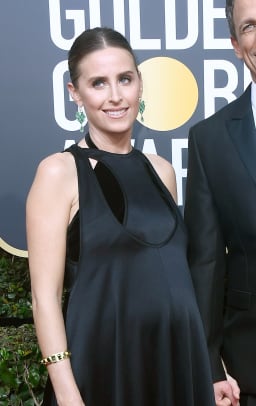 Want the latest fashion industry news first? Sign up for our daily newsletter.