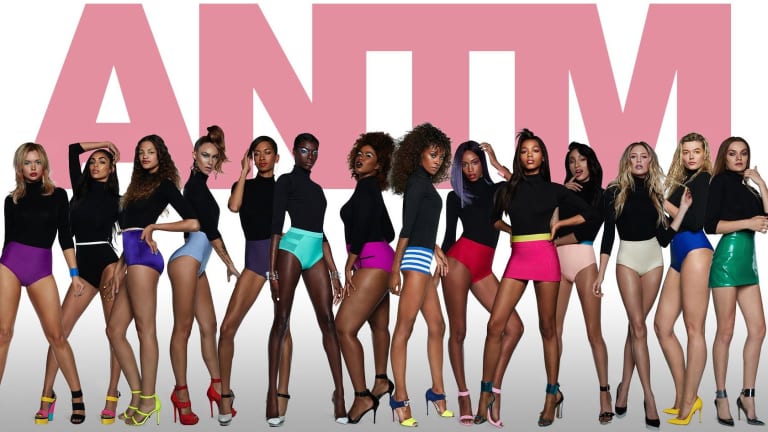 An Ode to 'America's Next Top Model,' the Greatest Show on Television
Hear me out.
There are so many reasons why I love "America's Next Top Model," I could write a full novel about them all. But I'll spare you the opus and outline some of my favorites right here.
I love how the prizes have gone from Vogue Italia covers to avatars in video games. I love how Rita Ora was a host for just one season before Tyra Banks was like, "Screw this" and took back what was hers. I love how the show has evolved from a cast of exclusively tiny white girls to a bunch of tiny white girls mixed with some curvy (and now older) women of color. I love the makeover episodes. I love how someone always cries during the makeover episodes. I love the phrase "noted fashion photographer Nigel Barker." I love screaming, "I was rooting for you! We were all rooting for you!" anytime anybody screws something up. I love whenever Tyra smears Vaseline over the girls' faces and gets behind the camera. I love Natasha's deadpan delivery of, "Some people have wars in their countries." I love Jay Manuel's platinum silver, artfully coiffed hair. I love this moment from the current season in which Jeana embraced her alopecia.
I love the forced lines the producers feed to the girls in interviews — "I can't believe we get to work with so-and-so photographer!" I love how it's been on for long enough that these girls know exactly what they're signing up for and there is zero pretense. I love every time Janice disagreed with Tyra — which is to say, every time one of them opened their mouth. I love that Kim is probably one of the first people who helped me realize I was queer. I love that CariDee won and is now doing psoriasis commercials. I love that one GIF of Ebony. I love that Tyra essentially used the show as free labor for her music video. I love whatever the hell "POT LEDOM" was. I loved when the girls posed in a baby pool filled with Greek salad. I love Tyra's little nuggets of modeling wisdom that she so effortlessly dispenses. I love that I could go on like this for at least a 100 more paragraphs.
Related Articles
"Top Model"'s endurance is nothing short of a miracle. It has evolved and adapted for the times by allowing fans to vote on the contestants via social media (as short lived as that was) and opening up the applications to women (and on a few occasions, men) of all sizes and ages. With Tyra, a highly meme-able, multihyphenate genius at the helm, it's a seemingly unstoppable force. I mean, it literally died and was resurrected within two years. This is because it was needed. We needed "Top Model" to come back because it's a virtually perfect show. The stakes are just high enough to create emotional drama, but not too high that it becomes a torture porn, "This is Us" sort of scenario. You pick your favorites; you root for them; you get sad when they inevitably lose; lather, rinse, repeat. Some of the contestants go on to actually have careers (see: Eva Marcille). Most of them you never hear from again until you decide to look them up on Instagram and discover they have 30,000 followers and call themselves "marketing professionals" while shilling workout leggings.
It all goes back to Tyra, said multihyphenate genius. She has been the driving force behind the show since its premiere in 2003, and her missing presence during the Rita Ora season was palpable in multiple ways besides the physical. What other host-producer-mentor-mastermind would be even remotely capable of executing a fake fainting spell to give an acting lesson, providing modeling advice about walking the line between slutty and sultry and emboldening a whole generation of women? No one. Tyra is in a class all her own.
The steady mix of other judges have been nothing short of revolutionary, as well. Janice Dickinson! Kimora Lee Simmons! Kelly Cutrone! André Leon Talley! Twiggy! The only other show that has had such an impressive level of fashion titans is "Project Runway" (which, sorry to say it, has become a shell of its former self). And now we have Law Roach, Image Architect to the Stars and the man behind the Celine Dion-issance, Ashley Graham, an actually-successful curve model and Drew Elliot, whose vision has enhanced both Paper and the greater show.
I know what some of you are thinking, "But it's reality TV! It's exploitative and ruins girls' lives!" Yes, in the early seasons. It did. They made Kahlen pose in a coffin right after she found out her friend died — although to her credit, the shot came out amazing and she won Best Photo. But now? At the risk of sounding victim-blame-y, nobody signs up for the show unaware of what they are getting themselves into. There will be drama; there will be cat fights; there will be camp. The producers will most definitely make you rehash that time your mom called you ugly. But is that not when we find ourselves relating most to the show? When you can connect to these women on a deeper emotional level and see a part of yourself in them, not only when they're crying, but after they've confidently pushed through and stomped down the catwalk? (Related: I miss you, Miss J.)
I know "Top Model" is never going to win any prestigious awards, and I'm fine with that. (I stopped yearning for the approval of crusty, old white men a while ago, and I highly recommend it.) But no other show has continuously brought me this much joy, and for so long, and that is an impressive feat. I would watch "Top Model" for hours over self-aggrandizing prestige TV any day, and deep down, I know you would, too. Because at the end of the day, we all just want to be on top.
Never miss the latest fashion industry news. Sign up for the Fashionista daily newsletter.