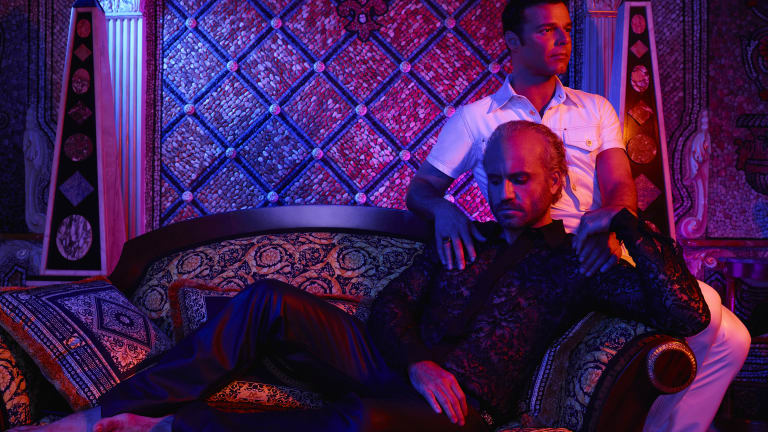 The 'Assassination of Gianni Versace: American Crime Story' Features Authentic Vintage Versace
"I had the utmost respect and dedication to making sure we showed anything Versace in the best light," says costume designer Lou Eyrich.
Much like how Ryan Murphy's "The People v. O.J. Simpson: American Crime Story" was a exploration of racism, sexism and the 24-hour news cycle, the followup "Assassination of Gianni Versace: American Crime Story" series is another timely social commentary deep dive set in the '90s. The second (or technically third) anthology installment explores how homophobia and society's attitudes toward the LGBTQ+ community ultimately led to the legendary fashion designer's tragic murder on the steps of his Miami Beach mansion on July 15, 1997. 
With Gianni Versace (played by Edgar Ramirez) and his sister and current Vice President of the fashion house, Donatella (Penelope Cruz) being the anchor of the show, fashion — bold, iconic, famously flashy fashion — plays an integral part in the series. But, in anticipation of the January 17 premiere on FX, the Versace family condemned the series as an unauthorized "work of fiction" and attacked the book it's based on, "Vulgar Favors: Andrew Cunanan, Gianni Versace, and the Largest Failed Manhunt in U.S. History" by Maureen Orth, as a "distorted and bogus version" of the designer's story. 
The Executive Producer tried to assuage the family at a Variety panel, per Business of Fashion, saying that the series will "treat [Donatella] and her family with respect and kindness." Costume designer and longtime Murphy collaborator Lou Eyrich also took special care to honor the family and the brand through the wardrobe.
"We didn't get to work with the House of Versace at all," she says, over the phone from Los Angeles, before the family issued statements. "I happen to be a lover of Versace, so I had the utmost respect and dedication to making sure we showed anything Versace in the best light." 
RELATED ARTICLES
Eyrich personally remembers the media coverage surrounding Gianni's tragic murder and ensuing manhunt for serial killer Andrew Cunanan at the time. To precisely research, she found a wealth of footage on YouTube, like "Dateline" and "48 Hours" segments, as well as old copies of magazines like Vogue and Vanity Fair, which featured stories about the murder. "Of course, I studied his last couple of runway collections from '96 and '97," she adds. 
Eyrich was also able to include authentic vintage '90s Versace pieces, especially for Cruz as Donatella, which were intensively sourced online from high-end resellers and shopped in-store at The Way We Wore in Los Angeles and the famed C Madeleine's boutique in North Miami Beach. "They had a lot of the original Versace stuff; we were able to get the super high-waisted equestrian leggings, the boots with the Medusa heads on them, a lot of good jewelry and purses and leather coats," the three-time Emmy winner for her work on "American Horror Story" says. "We got a lot there."
When Cruz first appears on the show, she wears a vintage Versace-esque, but not Versace-label leather jacket and trousers set, but her belt, boots and bag are authentic pieces from the fashion house (above). The non-linear timeline of the series also jumps back to the early '90s, allowing for moments of exposition that include notable milestones for the House of Versace — and requiring even more authentic vintage finds.
"We had a scene set in the early 1990s that was supposed to show the audacity and sex appeal of the Versace brand. We studied the imagery of the famous [Fall '92] Miss S&M collection and were drooling over all the leather, fringe and Western detailing," co-designer Allyson Leach tells Fashionista over email. "At the last minute, we found the ultimate black leather western shirt for Penelope, complete with fringe, gold collar tips and the original Versace label at New/Found vintage in LA. We paired it with a pair of custom gold studded jeans that we had recreated based on the same collection. Penelope, Lou and I were all dying over that look." (Below.)
However, some "Versace" looks needed to be meticulously custom-built, like Cruz's hot pink and signature gold safety-pin detailed gown (above) and he white lace-up bustier dress (below)— but not too exactly copied for legal reasons. "If it was real Versace, obviously [the piece] could say 'Versace' and have the Medusa," Eyrich says. "But if we were making anything, we were careful not to replicate their logo." 
Fashion nerds will likely lose their minds over a near-exact reproduction of Gianni's last Versace haute couture show for Fall 1997, which in real life was held at the Ritz Paris, but, on the series, Miami. The louche metallic mini-dress and menswear-inspired aesthetic, the styling (the wide black headbands!) and the model casting — a fake Naomi Campbell as the bride and a faux Erin O'Connor — are spot-on, but the re-created runway looks intentionally are not. 
"We did our best to replicate it without exactly copying, of course, but we just wanted to make sure it was represented in a couture way to honor Versace," says Eyrich, about the hand-sewn and custom built pieces for the show. The scene hits especially hard following Donatella's heartfelt tribute to her late brother in September with the Versace Spring 2018 runway show, complete with the '97-referential slinky gold gowns — worn by the real Campbell and the original supermodels.
While the Versaces and Gianni's longtime boyfriend Antonio D'Amico (Ricky Martin) are represented through high fashion, Cunanan (played by "Glee"'s Darren Criss like you've never seen before) and his backstory are deftly communicated through wardrobe — but in a much different way. Not much documentation of Cunanan existed prior to his violent killing spree, so Eyrich worked with the knowledge that the he was skilled at changing his appearance depending on his con or situation. 
In the first episode alone, Cunanan exhibits a chameleon-like range of personas, changing from a preppy corduroy jacket and cravat with khakis to a leather bomber jacket and loud printed shirt when he reportedly, per Orth's book, first encounters Gianni at a San Francisco nightclub to denim cut-offs and a ratty muscle shirt when he's openly on the run in Miami.
"He was all about status, but he personally didn't have any status, so he was always dressing and acting the part," explains Eyrich. "But as his life started falling apart, we started showing that through his clothes." As he continues his killing spree across the country, the costumes reflect Cunanan's desperation and decline. "He was either [wearing] what was in his backpack or what he could steal or get at some thrift store. And things weren't fitting him very well. His appearance really went downhill." 
The sun, palm tree and saturated color-drenched backdrop of '90s Miami is also evocative of the era and the intensity of the story. Eyrich wanted to "show that vibrant beat of Miami" through bright "Miami Vice"-reminiscent hues and beachwear. Cunanan essentially roamed the South Beach boardwalks and sweaty nightclubs for two months — despite being on the FBI's Most Wanted list — which required outfitting supporting players, like a near-unrecognizable (even to his kids) Max Greenfield as addict Ronnie in thoughtfully selected acid washed denim cut-offs, plus lots of extras in skimpy swimwear on the beach.
"That's all Ryan," says Eyrich. "The older men in their hot pink Speedos, that was his personal request." For the party scenes, she especially relied on a crew member who came to set with first-hand knowledge. "Luckily one of our fabulous costumers, who grew up there, had a ton of actual photos from when he worked for MTV — these stunning photos of nightclubs — and we were able to lift that research," she adds.
But ultimately, the series is study of tragedy and societal attitudes that led up to the assassination of Gianni Versace, and Eyrich and her team diligently helped bring that message to the screen.
"For me, it wasn't the usual heightened sense of fashion or heightened sense of style that we go for with Ryan Murphy," says Eyrich, who also designed the first season of "Scream Queens" and "Feud: Bette and Joan" and is currently working on the New York-set dance musical series "Pose." "It was trying to tell the story and trying to stay true to the period. Less of using the costumes to create the character than trying to stay true to what these people would have worn." 
'Assassination of Gianni Versace: American Crime Story' premieres on Wednesday, Jan. 17 at 10 p.m. on FX.
Top: Gianni Versace (Edgar Ramirez) and Antonio D'Amico (Ricky Martin). Photo: Pari Dukovic/FX
Never miss the latest fashion industry news. Sign up for the Fashionista daily newsletter.