Balmain Launches Its Answer to Couture With 44 François Premier
The eveningwear capsule was named after the Paris address of Pierre Balmain's original atelier.
Over the years, French legacy house Balmain and its body-hugging, overtly flashy designs have come to be associated with a very specific type of shopper: One who has a great many social events to attend, or who is already friends with Creative Director Olivier Rousteing, or, perhaps, who is contractually employed by either Victoria's Secret or the Real Housewives franchise. These customers, his #BalmainArmy, also likely lead the types of lives in which they have at least one black-tie, potentially red carpet occasion in their calendars, and though Balmain certainly created wares to suit those more formal activities, the house doesn't formally offer couture, or even a separate eveningwear collection.
But that changed on Tuesday, when Balmain announced that it has launched its answer to couture with an eveningwear capsule called 44 François Premier, named after the Paris address of Pierre Balmain's original couture atelier. Right now, the collection is comprised of 10 pieces, all of which both embody Balmain's house codes as well as the glitz Rousteing himself has brought to the label: structured military torso detailing in the case of the former, and strategically placed cut-outs interspersed with all-over glitter in the latter.
In an official statement, Rousteing noted that 44 François Premier reflects the past, present and future of the brand, both creatively and in terms of its business. "As Balmain continues its impressive upward trajectory and the demand for this house's red carpet pieces grows, I find that — for one small part of our output, at least — I now have the luxury of focusing the spotlight solely on the unique heritage that Pierre Balmain left with us," said Rousteing, adding: "Working on this collection is a bit of a palette cleanser for me — a chance to return to the beginnings of this house, with the single driving goal being that of creating unique and exquisite pieces, far removed from editorial and runway pressures."
Rousteing remained tight-lipped about who might be the first to debut 44 François Premier in an official red carpet capacity, but he did hint to Vogue that some pieces may be getting flown to Los Angeles as early as Friday for initial Oscars fittings.
Click through the gallery below for your first glimpse at 44 François Premier.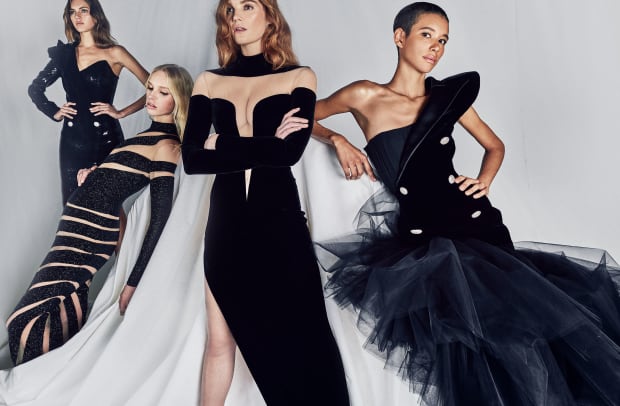 Sign up for our daily newsletter and get the latest industry news in your inbox every day.