'W' Magazine Teamed Up With British 'Vogue' for Its 'Best Performances' Issue
Awards season is nigh.
With awards season touching down in a matter of days (three, in fact), magazines far and wide are releasing their Hollywood-adjacent February 2018 issues. W Magazine is known to spare no expense when it comes to its red carpet editions, dropping six separate February covers both last year and the year before. 
This year's Best Performances issue fares no differently, with six covers, each photographed by Juergen Teller and featuring 12 of Hollywood's buzziest posing in pairs: Jennifer Lawrence and Emma Stone, Mary J. Blige and Tom Hanks, Gal Gadot and James Franco, Daniela Vega and Robert Pattinson, Saoirse Ronan and Andrew Garfield and, lastly, Margot Robbie and Nicole Kidman. If the latter looks familiar, that's because the portfolio was co-produced with British Vogue, with Edward Enninful using Robbie and Kidman's cover image for the Condé Nast International publication's own February issue. (British Vogue's coverlines, however, have proven to be far more controversial than what appears on W.) Enninful also styled the full portfolio, while Lynn Hirschberg headed up by casting as well as her much-loved Screen Tests. (You can see Lawrence and Stone's joint interview below.)
Speaking of coverlines, though, the only question we have is why the phrase "Love Wins," historically used in reference to the Supreme Court's 2015 gay marriage ruling, appears across all six covers when said images depict straight men and women, with no further explanation? The notion of generally spreading love and positivity is all well and good, but that particular phrase is one that perhaps shouldn't be co-opted by straight people, especially without any further context.
In addition to the aforementioned 12 cover stars, the portfolio features 17 other actors and actresses, including Salma Hayek, Jessica Chastain, Daniel Kaluuya, Diane Kruger, Hong Chau, Timothee Chalamet, Allison Janney, Gary Oldman, Michelle Williams and Jake Gyllenhaal.
As you wait for the issue to hit newsstands, head over to WMagazine.com to see the full portfolio and click through below for all six covers.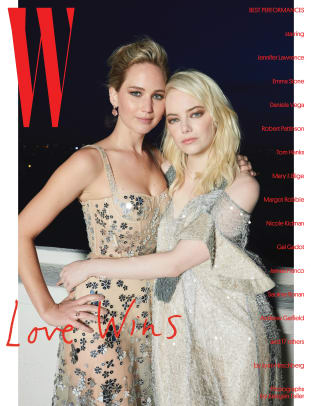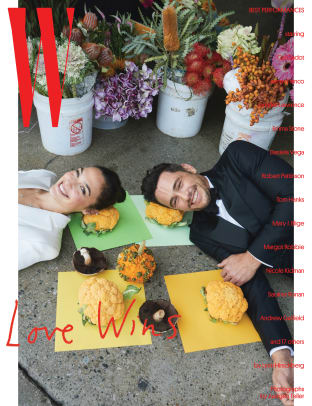 Never miss the latest fashion industry news. Sign up for the Fashionista daily newsletter.