Celebrities Demonstrated Their Superior Abilities to Dress for Any Occasion This Week
Whether mingling with the Queen of England or the queen of comedy, these stars knew exactly what to wear.
Seasoned party-goers always know exactly how to dress. Of course, celebrities fall into this category because their evenings are tightly packed with awards shows, television appearances, premieres and sitting front row at fashion shows. 
This week kicked off with the NAACP Image Awards, which bestowed upon us a series of stars in classic gowns jazzed up with some lace and sequin embellishments. Then on Tuesday night, Stella McCartney threw herself a Coachella-esque party in Los Angeles to celebrate her Fall 2018 collection, which was attended by VIPs clad in the designer's finest resort and spring offerings. Close by, "Lady Bird"'s Soairse Ronan appeared on the "The Ellen Show" wearing a matching plaid pant and top set by SemSem — because if you're going to go laugh with Ellen Degeneres, you might as well wear a bold print. 
Across the Atlantic, the Beckhams gathered in Paris to attend Kim Jones's final show as the menswear designer at Louis Vuitton. All members of the Spice family wore Louis Vuitton: Victoria donned dark mustard pants with a striped shirt and a long camel coat, while her eldest son Brooklyn exhibited his youthful, streetwear-obsessed side in a short-sleeved button-down logo top. David was also present in an army green, velvety jacket worn over a navy ensemble and paired with white sneakers. 
Meanwhile, over in Wales, Meghan Markle performed some royal duties in an elegant Stella McCartney coat and yet again proved that a coat with class is the key to the Queen's heart. Whether mingling with the Queen of England or the queen of comedy, these stars demonstrated their superior abilities to dress for any occasion. 
Click through the gallery below to see all of our favorite celeb looks from the past week.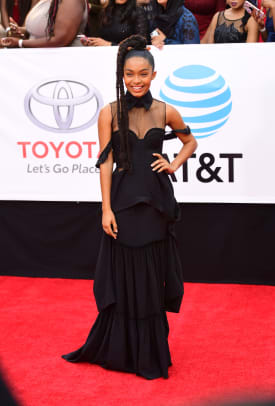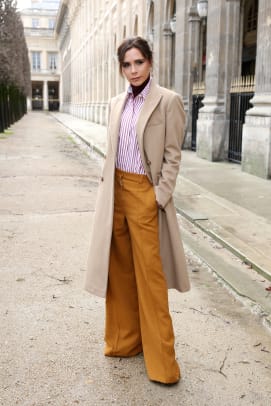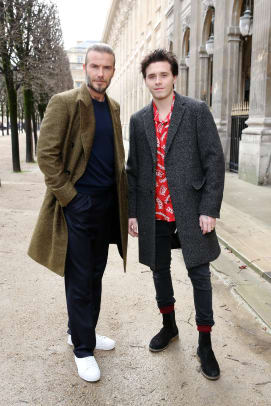 Stay current on the latest trends, news and people shaping the fashion industry. Sign up for our daily newsletter.