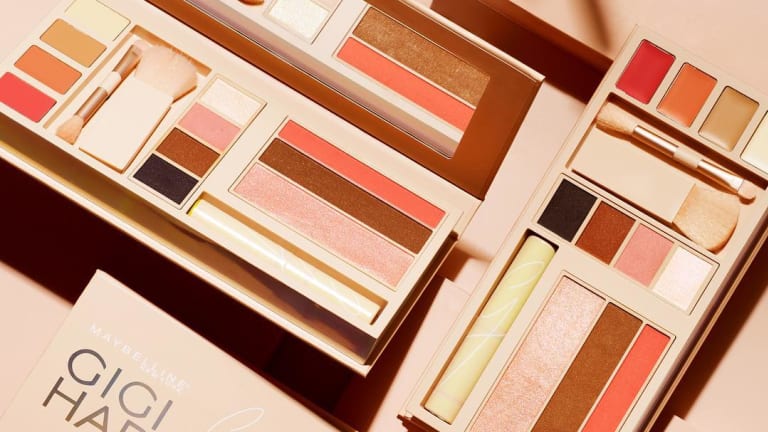 How Drugstore Beauty Is Rebranding For a New Generation
The mass beauty establishment is undergoing an aesthetic reawakening.
If future beauty historians (we're assuming those will be a thing in 50 years, just go with it) were to look back to this particular moment, they'd come to one overwhelming conclusion: It was the Decade of Indie Domination™.
The last few years have seen a steady surge of independent brands clawing their way to the top of the industry heap — and enjoying the spoils that come with such success. Their rallying cry? "We're the antithesis of those big, bad corporations." Millennials, with their strong sense of individuality and never-ending search for purpose, instantly embraced them.
This led to a mad free-for-all with those "big, bad corporations" snatching up what felt like every brand that showed up on an influencer's YouTube channel. And, amidst all those sparkly new Sephora-stocked toys, it looked as though drugstore beauty — the workhorses of said companies — had become an afterthought.
Enter 2017 and the Great Drugstore Reawakening. After analyzing niche-brand strategy along with millennial spending habits and personal proclivities, the beauty establishment has begun pouring its considerable resources into taking those legacy brands into the next phase — a multimillion-dollar attempt to appeal to a younger generation, reclaim their market share dominance, and secure future relevance.
Related Articles
For brands like CoverGirl, that meant carpet bombing the internet with one of the most diverse arrays of brand spokesmodels and ambassadors the cosmetics world has ever seen. Beauty boy James Charles, "Insecure" star Issa Rae, hijab-wearing YouTube star Nura Afia and 69-year-old model Maye Musk are just a sampling of the partnerships CG has formed. That millennial relevance also stretched as far as ditching its iconic slogan — "Easy, Breezy, Beautiful" — for something with a bit more heft. "CoverGirl's 'I Am What I MakeUp' [tagline] is designed to inspire people to embrace their individuality and celebrates authenticity, diversity, and expressiveness," says Shannon Curtin, senior vice-president at Coty consumer beauty.
Other companies have chosen to ease into this landscape by introducing new products in millennial-friendly packaging. Maybelline's collaboration with Gigi Hadid is wrapped in the ubiquitous millennial pink hue, while Wet 'n' Wild jumped on the generational fascination with unicorns by releasing a highlighting brush modeled after the mythical horse's horn. To be used with its Rainbow Highlighter, of course.
Some brands have gone a step farther and chosen to overhaul existing packaging, but with an interesting twist. Instead of attempting to predict what will have the most appeal with millennial consumers, they've involved the very people they're marketing to into the development phase. "Our packaging was not living up to who was behind our product," says Suzanne Palentchar, marketing director for St. Ives. "We're in this transition period — the new St. Ives is much more vibrant," she says. "To get there we locked ourselves into a room for a week with graphic designers and 30 millennial women and we worked at it together." The thinking is that by talking directly with millennials, the results will have more impact. "We want [consumers] to play a part in it versus us talking at them and shoving our product at them," Palentchar notes.
In general, skin-care brands have had more of an uphill struggle than other categories. The market has seen a seismic shift in consumer concerns, (out with anti-aging, in with athleisure), which has led many brands to take a long, hard look at their go-to messaging. "In a recent survey we [found] that women don't want to be defined by age, at any age," says Stephanie Robertson, brand director for Olay. "These women's stories inspired us to lead a charge toward a new future, in which a woman's age is simply not relevant to the conversation."
With launches like the new Whips moisturizers, Olay is not so much switching its focus, but rather finding new ways to stay relevant in a rapidly evolving market. Whips, for instance, takes three of its signature franchises — Regenerist, Luminous and Total Effects — and reimagines them as airy, fast-absorbing creams. "Our new products are simply inviting a new generation of women to fall in love with Olay and join those before them who know and love the brand," notes Robertson.
Cosmetics, on the other hand, have the advantage of tapping into the zeitgeist via colors, exclusive partnerships and buzzy trends. Prime example: The blink-and-you'll-miss-it limited collections. (Blame Kylie Jenner and her Instagram "drops" for that one.) Sally Hansen, whose recent revamp is the biggest ever for the 60-year-old brand, created a new "Fast Beauty" category — exclusive items and shades on shelf for one month and one month only. "The 'Fast Beauty' category is a response to millennials looking for trending, unique, special items," explains Curtin.
"Fast beauty" is a bit of an oxymoron for most major mass brands — one of the biggest challenges development teams face is the oft bemoaned molasses pace of approvals. Large corporate entities tend to be overly cautious and take eons to implement changes. This amounts to chasing trends rather than forging innovative new paths. But it seems companies have finally gotten the memo and are giving their brands a bit more leeway, starting with social media — or, more specifically, influencers.
"At one point in time we were focusing on the big macro players," says Palentchar. "We are moving to a place where we look at influencers more across the spectrum." That means using a network of so-called micro-influencers alongside the blockbuster names. "Just like we [have] a media plan with big reach vehicles and more engagement vehicles, we're applying the same principles now to our influencer program."
In order to play in that world, mass brands have to do something they're not exactly known for: taking risks. "The nature of niche brands is that they are out there taking risks every day," notes Palentchar. "We're very aware of that and we need to be comfortable with that kind of risk as well."
Those risks extend to re-thinking how consumers shop. As limited-engagement pop-ups and Instagram-friendly installations turn retail into a community-driven, excitement-generating experience, mass brands have tentatively started rolling out their own attempts at curating concept stores.
This summer saw St. Ives's Mixing Bar, an New York City pop-up that provided consumers the opportunity to custom blend personalized exfoliating scrubs or lotions where they could choose everything from the scent to the materials to the level of exfoliation/moisture. Conversely, Coty took a more technology driven angle with Beauty Story, an interactive shop in Manhattan that showcases Coty brands alongside up-to-the-minute tech — Clairol's newly reimagined Nice 'N Easy hair-color line featured the brand's My Shade app, which allowed visitors to virtually "try on" colors via augmented reality and send snaps to their social accounts to solicit opinions. "This generation grew up with experiences and social sharing as a norm, and the challenge for brick and mortar is to create this same excitement in store," says Curtin.
Says Palentchar, "While [the Mixing Bar] was a store and we were selling products, we also were using it as a bit of an incubator. We were very closely watching what they got most excited about, what things they were sharing. And we're using those insights to populate our innovation funnel moving forward."
That forward momentum also means looking beyond the currently prized millennial consumer and forward to the rapidly maturing Gen Z. "We always have to be future-proofing this brand," notes Palentchar. "That's just the nature of being a brand that has that appeal to a younger consumer — you always have to be mindful of who is coming up next."
But what of the prior generations like Gen X, who grew up with these products and are still loyal? How do companies innovate for younger consumers without alienating the older ones? "We know that consumers' beauty choices are not defined by their age," says Curtin. "We have no single standard of beauty and recognize that our consumers don't, either." Adds Robertson, "Our new products are simply inviting a new generation of women to fall in love with Olay and join those before them who know and love the brand."
Unilever, says Palentchar, takes a similar tack with its "core plus more" strategy. "[It's about] how do we keep growing penetration within the core while offering new things to entice new people into the brand?" she says. In the case of St. Ives that means introducing new products and packaging but making sure to protect the legacy items. "While I'm making the front of pack look more relevant for today, [we're] keeping those formulas constant and making sure those fragrances don't change," she says. "[We're] making sure the product they have loved for so long stays intact."
This attention to a wider demographic is what can be perceived as the major difference between new, niche brands and established companies: While indies focus on creating buzz and hooking millennials into a social-promotion-and-purchase cycle, the big guys — Procter & Gamble, Kao, Unilever, L'Oréal, Coty and their ilk — take on the gargantuan task of juggling an up-and-coming consumer base with their OG, core supporters. And they're doing so while attempting to overhaul an outdated system, making the slow shift to being more nimble and keeping an eye on what's exciting the next consumer group. Not exactly a walk in the park.
While all this talk of mutual respect and lofty ideals are fine and dandy, companies haven't lost sight of their initial purpose: driving sales. "At the end of the day, we're not a non-profit — we're running a business here," says Palentchar. "But if [you] just stay in that zone, you're not setting yourself up for the future. Consumers see the brands that they are purchasing as reflections of their own personal brands; you have to make it about more about than just the dollars and cents of it."
Homepage/main photo: @maybelline/Instagram
Never miss the latest fashion industry news. Sign up for the Fashionista daily newsletter.