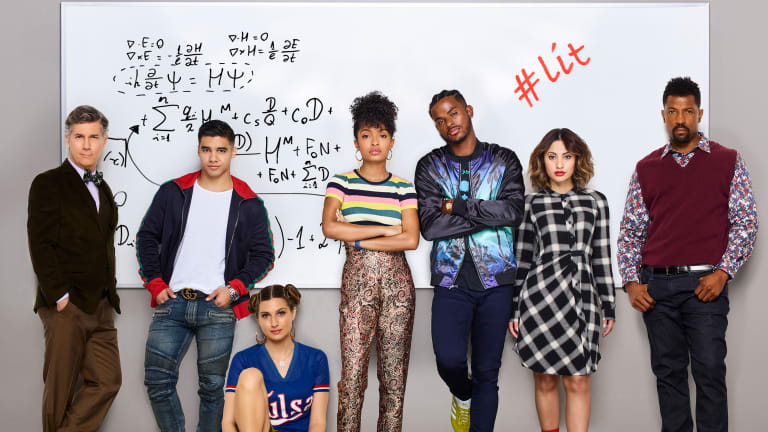 Yara Shahidi's 'Black-ish' Spinoff, 'Grown-ish' is the Most Fashionable Show on TV
Spotted in the pilot: a Gucci tracksuit and Luka Sabbat in a Bern-lenciaga hoodie.
Fashion spoiler alert: An Opening Ceremony bomber, Balenciaga's (not) Bernie Sanders-inspired hoodie, a Givenchy star-appliquéd t-shirt, Balmain jeans and a full Gucci tracksuit are just a sampling of the excellent designer fare easily spotted in the first episode of Freeform's new college-set series, "Grown-ish." But then again, fans of the mothership comedy "Black-ish" already have high wardrobe expectations. Longtime costume designer Michelle Cole, now extremely busy with both series, regularly dresses the Los Angeles-based Johnson family in notable (and often designer-label name-dropped in the script) fashion, especially matriarch Rainbow (Tracee Ellis Ross) in excellent pieces by Isabel Marant and Proenza Schouler, hype-dad Dre (Anthony Anderson) in limited-edition sneakers and Hugo Boss bomber that he "donates" to the needy — watch the episode — and now-"Grown-ish" headliner Zoey (Yara Shahidi) who definitely won the "Best Dressed" superlative in her fancy private high school.
RELATED ARTICLES
As Zoey starts her freshman year at the fictional California University (while 17-year-old Shahidi starts Harvard later this year, joining Malia Obama, whose mom wrote Shahidi a college recommendation letter), she starts to discover herself, makes new friends and struggles with decision-making without Bow and Dre's very vocal (and often unsolicited) input — and, like a real-life college freshman, tries out different styles along the way. "[Zoey is] able to really experiment a lot with different people and friendships and her wardrobe dictates that more than on 'Black-ish,'" says Cole over the phone from Los Angeles.
But like Zoey's high school aesthetic from "Black-ish," her college dressing game also features that same effortless mix-and-match of price points, prints and textures — plus, excellent accessories — and that same playful unpredictability. "I don't think [Zoey] thinks about her wardrobe," explains Cole. "It's how she feels on that day and at that moment and she does overdress..." 
Or on the flip side, while hiding out after a particularly cringe-worthy text situation, Zoey's low-key outfit of choice is an oversize hoodie — but Vetements' "Antwerpen Belgium" piece, and with Stella McCartney star-print jeans, thank you very much. Because Zoey works with an overflowing TV fantasy-world closet that's definitely way too big for a dorm room. It's stocked with aspirational Gucci loafers, YSL, Burberry, Alexander McQueen and a name-checked Heron Preston long-sleeved T-shirt to mix with more accessible vintage-inspired concert T-shirts (Sade, of course) from Forever 21, Steve Madden booties and past-season consignment Versace and Prada heels from costume designer-beloved Recess LA. "We want the audience to be able to afford these pieces, too," says Cole.
The four-time Emmy-nominated costume designer has known Shahidi since filming the "Black-ish" pilot back when the actress, activist and fashion star was just 13-years-old. It's especially sentimental for Cole to bring Zoey — and Shahidi — into a new life stage. Their close working relationship also creates a collaborative environment, with Shahidi — who's already graced the glossy covers of magazines from Essence to Teen Vogue — feeling comfortable to offer her own input on on her character's wardrobe. For example: "She doesn't like the round toe. She likes pointy shoes," says Cole. "So there are [times she'll say], 'I don't like that,' and she speaks up." 
Adding to the fashion pedigree of "Grown-ish": Zoey's classmates include Beyoncé-signed triple-threat protégées Chloe and Halle Bailey, a.k.a., Chloe X Halle, as track star twins from South Central, Jazz and Sky, and model-slash-influencer Luka Sabbat getting very meta as fashion student Luca Hall — who wears the previously mentioned Balenciaga hoodie in the pilot. Unsurprisingly, Sabbat, who was literally born into fashion (Lara Stone was his babysitter...), also offered strong input into Luca's designer, vintage and man-jewelry-filled wardrobe, starting with a shopping trip with Cole's assistant Arike Rice to his favorite haunts, like Barneys and American Rag. Sabbat contributed pieces from his own closet, too. 
"He brought in famous sneakers that he wanted to wear that were already aged," says Cole. "He would bring in some of his belts... a pair of pants. Luka is in his character, very much so. I think that was one of the reasons they hired him. He has such a great style."
But, buzzy Cool Teens™ Chloe and Halle, who have graced the Dolce & Gabbana runway and countless FROWs, dress against type as athletic recruits in a pared-down, sporty aesthetic with matching (non-Gucci) tracksuits and coordinating sports bras for class. But they do have their moments outside of the classroom and track practice (and with full-outfit camera shots) that include metallic and colorful moto-jackets, a studded leather mini and another pair of star-printed jeans. "I liked it when we got to dress them a little bit," says Cole.
As for the actual Gucci tracksuit, that's spotted on second-generation Indian-American and very cash-flush Vivek Shah (Jordan Buhat) who veers toward the most obvious of designer pieces, including multiple Givenchy star-appliquéd T-shirts, a Kenzo logomania sweatshirt and Yeezy 750 Boosts. "[In] the first three episodes, he's just dripping with the [Gucci] belt and the shoes and the sweatshirt and the [Balmain] jeans," says Cole. "He's dripping like with $5,000, $6,000 worth of clothes on." 
Sophomore dreamboat Aaron (Trevor Jackson, who caught Diane's eye when he visited the Johnson household on "Black-ish") is more focused on his social and political activism (and maybe Zoey) instead of the latest collections off the Paris runways. "Aaron's into peace and Black Power," says Cole. "He dresses cute, but he doesn't wake up thinking about his clothes." When he first clashes with Luca, Aaron — wearing a no-name camo jacket emblazoned with slogan pins for Black Lives Matter and "Michelle 2020" — presents a visual and character juxtaposition to the fashion student and his politically-adjacent, but not actually political, designer sweatshirt. (Although, it should be noted that Aaron shows up in a patchwork varsity sweater by Opening Ceremony at one point, but maybe he just borrowed it from Vivek.) 
Come for the young talent, celebration of diversity, social commentary, laugh-out-loud relatable situations and all the warm and fuzzy nostalgia of starting college (or maybe you're going through it now) and definitely stay for the fashion with a capital F. Or, as how Cole perfectly describes the costume design on the show: "wardrobe porn." 
"Grown-ish" premieres on Wednesday, Jan. 3 at 8 p.m. on Freeform.
Top and homepage photo: Freeform/Andrew Eccles
Want more Fashionista? Sign up for our daily newsletter and get us directly in your inbox.