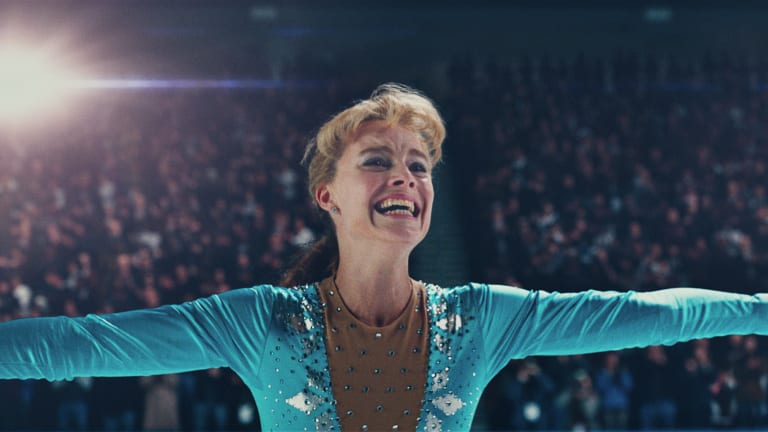 Margot Robbie Wore Her Custom-Made, '90s-Era Scrunchies Home From the 'I, Tonya' Set
How hair, makeup and costume transformed the Australian actress into champion figure skater, Tonya Harding.
As Awards Season takes off with an especially meaningful and talent-packed start, the Tonya Harding black comedy biopic "I, Tonya" is cleaning up with nominations — and already snagged a Golden Globe win for the brilliant Allison Janney's turn as Tonya Harding's mother, LaVona Golden. Critics and audiences across the board have lauded Margot Robbie for her powerhouse performance as the disgraced (and misunderstood, per the movie) champion figure skater, as well as marveled at her transformation into Harding through her riveting acting, impressively flat American Pacific Northwest accent and, essentially, her look.
RELATED ARTICLES
To find out more, Fashionista jumped on the phone with the crack team who skillfully helped turn Robbie into Harding on an indie film budget: Costume Designer Jennifer Johnson, Makeup Department Head Deborah La Mia Denaver and Hair Department Head Adruitha Lee, who all just received BAFTA nominations for their excellent work on the film. Read on to discover what it was like to not turn Robbie into a "very millennial hipster," what throwback beauty product helped the actress nail her most emotional scene and just how much she liked those custom-made '90s hair-ties worn in the movie. 
The Costume: 'There's something about Tonya that's surprisingly subtle to me.'
"I needed to really go deeper than this preconceived idea of who she is and how can we not fetishize her," explains Johnson, who also just received a Costume Designers Guild Award nomination, over the phone. "How can we find an emotional take on who this person is?" 
Despite the heavy publicity surrounding Harding and the Nancy Kerrigan attack, finding enough research material to accurately capture both the champion's skating and personal style proved a challenge. So Johnson and her team dug deep, even procuring a super-fan's collection of memorabilia, which included obscure British and German tabloid tearsheets, "proper Sears portrait-style studio photos" and an old VHS documentary shot by Harding's high school best friend for a thesis project. 
Johnson then devised different costume stages or "tones" to depict Harding's progression up to the Lillehammer Winter Olympics, starting with a teenager being dressed by her domineering mother and then being "groomed" by her affluent coach Diane Rawlinson (Julianne Nicholson) in preppy-meets-feminine floral-printed Laura Ashley and Gunne Sax-style pieces. "You see Tonya shopping with Diane trying on dresses and rolling her eyes," says Johnson, about footage from the VHS doc. "This is all real stuff." Later, Harding adopts the style of her abusive husband Jeff Gillooly (Sebastian Stan) with darker colors and looser silhouettes. She also starts communicating her success — and conforming to the skating community — with luxury accessories.
"There's something about Tonya that's surprisingly subtle to me," explains Johnson. "She's very neat and very proud; she always has her turtleneck tucked in and her leather bomber jacket and her Louis Vuitton Speedy bag and her Chanel [double C] earrings. It's these little details that show her pride that she's made it and that she's proud of herself and the way she dresses." To get the leather bomber right, Johnson combined the body of one piece found at a costume house with a button-detail collar from another jacket. "There were a lot of solutions based on lack of money," she adds, about assembling over 100 costume changes for Robbie.
Custom-building the skating outfits exhausted the majority of the budget, so Johnson and her team scoured costume houses, eBay, Etsy and vintage stores in the Atlanta suburbs for off-the-ice pieces. However, they had to walk a very fine line with an aesthetic that's quite on-trend right now. "It very easily goes into this 'millennial hipster' [look]," she says. "We explored that in the fitting [with Robbie] where we went too far and it suddenly felt like an ironic, very on-the-nose fashion moment that felt too contemporary and felt really funny. So we would always pull it back."
Recreating the skating costumes for Harding's high profile moments was fairly straightforward, but researching for the smaller, earlier competitions proved more difficult, partially due to fuzzy YouTube footage uploaded from old VHS recordings of vague origin. Johnson and her team had to practically perform forensic-style analysis to verify the accuracy of the competition, dates and relevant outfits. 
Prior to wearing her sleeker (and probably professionally made) maroon and gold-fringed skating outfit at the '94 Olympics in Lillehammer, Harding was likely still DIY-ing. "For the turquoise '91 Nationals costume (above), we intentionally did one-stretch spandex because that's what would have been available to her at the time," she explains. "That's something she would have made herself, so the arms were sort of ill-fitting, which you see in documentation." Johnson also "took little bit of liberty" with look by lining the leaf and petal embellishments with silver to enhance the slow-motion camera shots of Harding's famed triple axel. 
"There was a really funny moment when the stunt double is doing the triple axel and suddenly one of the leaves in very hyper slow motion comes off," she laughs. "I was like, 'nooo, come back!'"
The Makeup: 'She didn't have her makeup and her hair done. Everything was done by herself.'
"When [Robbie as Harding] was younger, I wanted to make sure she was really fresh-faced and try to capture some of that innocence," explains two-time Emmy winner and past Oscar nominee, La Mia Denaver, over the phone. "As she started competing and her relationship and life got tougher, I wanted to express that through her makeup." 
To reflect the reality of Harding's socioeconomic background, she only used "dime store" purchased mass-market brands and applied products with an intentionally less polished result. "[Harding] wasn't a trained artist," La Mia Denaver says. "She didn't have her makeup and her hair done. Everything was done by herself." 
Like high-waisted mom jeans, the plum and brown shades of the late '80s and '90s are en vogue now, which made sourcing and replicating Harding's palette easier. La Mia Denaver also credits the returned beauty trends in helping the movie "not look old fashioned" to younger viewers, like her two sons, who might not otherwise be familiar with Harding's story.
Robbie wore minimal prosthetics on her nose, cheeks and under the chin (as well as her neck and torso), but La Mia Denaver also used what she calls "reverse highlighting" to further transform the actress into Harding. "The biggest challenge to make it not look like makeup," she explains. "I used adhesive — Duo [eyelash] adhesive — on the corners of her eyes to drag them down a little bit and then I drew a little line on the corners of her mouth to drag that down and tried to widen her nose with highlight. I shaded her jaw, so it would drag down and come forward more."
Makeup also played an integral part in one of Robbie's most impactful scenes. While the Kerrigan fallout is still going down at home, a heavily made-up Harding sits in front of the mirror before her routine at the Winter Olympics. Robbie's rouge application with a chubby dark plum blush stick was a powerfully revealing — and dialogue-free — gesture that said a thousand words. 
"There's that little bit of desperado when she takes that stick and just goes for it and then she realizes almost what she's done and then she starts to use her fingers to blend it off and her smile comes in and out," explains La Mia Denaver about the scene which only took "a couple of takes." Robbie used an authentic Bonne Bell product — procured by La Mia Denaver at an Atlanta drugstore — to reflect how budget-conscious women at the time would use an all-in-one product for eyes, lips and cheeks (while in reality, the lipstick Robbie wore was another brand).
The limited production budget didn't allow for the luxuries of manis for Robbie as Harding, who was a fan of nails in bright red, pink and, as viewers noted, French tips. So La Mia Denaver bought "boxes and boxes" of Lee Press On Nails, which hit their peak in the '80s, but still endure. The adhesive nails were also ideal for shoot days that included up to five look (and nail color) changes. "I didn't have to take her polish off and put on a different one," she explains. "We could just snap, snap, snap." And if applied properly, the staying power of Lee Press Ons is quite robust.
But "every now and again we'd lose one, specially when she was tying up her skates or something," La Mia Denaver laughs. "I'd always have extras in my bag."
The Wigs: 'The hair was so fried.'
"The research itself really wasn't hard because that's something I actually kind of lived," laughs Lee, a 2014 Oscar winner for "Dallas Buyers Club." To maintain authenticity and reflect Harding's hardscrabble background, she avoided looking at fashion magazines or inspiration from that period, while also looking back on her time growing up in Alabama. "I knew a lot of people that just couldn't afford to go to a salon," Lee says. "You have to get by on taking care of yourself in a much different way."
She double-permed all four wigs Robbie wore as Harding from ages 15 through 24 — with extra tight curl rods to achieve those magnificent '90s claw bangs — using drugstore-bought, at-home kits, as Harding would have done. To achieve that Aquanet-sprayed crispy crunch, Lee soaked the wigs in cheap "Busch or something like that," which is an old Southern hairdressing trick. "The hair was so fried," she says. "I was just keeping my fingers crossed that the hair would stay on the wig until we finished the movie because I had done so much to them, trying to mimic the effect that Tonya had on her own hair."
Keeping Robbie's wigs secure during the high-flying skating routines — and the harrowing scene when Gillooly pulls Harding through the house by her ponytail — was also an exercise in ingenuity. Ever resourceful, the longtime hair and wig genius dyed a three-feet long piece of cotton and wrapped it around Robbie's (or a stunt double's) head. "I would literally take the wig, needle and thread and sew it to this cotton," she explains. "Those wigs weren't going anywhere."
Lee also coordinated with the costume department to custom-create the DIY-looking (and DIY in real life) hairpieces for Harding to wear on and off the ice. Since buying a comparable beaded (and quite substantial) floral headpiece for Harding and Gillooly's wedding scene would have blown the budget, Lee and her team improvised. "We bought some silk flowers and we started figuring out how to piece this together," she says. "We had a Bedazzler. We went way back."
To complete the pink car-wash-fringed skating outfit Harding wears when she confronts the snooty competition judges at a competition in the early '90s ("this is fucking rigged"), Lee asked the costume department for extra fabric. "We would just try to make it look homemade, which wasn't hard because we're not seamstresses," she laughs. The hair team was also tasked to custom-build all the in-trend-again scrunchies that Harding — and Robbie — wore off the ice.
"Margot ended up really liking them," Lee says. "Because she could throw her hair back when we'd take her wigs off at the end of the day and just walk out with a scrunchie in her hair."
Top and homepage photo: courtesy of Neon
Never miss the latest fashion industry news. Sign up for the Fashionista daily newsletter.