Women's Streetwear and Lifestyle Site Missbish Expands With New Apparel Line
Hong Kong-based entrepreneur Lindsay Jang's latest business venture is helping to build out the Missbish brand, voice and community.
Though women's streetwear and lifestyle site Missbish recently launched its redesign after three years, Hong Kong-based co-founder Lindsay Jang is already expanding the media brand with a new apparel line, dropping this week. "We're really trying to focus on building our voice, which is why we ended up going to product," says Jang over the phone from Los Angeles.
Jang's entrepreneurial spirit and business-oriented attitude stems from her longtime career in service and hospitality. With three successful restaurants in Hong Kong — Yardbird, Sunday's Grocery and Ronin — Missbish is just another opportunity for Jang to build a community. She brings up Into the Gloss as an ideal business model, which used its active readership as a resource to launch Glossier. "I don't think we're that different from building up an audience that inherently trusts your opinion and aesthetic and being able to convert them into customers," says Jang. "We knew from the beginning that we wanted to make product. We didn't know what to make or when, but it was always in the plan."
RELATED ARTICLES
After raising enough seed capital in the middle of 2016, Jang and her co-founders and friends — Gillian Wong, who hails from Hypebeast, and Nicole Fung, who used to work in banking — put together a game plan to expand Missbish, along with the proper experts to partner with for production and design. Eventually, they decided to create activewear and athleisure — for selfish reasons, says Jang. (She has been practicing yoga since she was 17, lives in her Lululemon pants and considers herself a "fitness person" more than a "fashion person.")
"At the time when we launched the editorial platform, activewear was becoming ridiculously saturated and still is," explains Jang. "But health and wellness as a category in general isn't going to go anywhere. It's only going to grow. It probably will plateau and the people with quality product or the right business model will succeed and stay in the game and the ones with something that's not so great will fall to the wayside. We didn't want to rush to market just because it was the trend."
Instead, she looked to her favorite brands for inspiration — Acne, Sacai and Alexander Wang — to create apparel that could truly be worn while running errands, working out and going to dinner. "It was important for me to have function really supersede anything else. If the design's functionality didn't work then we didn't do it," says Jang. "It was so much more complicated than I ever would have imagined, but the cool thing is, we're really happy with the product quality and the fit and everything."
Missbish's debut collection is comprised of 15 pieces in an all-black color palette. Leggings and bodysuits take hints from shapewear; a cropped hoodie boasts a full head-to-waist zipper (à la A Bathing Ape); a bomber jacket comes with a detachable mesh vest, so you can comfortably drape it over your shoulders; and track pants feature a double waistband for compression and "tear away" snaps along the side. Currently, the line is available exclusively online and ranges in price from $55 to $300.
"Overall, it's just brand building," says Jang when asked how she has applied her hospitality know-how towards making clothing. "A brand can generally be built in the same way: original, good-quality content that's interesting and creating a community around it. Obviously it's easier to do that when you feed people and get them drunk, but we've also built such a big digital community with the restaurant, which very much plays into Missbish. Getting people excited, making them feel involved." She mentions the site's Slack community as an example, which is constantly buzzing with excited readers from around the world talking to one another.
Once Jang and her team evaluate how Missbish's apparel line is received, she hopes to start designing the next collection as early as March. While the focus will remain on activewear for now, Jang sees the line expanding into other categories as well, even if it doesn't exactly have to do with apparel. "Personally, I'm obsessed with all things health and wellness, so you can even give me an opportunity to make vitamins and supplements," admits Jang. "Anything that makes you feel better and perform better, not even athletically — just in general in life — I'm very interested."
View the debut apparel line of Missbish in the gallery below, and visit ShopMissbish.com to shop the entire collection.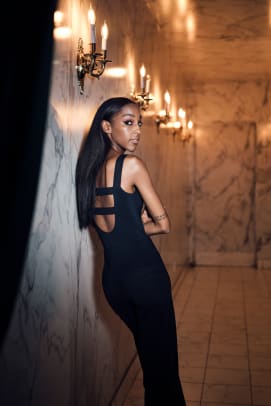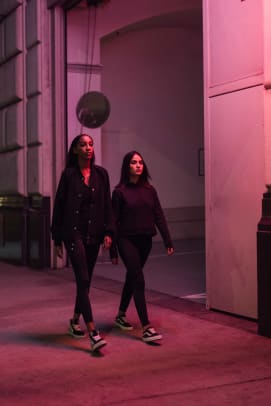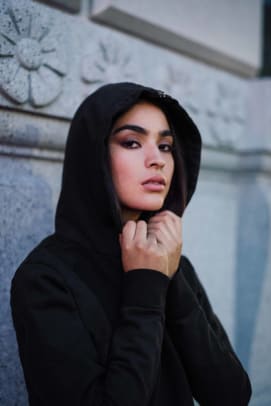 Sign up for our daily newsletter and get the latest industry news in your inbox every day.