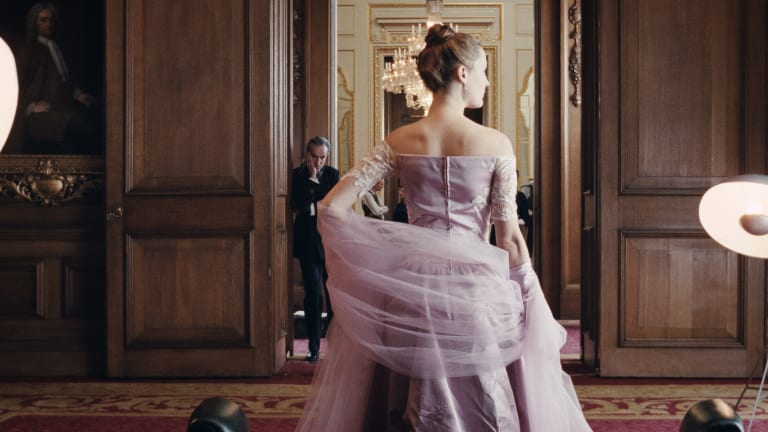 The 'Phantom Thread' Costume Designer Consulted With Daniel Day Lewis — in Character — on the Movie's Sumptuous Gowns
"I always trust his taste," said Oscar winner Mark Bridges.
In writer-director Paul Thomas Anderson's period film "Phantom Thread," British couturier Reynolds Woodcock (Daniel Day Lewis, in his final role before retirement) disdainfully — and rather indignantly — refers to the adjective "chic" as a "filthy little word." 
After all, masterfully designing couture gowns for London society matrons and European royal heiresses in the booming postwar era isn't just a profession for Reynolds; it's his entire life. Then he meets headstrong waitress Alma (Vicky Krieps) on one of his weekend jaunts to the countryside, and she becomes his muse, design assistant and love interest, challenging him and bringing distraction and inspiration into his life's work. The movie is an unhinged love story, a thriller at times and an overall study of toxic masculinity, but it's also a luxuriant behind-the-scenes examination of the couture industry in 1955 — eight years after Dior debuted its revolutionary New Look and right before the mod '60s, which hailed the birth of fast(ish) fashion bringing accessibility and "chic" to the masses. 
RELATED ARTICLES

But back to sumptuous haute couture, which was brought to life by costume designer Mark Bridges. The Academy Award winner has worked with director Anderson on his slate of films for over two decades, including "Boogie Nights" and "There Will Be Blood," which earned Lewis one of his three Oscars. Considering "Phantom Thread" showcases 50 original "House of Woodcock" gowns, including a collection for Reynolds's spring fashion show, plus non-couture looks and the OCD designer's perfectly tailored suits, the design job was unsurprisingly "a huge undertaking."
"We were making gowns all through shooting," Bridges told Fashionista over the phone from Los Angeles. "It was an ongoing process; the actual hitting the ground running, finding fabrics, sewing things, fitting actresses — that was probably five months from beginning to end. We were still finishing garments up to two weeks before we wrapped."
And, yes, as always, the famously über-Method Lewis was in character for the duration of filming, which made for an interesting dynamic between the costume designer and the on-screen designer — which Bridges delightedly detailed below in conversation with Fashionista. Read on for the highlights.
What fashion sources did you look to inspiration and reference points for for Reynolds Woodcock's couture designs?
We paid a lot of attention to what was happening in British couture at that time, where Reynolds fit into the scheme of things and what his contemporaries were doing, too. Then you have to be careful not to riff on something that's recognizable because, not only has everyone seen it already, but also there are legalities involved. So that was great. Just out of necessity, you needed [Reynolds's work] to be its own thing. 
So we pored over tons and tons of fashion photographs and behind the scenes photographs. We looked at shapes that were coming out of France as well, but then always came back to the world of couture in London and to see how it was different from France, [such as] the weight of the fabrics. Even in Reynolds's spring fashion show collections, there are velvets and woolens, because even spring in London is kind of chilly. British couture designers Digby Morton and Hardy Amies were really cited for their work with wool and how they could take a native British tweed and make it into a dress that could take you from lunch to cocktails. So that was the mindset in England, as opposed to a little more flight of fancy and groundbreaking design that was happening in France at the time.
The movie also shows the couture process, with fittings, creating the muslin and cutting the fabrics. How did those scripted moments add to your job?
It really is a process of doing a design and making a toile and seeing where the neckline should be and where the sleeves should be and where the darts are and how the foundation works, so I was really lucky to be able to do all of those steps that are part of the couture process. I have many photos of fittings in the toiles and then we used them ultimately on-set and we used them in the shop [behind the scenes]. It was a process that was necessary for us to figure out what we were doing. But then it had repercussions down the line for the reality and feelings on the set, and how we were really immersed in that world on- and off set.
Reynolds's clients and Alma's foundation garments during the fitting processes also seemed significant in what they conveyed. Tell me more about that.
Honestly, as part of our research at the Victoria & Albert Museum, we were able to go into the archives and see how some of these gowns were made. We saw a few Balenciagas, a Balmain, a [House of] Worth, a Victor Stiebel and especially a Givenchy — this Lilies of the Valley dress — and see how simply it was done. I think the essence of that period — why the period comes off so well — is because it was a period of the under-construction and the shape you were creating before you put the gown over it. That's why it played so into it the believability of the gown and the story we were doing. 
[Society matrons] Barbara Rose [Harriet Sansom Harris] and Henrietta Harding [Gina McKee] come in there sort of just soft and they are then put into a shape in which the gown goes over. That was really the essence, starting in the '40s with the Dior New Look, and then suddenly after this period of Reynolds, it became more of a sack shape or a little less body conscious. So we're right at the end of this incredible construction and corsetry that had been en vogue for almost 10 years at this time.
How did Daniel Day Lewis staying in character throughout filming influence your work, especially since you were the one actually designing the dresses?
When working on a film, especially with Paul, we have an enormous amount of respect for what the actors bring to the role, so they can really live it. No matter who it is, if it's Daniel or Phil Hoffman or Joaquin Phoenix, it's part of them giving these amazing performances. I know there were times I would consult with Reynolds on a color. I think a lot of it was about the color and I think Reynolds tended to go to those colors of plums and purples and maroons and pinks and things — those were the colors that you see from his socks or his neckties. That was a color that he intuitively felt a choice that the House of Woodcock would make. It was actually fun to get that feedback from him because I was wide open on color choices and then it had him feel like there was some contribution and authorship to it.
Then of course, he had an enormous job in front of camera, as well, and then I would take it from there. It was, 'do you want to look at this color book and we're thinking of Henrietta's gown' or something and he would look at these two colors and put them together and be like, 'great I love 'em, too.' There would be a feeling for Reynolds that there was authorship there, but I had to make it. I had to get it made and figure out how it actually worked as a garment and that the details of the garment was period correct and interesting and go along with couture of guidelines of trying to have as few seams as possible and things like that. Of course, I always trust his taste. This man has an amazing amount of taste innately, so I didn't think we could go wrong. And then I would run it by Paul and then we would just move on.
In one scene Alma complains she doesn't like the fabric of a printed dress and Reynolds accuses her of not having any taste. What was it like to have to choose a fabric and a dress design to fit what the script called for in that scene?
We had a few choices, actually. There were a few dresses that were up and running and at some point, Paul decided that one of the dresses that I had proposed was actually too beautiful. He's like, 'no one would say this is bad fabric.' It really took a few choices to decide what was going to have her sensibility consider the Woodcock sensibility to be stodgy and undesirable. [The final choice] was actually a dark floral print and a watered silk that was kind of en vogue at that time. But even as a floral, it's kind of depressing, so that seemed to hit the right note. The funny thing is that the dress was part of the spring collection — kind of a rainy day floral in this London fashion show. 
What is the significance of the deep red color that Alma wears throughout the movie, starting with her waitress uniform and her first date dress with Reynolds to a her couture dress for that fateful date night at home?

The dress in the beginning, Paul had written a line that when she's dressed to go out to her date with Reynolds, her brother comments on it, 'oh, it's a bit bright isn't it?' And she's like 'oh, it's meant to be.' You see into her character right away that she is no shrinking violet and she is actively pursuing this, whatever it's going to be. But yet that dress — she talks about how she sews — and we were trying to have it feel like that dress might be homemade. We try to connect some early dresses that she wears with some later couture dresses to illustrate how she may have influenced Reynolds personally and professionally. Like he got ideas from something he had seen Alma wearing. And then the gown she makes for herself [later in the movie] is this incredible red to signify some passion. I love red myself, but I also felt that where the beats are in the story, they emphasize what was going on. Those choices are never really random.
This interview has been edited and condensed for clarity.
Homepage and top photo: Focus Features
Want more Fashionista? Sign up for our daily newsletter and get us directly in your inbox.